The Travelling Trio runs away from home –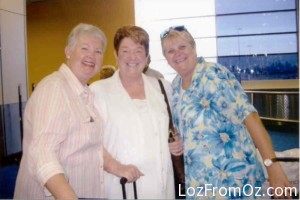 Yes, that title says it all.
From the left – IT3 (Ann), IT2 (Rhondda) and IT2 (Laurie)  are on the move again – this time we are going back to Norfolk Island to hopefully recreate those happy, senseless times we had in 2001.
The planning and budgeting has all finished and we are now on our way, always checking that we have our passports, tickets and anything else we need to make our holiday a happy experience.  We have a mid morning flight so by the time we get to the airport and check-in it's time for the important things like having coffee.
Norfolk Jet Express flight YE347 departing 10.55am and arriving Norf 1.50pm.  I am in seat 18F.
Time to board – There is nothing planned for our arrival today except to collect our hire car, stock up on provisions hoping that Honest Dave's tuckerbox of fresh veggies is still out the front of the shops and then make our way to By The Bay – our home away from home.  If you have read the 2001 post about this place then you will understand why we love it so much. Excitement is building as we find our seats and soon it is up, up and away.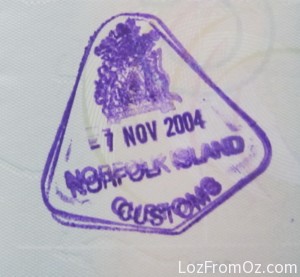 Just like the previous journey, IT1 cannot contain herself and the catch cry of 'Oh wow' oh wow' oh wow' echoes through the plane.  A smooth flight and landing and we are ready and raring to go!  Through Customs and Quarantine – get the Passport stamped and it looks like the guy who did the stamping has visited the Bond Store before duty.
Same deal as last time – collect the car and head off for our Island Paradise.   We call into the Bond Store for our purchases of suitable alcoholic beverages, which will cause a large upturn in the revenue of Norfolk Island – stock up on provisions and then we head to our house.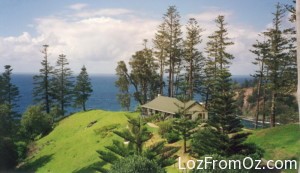 This is a photo from the last visit – but it can stand being published again.  You must admit it is one stunner of a house set in wonderful surrounds.
Time to relax – this time I am in the main bedroom with the spa – to coin a Rhondda phrase – WOW!