A Winter Getaway – dining on the dock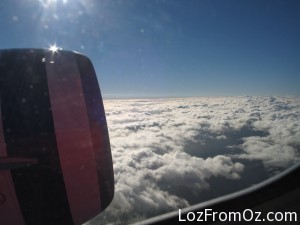 Friday – once again the Three Amigos plan some time away together, and once again it was planned and plotted over a few drinks and a good meal at our regular monthly meeting place – JP's.
However, since our Norfolk Dayz we have an addition to our group in the form of Jan, so that now makes Four Amigos. Jan came by way of being a school chum of me and a working acquaintance of Ann.
In planning our little lost weekend in Hobart we have been able to acquire a good package deal from our trusty travel agent Lea so it's all systems go.  Winter in Hobart – what more could anyone ask? Let's just hope there are some good roaring fires to warm our outsides and medicinal sustenance to warm our insides!  We have also arranged for an airport shuttle to take us to and pick us up from the airport.  Taking us was not a problem but picking us up was another story – more about that later.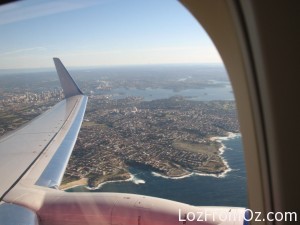 We board Virgin Blue Flight DJ 620 at 8.15am and find our seats.  As we are travelling peasant class we have to either bring or buy our own refreshments, I have stashed away some cheese and crackers and some chips – not to mention some little fruit juices – it is not a byo flight – so that will keep us going.
Our boarding passes are printed on something resembling a supermarket docket, talk about el cheapo!.  Oh dear, the things we have to endure.
 Anyway it is a fine crisp day with clear blue skies and we are away.  Down the runway, up in the air and out over the bay with the suburbs falling away underneath us.  You can never have too many shots of 'out the window'.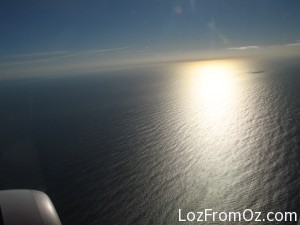 Take off is smooth and it is not long before we are flying over the ocean and up through the clouds.  It is about a 2 hour flight to Hobart so we settle down get out our refreshments and talk about our plans.
Every time I fly over the ocean I look out the window to see if I can spot any whales or sharks or something.  Once again I am disappointed but that doesn't ever stop me from looking.  One of these days I will spot something!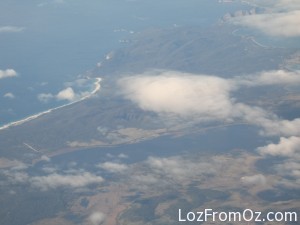 It is not long before we spot the Tasmanian coastline and the ground beneath us. Arriving in Hobart – and what a quaint little airport let me tell you, we collect our luggage and then go to collect our hire car.
Both are done without too much fuss and then we head off to find out hotel – Mercure Hotel in Bathurst Street.  It's always fun driving around a place when you don't know where you are going.
We have elected Ann to the position of designated driver and we are most impressed with our car a Nissan X-trail 4 door auto, so looks like we are going to have plenty of room for our luggage and whatever else we may collect along the way.  The weather outside the terminal is rather cool – only to be expected – so in we all hop and off we go. Budget Rentals have given us a brief idea of how to get to the hotel – and of course it looks really easy.
After going around the block a few times and up the wrong streets and in general laughing ourselves stupid – we finally arrive. It's going to be one of those holidays – I can tell!  The car park is an area next to the hotel and is not under cover. Checking in we have a 2 bedroom Family Room with Ensuite.  On arrival in our room we discover a small balcony area that has a nice view towards downtown Hobart.  Mmmmm – not bad so far.
We work out who is going to have what room – as there are three beds in one room and a double in the other and using a bit of blackmail along the lines of 'after all I booked the holiday and organised the money – I should get the room with the double' together with throwing my bags on the bed as soon as we got inside did wonders.  I win out and get a room to myself – so Ann, Rhondda and Jan have to share. I know – I don't play well with others!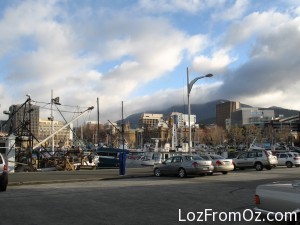 After we pack our belongings away we decide to go into the city which is not very far away and have a look around – maybe even get a bit of lunch as we are hearing tummies rumbling.
Into the car, consulting the map and away we go.  We head on down towards the dock area.  What a picturesque harbour.  Lots of quaint old buildings and lots of yummy seafood places to eat.
We decide on a place by the name of Mures that is right on the water and we can either dine upstairs on the 'Upper Deck' where there is an a la carte restaurant or we can dine downstairs on the 'Lower Deck' with the self-service bistro.  Both areas are licensed so it makes no never mind – we choose the bistro.
But what to have – it all looks so good.  We decide on a Fisherman's Basket which has a bit of everything.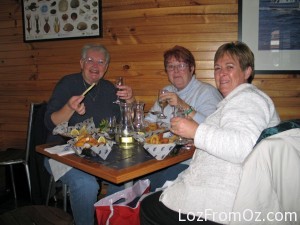 Fish, prawns, crab, scallops and calamari.  This is served with a basket of chips, tartare sauce, lemon and a lovely fresh salad – It's making me hungry just thinking of it
Of course we get some nice white wine to wash it down.  Even though the area was crowded – just goes to show how good this place is – we had a nice table and enjoyed lots of merriment and mirth.
As you can see in the baskets the helpings were not small and by the time we finished the food along with 2 or 3 carafes of wine we are enjoying our time to say the least.
The glasses they serve with the carafes have the Mures logo on them, so as a momento of our wonderful lunch we each get one.
Leaving our table and walking outside into the fresh air, across from the cafe is Victoria Dock.  We decide that we will have a nice leisurely stroll and walk down the lunch we have just eaten.  Of course, with the food being so good we didn't leave anything.
This is such a nice area to explore.  There is not a lot of traffic – but every now and again a car rambles past so we have to keep our wits about us as it is easy to get caught up in the place and therefore get run over!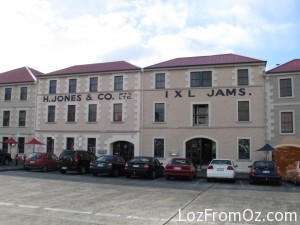 The old buildings have been given a new lease on life and are refurbished with all sorts of arts and crafts and cafes and I am sure it has done wonders for the area.
Further down on the dock area there are statues of seals and penguins on the rocks and there is also a set of statues that commemorate the Antarctic photographer – Frank Hurley.
A little bit of web exploration when I get back home tells me the following information so – – –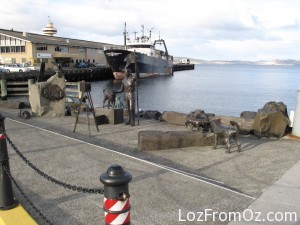 HISTORY LESSON : James Francis "Frank" Hurley, OBE (15 October 1885 – 16 January 1962) was an Australian photographer and adventurer. He participated in a number of expeditions to Antarctica and served as an official photographer with Australian forces during both world wars. 
At the age of 23, in 1908, Hurley learned that Australian explorer Douglas Mawson was planning an expedition to Antarctica and he became the official photographer to Mawson's Australasian Antarctic Expedition. The Expedition departed in 1911, returning in 1914.  Hurley was also the official photographer on Ernest Shackleton's Imperial Trans-Antarctic Expedition which set out in 1914 and was marooned until August 1916.
When you think of it, Tasmania is really not that far from Antarctica.
This is Victoria Dock.  I love the stitch element on my camera!  I know there are different Photoshop programmes you can get so that it doesn't 'fish eye' but I like the look of it as it is.

After wandering around here for a while we decide to visit the other side of the harbour and go over to Salamanca Square.  The sun is starting to go down and we feel the coolness of the air creeping up.
Most of the trees in the square have lost their Summer finery and they stand like sentinels against the Winter weather.   This is a lovely quiet spot that is, again, surrounded by old heritage buildings which contain everything from fine furnishings to clothes to tourist items.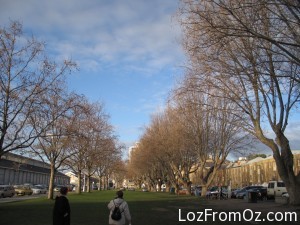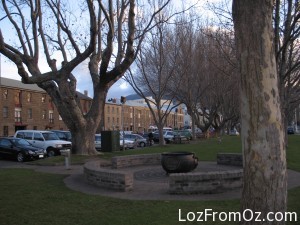 We also discover these cauldrons.  Sitting in the middle of the square and against the winter trees it gives the place a very eerie feeling – as if some witches are going to come out in the dead of night and mix up a potion or two.
It is starting to get late so we decide to go back to the hotel while we can still find it.  We do not want anything else to eat – and as we had an early start this morning we all decide that an early night is exactly what we need.
We still have two more days here with lots of activities planned before flying back home on Monday.
Highlight of the day : lunch with good friends, good food and good wine!