MT ST HELENS – devastation and regeneration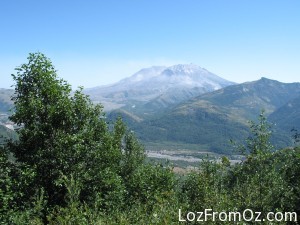 Thursday – both Kylie and Tyler have the day off from work so we are off to Mt St Helens. It is a lovely drive up the highway to Washington State, tall green trees on both sides of the highway and there is not much traffic – so that's good.
Kylie points out where the old nuclear plant used to be.  She also tells us that the creator of the Simpsons (a show I never watch) came from Portland and there was a lot of speculation that the town in the comic was based on this area.  The plant has since been imploded and the land is now heading back to nature's wetlands. I sure as hell wouldn't eat any fish that came out of those waters.  You never know – one morning you could wake up with blue hair and a yellow face!
We drive through Rainier which is on the shores of the Columbia River and it is such a really pretty place.  There are some lovely houses down on the waterfront.  I can imagine that it would be nice to live here.
We have to stop for petrol and at the petrol station there is a drive through coffee and drive through cigarettes.  Honestly this is the land of drive through – drive through grease and oil change, drive through food, drive through banking – you name it and I am sure somewhere there is drive through.
This is the Lewis and Clark Bridge that we have to cross to get over the Columbia River and into Washington State.  Unfortunately because we do not know the directions to Mt St Helens we have to stop and ask.  There is a lovely little tourist Information Centre just on the other side of the bridge and they are most helpful.  As you can see it is another lovely day so we are all looking forward to our journey.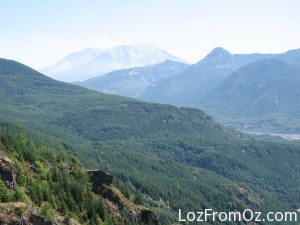 We are now in what is called 'the blast zone' and as we get closer we catch some glimpses of our destination in the distance so Tyler pulls over so that we can take some photos.
It's hard to imagine that this mountain caused so much devastation to the environment.
This valley is incredible.  You can see where the area was just washed away but luckily the trees and flowers are beginning to grow back.
Coldwater Ridge Visitor Centre is not very far away so we decide that it would be interesting to go inside and have a look around before reaching the mountain itself.   Inside there is an exhibit how the mountain used to be before the eruption.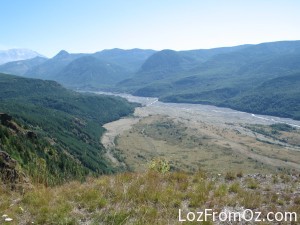 It shows all the wildlife, squirrels, raccoons, elk etc. that used to inhabit this area.  Walking around inside we realise that it just wasn't the land and the people who suffered it was the animals as well.
It also has an exhibit of all the different geological features that happened when the mountain erupted.  Outside there is a walkway along the ridge where below is Coldwater Lake.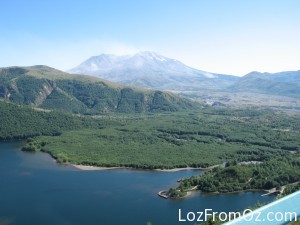 The major eruption of Mount St. Helens, Washington, on May 18, 1980, deposited tons of ash, mud, logs, and other debris into more than 30 near-pristine lakes in the immediate vicinity of the volcano.
Even lakes in parts of eastern Washington received deposits of windblown ash as much as 8cm  thick.
Coldwater Lake is a new lake formed as a result of the eruption when a debris avalanche blocked a tributary to the North Fork Toutle River.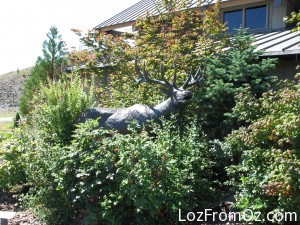 Outside the Visitor's Centre is a statue of an elk in the bushes which reminds us of how the area used to be.
Driving further up the mountain we come to Johnston Ridge Observatory. This is the closest observatory from which the public can view Mt St Helens.
After parking the car we listen to the Ranger telling us what happened the day the volcano erupted.  We then go to the observation deck to see for ourselves.  It is unbelievable.
Everything is gone.  Not just close to the explosion but gone everywhere.  It is hard to imagine the force that would have been necessary to create such devastation on the area.
Mother Nature can be wonderful and serene but on the other hand she can be violent and it really is an awakening for us to see just how violent.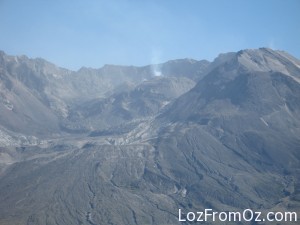 Although the grasses are making such a valiant effort to recover I am sure that it will be quite some time – if ever – that this place will return to what was a land of incredible splendour.
From the Observatory there is a walk way up to another little lookout.  Kylie and Tyler decide against it but I set off up the trail by myself.
As I climb I have to stop every now and then to catch my breath but that is OK as it gives me time to look around some more.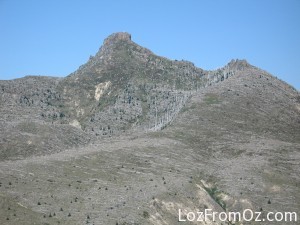 At the top of the observatory there are millions of little insects which is a right royal pain.  They get into everything – my nose, my mouth, my ears, the camera – but I persevere and manage to get some photos of the areas behind the Johnston Ridge Observatory.
There are no trees now – just the remnants laying around like splinters on the ground.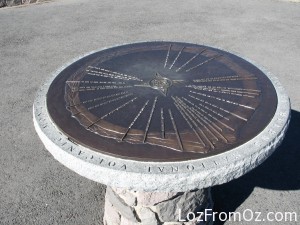 While trying to take in everything that occurred around us, at this place there is an object like a sun dial but it shows the distances from the mountain and what happened in each direction.
After I have had enough of the insects I head back down to Kylie and Tyler where we go into the Observatory for some lunch.  We also have a look around and of course they have a souvenir shop.
When we get back home I have to pack the remainder of my belongings for tomorrow I fly back home to Oz.
Highlight of the day : Mother Nature at work