PORTLAND to SYDNEY – back to the Land of Oz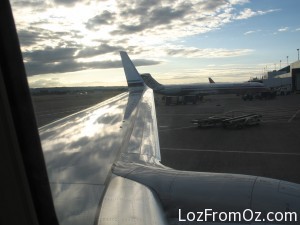 Friday – today is my last day of our Great 2007 Road Trip Adventure.  The weather is kind to us for the drive into Portland so that is good.  I do not have to fly out until 6.30pm this evening so at least I will have a full day with my girl and Tyler.
Making sure I have everything packed – a pretty tight squeeze to fit in all the trinkets I have collected along the way and I think – no hope – that the suitcases will be under the weight limit. We pack the car again and head off.
I catch a glimpse of the elusive mountains that so far I have missed because they have been shrouded in cloud – I was beginning to think that it was just a local tale for the tourists.
My flight is Alaska Airlines 110 and after saying some rather tearful farewells I head on through the security barriers.  But what's this? – I have been selected along with a couple of others to go through the full security check – do I look like a terrorist?  Obviously I do.
So while K & T watch on the other side of the barriers I have to stand in an air chamber while puffs of air waft over me.  I seem to pass that one and then I have to open my cabin bag because there is an item of concern.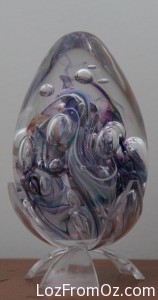 Holy cow – what else?  The item of concern is the glass egg Kylie bought me at Mt St Helens.  The glass and patterns are made of the ash that came out of the mountain when it erupted.   Looks a bit like the egg out of Harry Potter don't you think?
One particular airport attendant takes a liking to it and tells me she has never seen anything like it.  After carefully wrapping it up I can repack my bag and head on through to the next level.  This is where I get a last look back at Kylie and Tyler who I am sure were wondering if I was even going to get through security and on the plane!
The lounge is packed so after I have a walk around I sit and wait for the flight which is delayed.  We have a full quota of passengers and as I sit in my seat waiting for take off I cannot resist a photo. I still remain the tragic tourist.
As we head on down to Los Angeles  I pass some of the mountains that I am sure we saw somewhere along the line.  The terrain is very rugged and looking out into the distances it gives me a perspective of just how big this country is and how many miles we have driven.  Coming into Los Angeles I can see the night lights – and I must admit it looks better at night than what it did flying in during the day.   Arriving safely I have to leave this terminal and walk over to International for my Qantas flight home.  Flight QF150 departing at 11.30pm so I have a couple of hours to wait.  I have not realised just how tired I am as I wait for the call to board.
On the way home I did not write anything in my journal – no details, nothing.  All I can tell you is that it was a good flight and I had Marinated Lime Chicken and Spanish Rice with Corn and Capsicum Salsa for Supper.  Obviously I slept most of the way as I woke up for Breakfast which was Fruit Juice, Cereal and Fruit Salad, Orange Muffin and Coffee.  Well, at least I have the important part – the food.
No photos coming into Sydney – and Stuart and the family are there to meet me and take me home to the comfort of my own bed.  A couple of days rest and I am sure I will be planning the next big adventure.