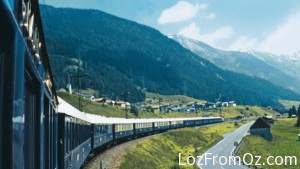 The 2011 trip now has a new name!  'The Great European Train Adventure!'  This is the plan so far – –
Sydney – London – Amsterdam – Berlin – Prague – Venice – Florence – Rome – Paris – London – Sydney.  Of course don't forget to substitute Portland for Sydney for K & T as we are meeting up in London.  Sounds exciting doesn't it?  Once the Christmas rush is over then the real planning can begin.  We already have a few accommodation places in mind so it will be all systems go come January!
I already have my plane tickets so that's a start. Qantas to Sydney – Melbourne – stop off in Hong Kong to re-fuel then on to Heathrow. Only available schedule on Frequent Flyers but that's OK. Coming back couldn't get a straight through Qantas flight so had to go for British Airways.