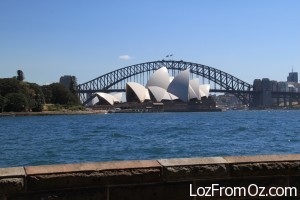 Sunday – seeing that the ms Volendam is in the port of Sydney today – I decide to take myself off into town and not only see her but call into the Art Gallery and visit with The Entombed Warriors – or at least a couple of them on loan from China. For those of you who do not know – my daughter Kylie and her husband Tyler whom you would have met previously on my travels, along with moi, sailed on the Madam V to Alaska from the port of Vancouver Canada. I am yet to write about this journey so stay tuned.  So much to do – so little time.  Here endeth the explanation.
When I leave home the weather people are telling me that today will be sunny and 27 degrees Celsius.  What liars – when I get into town it is more like 35.  Getting off the train I head on up to Macquarie Street which is one of the main thoroughfares at the top end of Sydney and where you can, after a short walk, find such Sydney icons as St Mary's Cathedral – Centennial Park and the Archibald Fountain and numerous statues.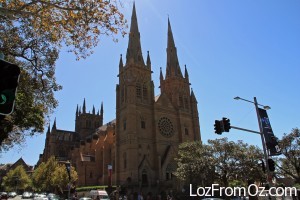 St Mary's Cathedral is the biggest Roman Catholic Cathedral in Sydney and is really an imposing structure.  Last time I came in here you could take photos inside without flash – but not anymore so it's photos from the outside only. Of course one has to run the gauntlet of numerous ice cream and cold drink vendors who charge the unsuspecting tourists more to enjoy a cold bottle of water than what I pay in tax for the year!
The Archibald Fountain always looks cool and refreshing and there are lots of tourists- some are really great when it comes to taking photos and they use their commonsense – if you are patient and don't walk in front of them while they are taking their holiday snaps then they will do the same for you.  It's all about manners.  Unfortunately today we have some sort of half clad mannerless male moron – thinking he is a Greek God posing and primping for his skanky wife/girlfriend or whatever and in general being a shirtless arse wearing short shorts so no-one gets any photos until he decides to leave.
I do not take a photo of this buffoon – apart from having a lousy torso he had a very hairy back – yuk!  Hang on – are they filming another Planet of the Apes?  A quick look round tells me no – so it's round the Archibald we go and take more photos to add to the 1000+ collection I have at home – love those digital cameras!  Here's a couple of happy snaps – such a pretty place.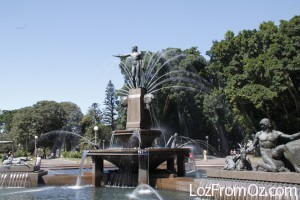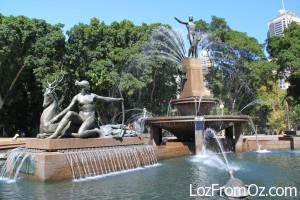 Anyway pressing on to my first objective of the day – the Sydney Art Gallery – and I am confronted with a queue a mile long and about an hour wait. Why have all these people left it to the last day of the exhibition to spoil my plan?  Just because I have left it till the last day is of no consequence.  There are screaming kids being dragged along by their parents – screaming kids in strollers – fakers (if you have read my earlier blogs I think they must be off the Volendam) and miles and miles of tourists.  As I do not play well with any of the above – I decide it is in my best interest not to mention their best interest to give it a miss and head on down through the Royal Botanic Gardens.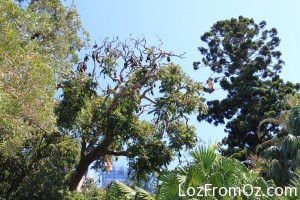 Now this is a true Sydney Gem of huge proportions.  Lush green grass – lots of shade trees – lots of plants – lots of open spaces and lots of bloody flying foxes.  The 'green brigade' wants everyone to befriend these little creatures – but they are noisy, stinky and shitty.
What used to be a lovely quiet area of the gardens is now a place better left unvisited.  There are lots more people friendly areas to see – magic little fountains – tropical shade houses and long shady walks right down to the harbour.
Anywhere near the water is great – especially when Sydney is sparkling in her best bling.  I know it is because the Madam V is in port – but before saying hello to my trusty friend I walk right around to Mrs Macquarie's chair – which is a place right on the point so named because Governor Macquarie's wife used to come down here and look at the harbour.
It is also a well sought after vantage point for the New Year fireworks and you get to see the full show on and above the Harbour Bridge.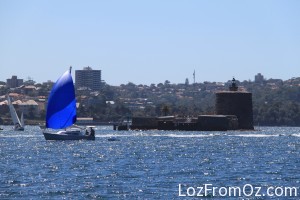 That is something I have yet to do – it's on the bucket list! Anyway back to the harbour – this is also a good spot for wedding photos and yep – the bride and groom and smiling away and trying not to fall in after being precariously positioned while the photographer's assistant throws her wedding dress train in the air to get that 'great photo'.
But you have to agree it is the best harbour on God's Green Earth so I cannot blame them.  Little sailing boats, big sailing boats, ferries, catamarans, private boats all take advantage of this wonderful place – especially on such a great day.  Hindsight is a great thing.
I wish I had started at the Opera House and then walked around here to see the Madam V leave at dusk but – because I cannot see into the future I did not.   
So after a nice little rest in the shade and listening to the harbour lap up against the walls – it is time to walk all the way round to the Opera House at Circular Quay and see my friend the ms Volendam.
She doesn't look a day older than when we sailed on her to Alaska in 2009.  When you walk around this area there has to be at least 50 boardwalk type restaurants and cafes – and be warned they all charge exorbitant prices for their meals and their drinks but in saying that it is all I can do to keep walking and not sit down and have a chilled glass of wine.
They practically kidnap you as you walk past but I say in my best Aussie accent that I live here and thanks but no thanks. 
The usual touristy performers are crowded along the walkways – again I put my head down and keep on going – it really is crass.
Why are indigenous peoples playing banjos – which reminds me of a great T-shirt I saw on a tourist.  It said 'Keep paddling – I hear banjos!' and had a picture of two guys in a canoe going for their lives!  Anyway – I digress which I normally do.
So standing in front of Madam V at last –  brings back a lot of memories but unfortunately all I can do is look this time – not walk up the gangway and have the farewell drink as we sail out – but there are lots who are going to be doing just that.  I find a nice shady spot and think of the places on board – the Crow's Nest – the Pinnacle Grill – the Lido Restaurant – our cabin and verandah – that freezing morning spent looking for Orcas – Glacier Bay and let's not forget the fakers!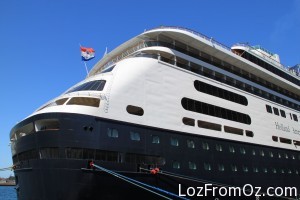 Walking down to the aft (that's the back of the boat for all you non nautical people) there is a tourist official standing behind a sign that reads 'Three Dams in Sydney' so I wander over for a bit of chat and I happen to mention our previous trip and hope he will say 'would you like to have a look on board?  But no – he gives me a brochure for the 2011 / 2012 cruises for New Zealand and the Pacific and wishes me a nice day.  Hrumph!!!!! I wish him the same – albeit through clenched teeth and head off.
Reaching the back of the boat I take this photo of where we spent our time – Kylie (my daughter) more so on the verandah than inside but that's a whole other story.  Sorry it is not closer but due to strict security not to mention tall fences that is the best I could do.  If you look directly at the deck of verandahs way at the top under the white roof and count 11 cabins in from the end – that's us!  Right above the H in Holland America! I know you are excited – I can tell!
So after more photos I decide that I cannot walk all the way back to the other side of the harbour to wave goodbye and the best plot is to head off home whilst my legs can still carry me to the train station.  Sure had a nice day – –