PLANTS & RAPTORS & SEALS – oh my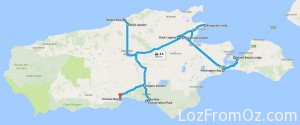 Friday – we should have been up for another sunrise shooting but the general consensus from yesterday – no thank you – so we get to sleep in until around 7am.  This gives us some extra time to pack up everything for our move to our private house at Vivonne Bay.
Here is a map of where we have been so far and where we are going today – just thought you would like to know.
Even though the island is small – we have covered half of it so far and still have a lot left to go.  After breakfast I make sure that everything is packed and that I did not leave anything behind and away we go.  We will back at this house in 2 days – – now you may ask why are we changing?  It is because today we move our excitement to the middle of the island and tomorrow we are over cavorting on the west coast.  Then it will be back to Island Beach which is near the airport for our trek home. Simples!
Loading the bus with us and our gear and the trailer with our luggage we are off for the first stop – Stokes Bay Bush Garden. I must admit flowers and plants are not on the top of my photography list but I will go with the flow and enjoy the surrounds.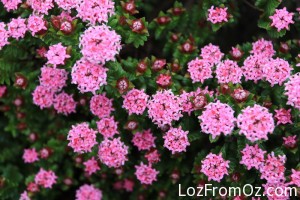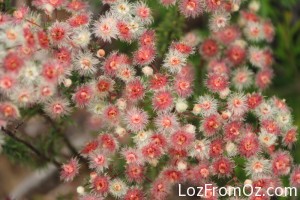 Not bringing my macro lens with me, I have to make do with closeups on my work lens, but they did not turn out too bad.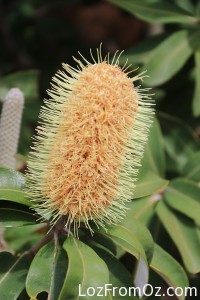 It is very tranquil, just the occasional bird singing or if you get close enough you can hear the bees buzzing around the pollen.
When you come to think of it, us Aussies have some wonderful native plants.  There are little paths to wander and discover or you can find a rustic wooden seat to rest and just listen.
Every time I see a Banksia, I am reminded of Snugglepot and Cuddlepie and the big, bad Banksia men and my wonderful holidays at Tugun.  Even though this Banksia is not the same as the Banksia men, it is an incredible bloom.
Time to return to reality and find some more colour.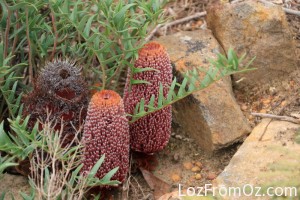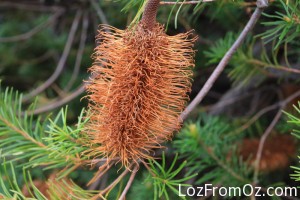 Yes, maybe, just maybe, Banksias are my favourite.  There seems to be more and more of them every time I turn a corner.
Something a bit different- Kangaroo Paw.  They come in different colours but this of course is the red variety.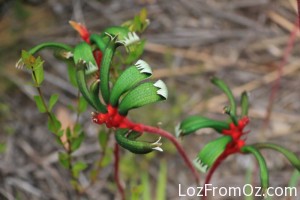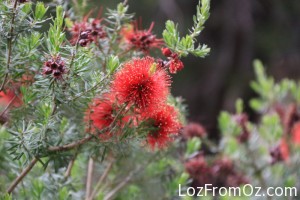 Little grevillias, bottle brush and Grass Trees dot the landscape, so from being a bit apprehensive about the Bush Gardens, it has been a surprisingly wonderful experience.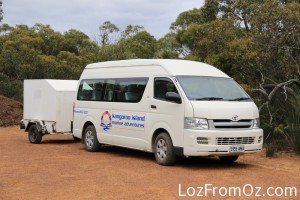 This is our van and I am glad to see that our luggage trailer is still secured on the back!  It is now time to head for Stokes Beach and lunch at the Rockpool Cafe.
As you can see on the map, it is only a short drive to our next stop so no sooner are we settled in with our gear then it is time to get out.  We will order our lunch at the Cafe and then go on a walk to Stokes Beach.
The menu looks great and it is hard to decide what to have – but you know me – when near the sea I always have seafood.  An order of the local fish of the day – Garfish – with chips and salad sounds great to me and once everyone has ordered it is time to head for the beach.
We will have our very own Outlander moment or for those that can remember – Picnic at Hanging Rock – as we have to scrunch up and squeeze through the rocks.  The path is very narrow and you really do have to watch your step.  Here's some photos for you –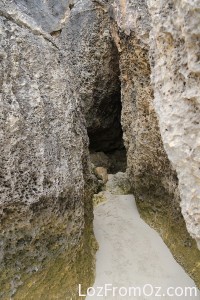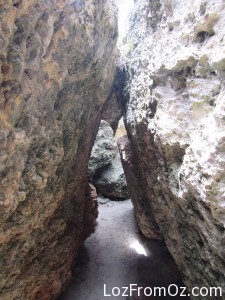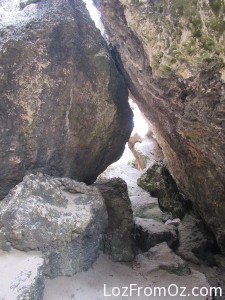 Isn't that a great way to get to the beach, although if you are humping a surfboard this is not the way to go.  Maybe there is another way for the surfers?  I will have to investigate but I did not bring the old Bu so I will just concentrate on not banging the camera.
After being exceptionally careful to walk in all the right places while taking photos and not slamming one's head on the rocks, I finally clamber out of the sandy path and am immediately greeted by the sound of the surf, the salty smell of the sea and this incredible view of the bay and the beach.

What a treasure this place is.  There are small groups of people just walking along or running their dogs or just like us – out for a stroll to get some photos.
After about 45 minutes or so it is time to head back for lunch.  I for one have certainly worked up an appetite so am looking forward to a good feed of fish.
This is The Rockpool Cafe.  What a quaint place and it is run by the outstanding team of Matt Johnson, John Deer and Lucy Cooper.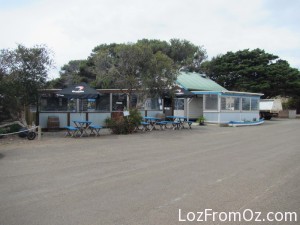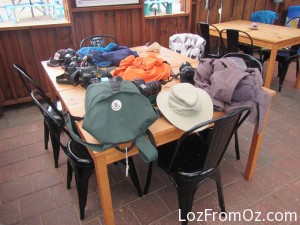 There is plenty of room for all of us and we are soon seated and refreshments brought around – I have decided to give the local ginger beer a go – and it certainly passes the taste test.
As you can see we do have a rather large assortment of cameras, bags etc.  Just as well there is a spare table for all of our gear.
The food is not far behind and let me tell you it looks delicious.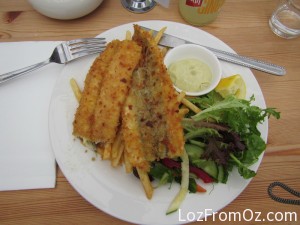 So what do you think? I can hardly wait to tuck into my local garfish.
This is the first time I have tasted this variety so here I go – but this time I remembered to take a photo before it was nearly gone!  Their own home made crumb mixture and a salad that is not drowning with dressing, a lovely tartare sauce – yep thumbs up from me. You can see I have already started to tuck in!
Once we fill ourselves with scrumptious food it is time to head for Raptor Domain where we will get to see and photograph eagles, owls and any other birds of prey they have.  Once the public show is finished, it is our private bird viewing where we get up close and personal with these feathered favourites.
For that reason I will split this post.  I have so many bird photos it is going to be difficult to choose.
See you at Raptor Domain!