OKAYAMA to HIMEJI – Climbing to Heaven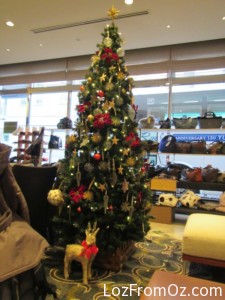 Sunday am – after a hearty breakfast of fruit, bacon, sausages and Vegemite toast it is time to gather up everything and check out of our lovely Kooraku Hotel.
I forgot to mention that when you walk into the foyer there are wonderful aromas that fill the air – lavenders and such.  Very calming.  There is also the Christmas decorations including a lovely tree all decked out with reindeer and let's not forget the many hand crafted bags and items that are on sale.
Because we are staying at the temple tonight our large suitcases are being sent through to Kyoto, so we need just pack an overnight bag which we will leave at the lockers at Osaka station.
Red Leader has everything organised – and soon we are heading for today's highlight – Himeji Castle.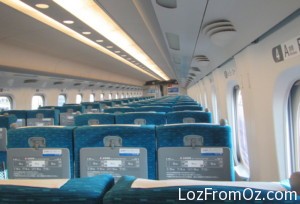 It is only early – around 7.30am – and even though it is Sunday there are lots of people going places.  We get our tickets and head for our platform and stand where our carriage 14 will be when the train arrives.
Such a great idea of marking the platforms for different trains and different carriages.  Our train arrives and it is practically empty – here's a photo showing the seating in our carriage and how lovely and clean it is.  Definitely Sydney trains could take a page out of the Japanese train system.  Back to Himeji – – –
We arrive to Summer heat. Is this not going to stop? I will tell you that letters will be written about the lack of cool Autumn air – but after a sweaty walk from station to the Castle – here it is.  How majestic is that I ask you?
HISTORY LESSON:  Himeji Castle is Japan's Premier Castle and is famous for its size and beauty.  It is one of only 12 original castles in Japan and was reopened in March 2015 after several years of restoration and cleaning.
Needless to say that you will be bombarded by lots of photos – but that is OK – I like to make you feel as if you are here with me.
After snapping away for what seems like ages it is time to move through to the entrance which is over the little bridge in the above photo.
As we approach the gate there are some gentlemen dressed as traditional Japanese warriors.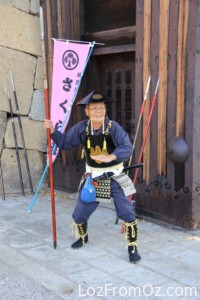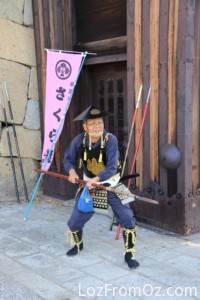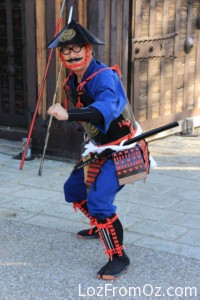 As soon as we get close they are more than willing to pose for us – they love doing it and I love watching them and their antics. I try and appear frightened but I don't think it's working!
Our friends have attracted quite an audience so for me it is back to the castle – getting closer I am absolutely gob smacked by the sheer size and beauty of this place.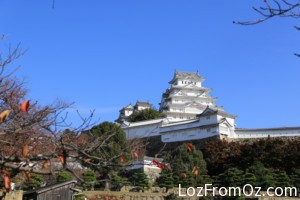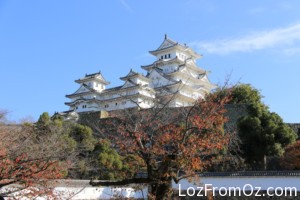 The path leading to the entrance is now on a slight incline and getting more steep with every step – that's OK – I take my time and take photos along the way. If you look carefully in the bottom left photo you can see Autumn leaves AND cherry blossoms.  OK there may not be many cherry blossoms but there are cherry blossoms nonetheless – how wacky is that?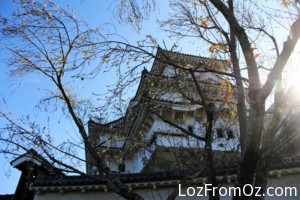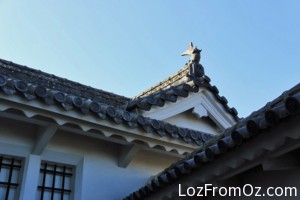 In the photo above right you can see some of the intricate stone carving.  The fish on the top is a replica – the originals are on display back down in the large areas which I will explore later.
Climbing the pathway I wonder how fit these people must have been to climb this every day.  Finally going inside I have to take off my shoes but I am given a bag to put them in.
If I thought the paths were getting steep you should see inside the castle.  Some areas are very dark and there are beam barriers on the floor.  There are signs everywhere saying 'Mind your step'. Also, shiny wooden floors and steep stairs are part of the journey.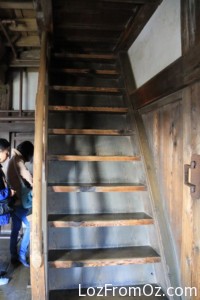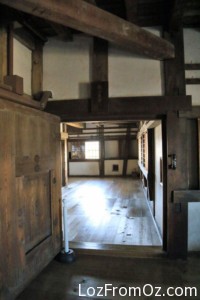 The rooms are sparsley adorned with a few items, there is no furniture.  If you decide to visit maybe read up on what it was like inside and then use your imagination.
I manage to make it up three levels and then decide that is enough for me as the climbing is getting steeper.  A view from where I finish my journey is astounding –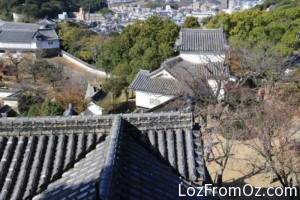 I will let you in on a secret – when you are inside the castle everything is one way and you cannot turn back.  But there is always a way – and I sneakily turn around and find an alternative path back down.
Arriving back at the start – I put my shoes on and return the bag to the bag box for further use – no single use plastic bags here! Back down the steep path to a lovely area with seats. One large group of rude Germanic tourists have piled their back packs and everything else on one whole seat under a tree while they flit around.  That soon changes and now I have a nice comfy seat.  What an amazing view from here –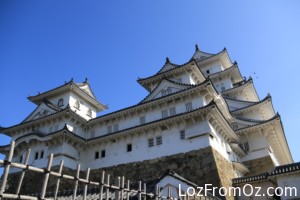 Have a look at how close the rocks on the base have been placed.  To create something like this all those years ago is mind blowing, they must have been very talented craftsmen.
After a little rest it is time to explore – I discover some of the original fish sculptures that previously adorned the roof – remember the copy earlier in the post?
The plaques tell me that these sculptures relate to Japanese folklore.  They are shachihoko – with the head of a tiger and the body of a carp.   It was believed that this animal could cause the rain to fall, and as such, temples and castles were often adorned with roof ornaments crafted in this form.  They would also protect them from fire.
After I have passed through the above gateway – there is an open area where there are Ninjas ready and willing to have their photo taken with anyone – FOR FREE.  I love this place.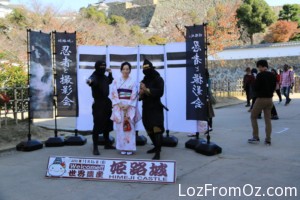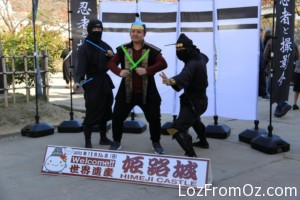 Being by myself, I do not want to dress up so I just enjoy watching the smiles on all the other faces. Don't you just love the cheesy fluro weapons?  Love it – just love it!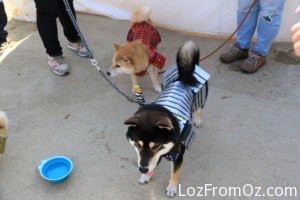 Time to walk back to the entrance but yet another smiley moment.  How cute are these?  I am going to try and get one of these outfits for my Gidge back home – I am sure she will love it.
I have time to enjoy a lovely ice cream and then it is time to meet up and get some lunch.
This morning has been a wonderful experience, the size and craftsmanship of this beautiful castle – also called The White Heron Castle – has to be seen to be believed and even though I didn't make it all the way to the top where I believe the steps were even narrower and more steep I really am glad that I got as far that I did.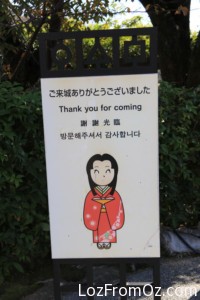 Ever polite to the last – they have a sign thanking me for my visit.  You are most welcome I am sure.
When we get back to the very beginning, I spy this group of tourists having a lovely row around the moat.  Don't you love the hats?  They seem to be enjoying every minute as they navigate their way right around the large moat type river.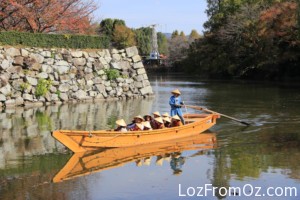 We grab lunch to eat on the train, collect our bags and now we are heading to Koyasan for our next little adventure.
Should be interesting to say the least!