KOYASAN – enlightenment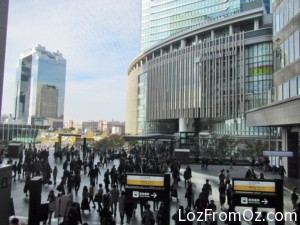 After our climb up and down the magnificent Himeji Castle, my legs and feet are saying OK – we have had enough for today, let's just go somewhere we can rest and recover.  The rest of me is saying 'get over it'!
I assure them that we are heading off for tonight's adventure – a stay in a Buddhist Temple in Koyasan and they will have a lovely long rest in the train before we get there.  I don't think they believe me!
We have returned to Osaka Station to collect our overnight bags and then it is back on those wonderfully clean trains that will whisk us up the mountains.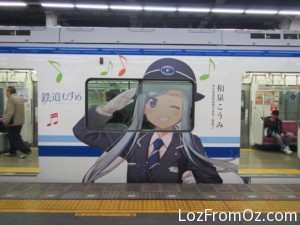 Japanese trains are fabulous.
I think I have said that before but I spy one of those painted ever-so-clean models.
No graffiti just sparkling clean and to be honest I haven't got a clue what is written but it is most probably something along the lines of 'be happy, smile and sing your way through the day!'
I'm smiling and singing – how about you?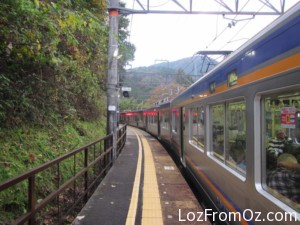 We have to get this train and then there is another cable car that will take us up to the top of the mountain.  The others in the group who have been here before are talking about the amount of stairs in the steep climb once we get off the cable car – I am not impressed and neither are my knees – but I cannot turn back now.
It is a lovely journey and as the train line is only single track most of the way we have to stop every now and again at a station where there are two lines so that we can let another train pass.  One good thing – we can get off for a little walk around and some wonderful fresh air before we hop back on again and continue.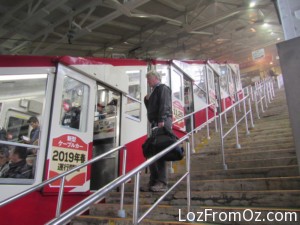 This is the cable car that we will take to the top of the hill – look at those stairs!  They were not kidding about how steep they are.
The inside of the carriage is just as steep – what a hoot.  We have a little wait and then it is up and away until we reach the top of the climb.  Then it is out and some more stairs.  I hope the monks have some sort of ritual that will relax us all.  Next it is on the bus to our overnight accommodation – Kumagaiji Temple.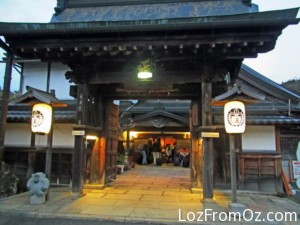 What a wonderful place.  So quiet but we still have to check in.  Shoes off at the front door and put into shelves until we go back outside.  We are given some leather sandal things that are comfortable until I try and walk in them.  Because the leather is so shiny – my feet keep coming out and I keep leaving the sandals behind.  I am in a fit of giggles.  I am not the only one in this predicament.  We shuffle along until we discover that our rooms are upstairs.  There is no way I am getting up the stairs without leaving my sandals behind like Cinderella so they come off and that is about the last time I wear them.  Socks are the go from now on.
Our rooms are typical Japanese style which is low beds, chairs and tables however a quick bit of investigation in the cupboards and I have a bed that now consists of 4 mattresses and 3 large quilts on the floor and one quilt on the top – much more comfortable.  We go back downstairs for a welcome talk and a few explanations are made about the Temple and the founder of Shingon Buddism – Kobo Daishi.  We are given some sweets and green tea – delicious.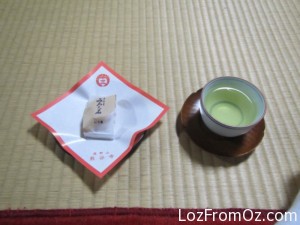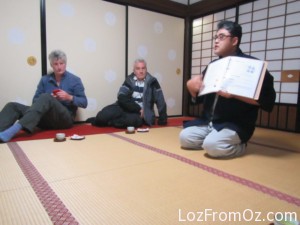 During our time on the floor we are also shown how to wear our special coats etc if we want to dress for dinner. I'll give it a miss. At the end of the session I ask the speaker if I can have a chair for dinner so that I don't have to cramp up on the floor – he smiles and says yes that will be OK.  Back to the room to get ready – – and then downstairs san sandals.
It is all set up for us and once everyone else sees my chair and table some of them want the same –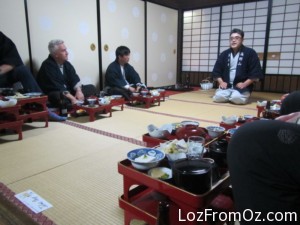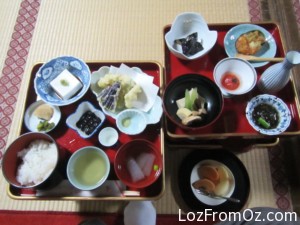 Now you might think that there is a lot of dishes with a lot of food – and you would be right, however, remember it is all vegetarian and it's only little bits of everything.  I will also say that it was very delicious and I ate most of it.  Dinner was also accompanied by a small bottle of sake – mmmm yum!  Even the tofu was delicious and I am not a great tofu lover.
When dinner is finished it is back to our room to get ready for our adventure to the Okunoin Cemetery.  This cemetery is the largest in Japan with some 200,000 tombstones.  Lanterns light the paths at night and I can't wait.  We leave our Samurai Guardian and head out into the misty night – –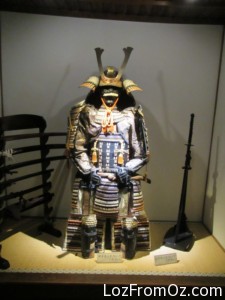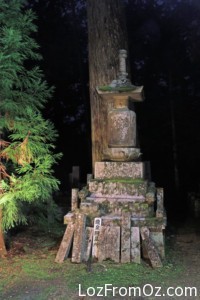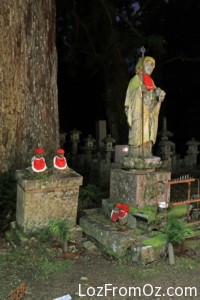 As we wander the pathways it is an incredible feeling to think that all these ancestors from many years past are keeping an eye on me and I like to think, protecting me on my journey.
Our little group has decided to do our own thing – some hurry up to where the founder of Shingon Buddhism has his mausoleum.  I decide to take my time – which in hindsight was not a good thing as I nearly ran out of time when I arrived to pay my respects, but more about that later.
Every now and again a little misty rain falls but it doesn't last for long.  The air is cool and crisp and there is not a sound to be heard.  I'm not sure why some of my photos of cemeteries at night are blurred.  I have a tripod and time release and yet they still have a blurry effect.  SPOOKY!
The little temples are wonderful – it is a shame that I do not speak Japanese so that I can read the inscriptions.  Every now and again there is an English explanation.  The photo above right is a memorial to pray for the repose of all those killed on both sides during the Japanese invasion of Korea during 1592-1598.
During my time photographing I meet RL who is on his way back to the entrance – all of a sudden I realise that I am running so far behind everyone else I practically have to gallop up to the mausoleum. Photography is forbidden in this area so a quick look and then it's back down the paths – but there are so many and I am sure I have taken the wrong one as nothing looks familiar. This is turning out to be creepy – but I am sure that the ancestors will look after me and I just head in the direction I think I should be going – which leads me to an unfamiliar entrance. Great. Some ancestors are asleep on the job! There is no-one around to ask so I just keep walking up the hill to where I think the Temple will be (hopefully).  Suddenly I recognize the buildings and know that I am on the right track.  The ancestors must have woken.
I have not been locked out and can now take off my shoes and head up the stairs to bed.  There is an early start tomorrow to witness the morning prayer rituals of the monks.