KONGOBUJI to KONDO HALL to KONPON PAGODA – peace and tranquility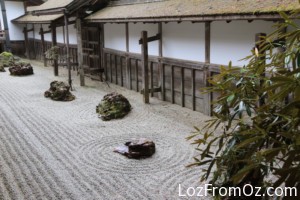 After the relaxing walk through the cemetery we are on the move again.
Temples and pagodas are on the itinerary. This is a bit like travelling Britain and Europe and visiting cathedrals and churches every day.  But I digress.
Our first stop will be Kongobuji Temple.
What an incredible sight as we arrive at the entrance.

This temple is reported to have the most beautifully painted screen doors and when we enter the first room they are not kidding.  Unfortunately I do not see the 'No Photography' signs and snap away.
After en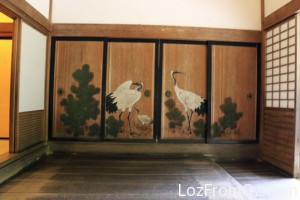 tering the building, taking off the shoes (yes, another sock adventure) the first room we see is the Ohiroma Room which was used for important rituals and religious ceremonies. The room's gilded sliding doors (fusuma) are adorned with cranes painted by Kano Tanyu. Next to the Ohiroma Room are the Plum and Willow Rooms, named after the paintings on their sliding doors. Toyotomi Hidetsugu committed ritual suicide in the Willow Room as ordered by his uncle, Hideyoshi.
It is then that one of our group points out the obscure little sign telling me 'No Photography'.  Sorry, sorry but at least I do not use flash.
Behind the building is the Banryutei Rock Garden, the largest rock garden in Japan.

Built in 1984, its large rocks from  Shukoku, the birthplace of Kobo Daishi, represent a pair of dragons emerging from a sea of clouds.
Once we leave the main part of Kongobuji, there are so many interesting buildings in this precinct as we explore further.  The misty rain is still with us but it is refreshing.
We walk up a rather imposing set of stairs to another complex which houses the Kondo Hall and also the Red Pagoda.  The space is so vast it is hard to choose where to look first.
Let's go with the Pagoda.  Konpon Daito Pagoda is a sea of redness on a cloudy day.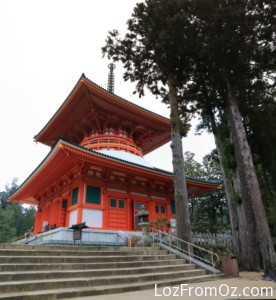 Yep, another incredible structure.  This pagoda is two-tiered, 45 metres tall and is the most brilliant vermillion colour.
The Japanese monk Kobo Daishi (remember him?) began the construction of the pagoda and it was finished by his disciples.  A statue of the Cosmic Buddha lies inside the pagoda and is surrounded by several other statues.
I cannot help but be amazed by this entire complex.  It houses about 20 buildings and for me, it is so serene and such a wonderful place to photograph.  It is also incredible that there are no tourist groups wandering around like a group of ants asking questions in their usual loud voices.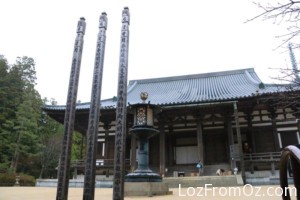 Close by the pagoda is Kondo Hall – pictured right.  This large wooden Buddhist hall is home to many ceremonies.
It has burned down several times and the current hall dates back to 1932.  I really must try and get my act together and makes notes of what building is what.  I seem to spend so much time chasing this information on the web when I get home so I can write my journal – it seems like the fact chasing is longer than the time I spend on holiday!
One time I do remember to take a photo of the information is the Great Bell of the Daito.  This bell, nicknamed Koya Shiro since ancient times is the most famous temple bell of Koyasan.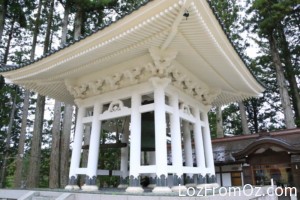 Kobo Daishi was determined to cast a bell here, and it was finally completed in the era of his successor, Shinzen Daitoku. The current copper bell was built in Tembun 16 (1547) and has a diameter of 2.12 metres, making it the fourth largest bell in Japan.
Trivia time – the bell is rung five times during the day – 4.00am, 1.00pm, 5:00pm (during the Spring equinox, at 6:00pm), at 9:00pm and at 11:00pm.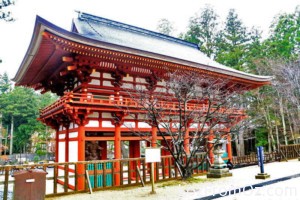 This is Chumon, a twin-tiered, five-sectioned tower.  Following a large fire in 1843, the Garan Danjo burned to the ground, save for the easternmost tower. The original Chumon gate was lost at that time, and for many years it was not restored. For the first time in 170 years, celebrating the 1,200th anniversary of Mount Koya's founding, it has been rebuilt.
Four figures are consecrated here: Jigokuten, Tamonten, Komokuten, and Zochoten. Jigokuten and Tamonten date to the original Chumon gate and were spared the fire. They have been preserved and restored up to the present. Komokuten and Zochoten are new originals courtesy of Myokei Matsumoto, a master Buddhist sculpture carver.
Now for some photos to finish off – –
Walking around this serene place is such a joy.  Even though there is a touch of excitement as I discover more and more buildings (Iam trying to see as much as I can) and being able to photograph them, I do not feel rushed or obliged to move along.  But alas, all good things must come to an end and it is time to leave.
We have to find a place for some lunch,  then collect our bags and head back down the steep railway and back to reality.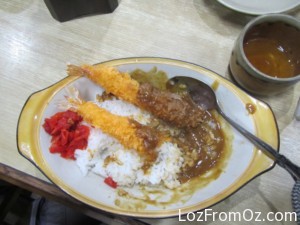 We decide on a little quaint place called Maruman – it must be popular as it is packed but they manage to squeeze us in.
I decide on Curried Prawns and Rice but when  it arrives it is not what I usually get back home.
The prawns are covered in a curry containing pieces of beef – strange but really tasty.  Of course there is the ever present Miso soup on the side.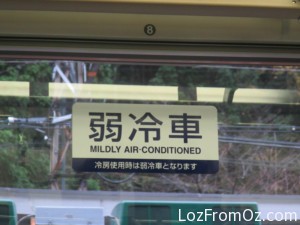 Here is another sign to give you a chuckle.
As we head back to our accommodation – the Porta Inn as Bentencho we are all feeling a bit weary but the three hour train journey gives me time to reflect on the lifestyle of the monks and their sheer dedication to their religion.
We arrive and check in – it is relatively early – around 6.30pm – so we have time to settle in – have a hot shower and maybe get some dinner.  After the many meals of healthy food it is time for a fat fest.  I was not the only one in the group to spot a Maccas close by the hotel.
I can smell that distinctive Maccas smell all the way back to my room and cannot wait to pig out.
My room is only small but it is comfortable and after enjoying every last crumb of dinner, it's into the shower and then to bed. Tomorrow it is Korakuen Gardens.