NARA, TODAIJI and KASUGA – Bambi and Buddha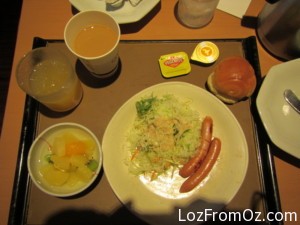 Sunday – a little sleep in and I feel refreshed and ready for a nice breakfast – how disappointed am I when I reach the dining area.  Whilst most of the food so far has been great – even the breakfasts – this one leaves a bit to be desired.
Even my friendly Vegemite couldn't save the day.  Oh well, I am sure we will be able to get something a bit more filling on the way to our first stop Nara Park.
Established in 1880, it is the location of many of Nara's main attractions including Todaiji Temple.  It is also home to hundreds of deer that roam all over the place looking for a friendly smile and something to eat. The weather is still holding for us – it's going to be a nice day and as we arrive we notice that even here there are lots of people in traditional dress getting photos taken.
RL lets us off the leash and we roam freely just like the deer.  My first stop is a wonderful little gully with, yep, you guessed it – Autumn colour.  There are a couple of steadfast photographers beside me – and all of a sudden our Mr First rambles right into the shot without a care for anyone else.  They are really not impressed and have to wait until he fumbles around with his tripod and all his other contraptions. I move on hoping he doesn't recognize me.
While I am wandering – I get a call from RL who is wondering where I am.  They are waiting for me outside the Todaiji Temple (oops) so I have to hotfoot it down the catch up with them –
Todaiji Temple is  one of Japan's most famous and historically significant temples.  The temple was constructed in 752 as the head temple of all provincial Buddhist temples of Japan and grew so powerful that the capital was moved from Nara to Nagaoka in 784 in order to lower the temple's influence on government affairs.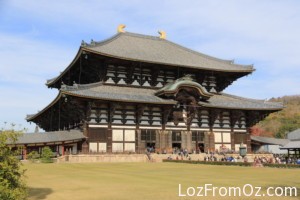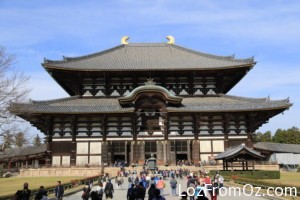 Todaiji's main hall, the Daibutsuden (Big Buddha Hall) is the world's largest wooden building, despite the fact that the present reconstruction of 1692 is only two thirds of the original temple hall's size.  The massive building houses one of Japan's largest bronze statues of Buddha.  The 15 metre tall, seated Buddha represents Vairocana and is flanked by two Bodhisattvas.
Standing in front of this statue, the size is astounding and the detail is amazing.  The Bodhisattva on the side is also breath-taking – all golden and shiny.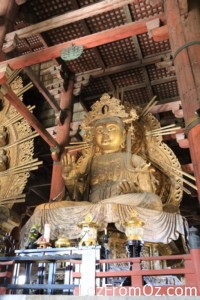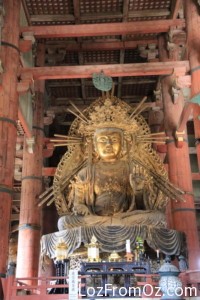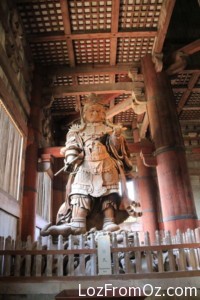 After the serenity of the Buddha, the statue above far right is rather frightening – he is one of the Guardians – Komokuten.  There are lots more areas to discover but after walking around the inside of this temple I need a rest and a drink.  You cannot eat or drink inside and that is understandable.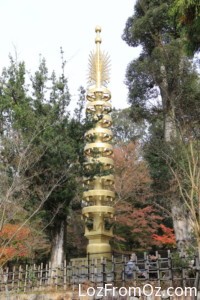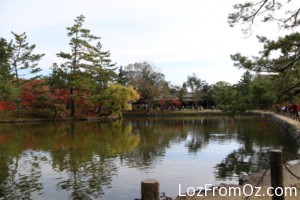 The golden spire on the left is on a path to another temple up a hill.
I decide I'll just take a photo and then find a seat near the lake where I can relax and watch the fish.  After a very relaxing time, the rest of the group gathers and we are now on our way back through Nara Park and onto Kasuga Taisha Shrine.
When we get to the top of Nara Park we are in need of a rest and water – some of us were clever to bring water with us – some person was not.  Why he didn't get water before like the rest of us astounds everyone – so we wait for 30 minutes while RL tries to find some water.  Still it is an opportune moment to take more photos –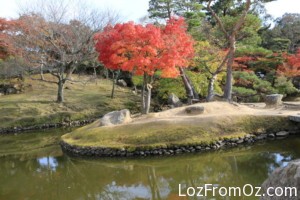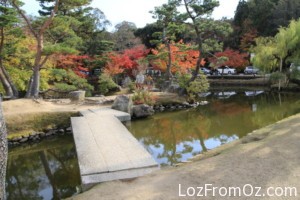 This was to be a panorama shot but unfortunately I did not line them up properly.  Nevermind, you can get the drift of this lovely pond with the bridge.
The water has been found and now we are on our way to the temple – unfortunately it is – of course – up a dirty big hilly road.  I am the only one to decide to wait for the bus instead of trekking up Everest which should be a hoot knowing how much I speak Japanese.
The journey is uneventful, I stand right at the front and wait for the driver to tell me when I should get off – RL is waiting for me and is astounded that I actually got here. O ye of little faith!
The approach to this impressive shrine (which I never get to see) takes me along a wonderful forest path – yep uphill – lined with smaller shrines and hundreds of stone lanterns.
Incredible to believe – I manage to get some photos with no crowds.  Don't ask me how – but I just did.  I also saw some little 'bambis' looking out from behind the shrines –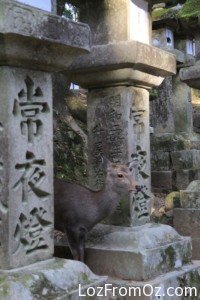 To walk past these lanterns and then have some little eyes appear out of nowhere is a bit of a start – but they are used to it – maybe they think they will get something to eat?
Back up the trail – nice and slow – just soaking up all the atmosphere – I come to the actual shrine – that is covered with people and it is another 'off with the shoes' moments.  It's too late in the day for me to go through that ritual – I cannot even get a clear photo of the shrine so back down the path I go.
Sometimes I think I might venture up the paths or steps to get a closer look at some of the monuments – and then I have second thoughts – I'll just take a photo – –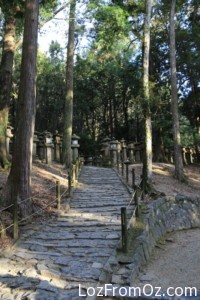 Time to continue back down the pathway – it is nearly time to meet up and I must say that this walk was really lovely.  Very cool and calming and every now and again a little friend to talk to – although once they discover I do not have any food – they move on to the next visitors.
I wonder if they sleep here amongst all these shrines and think well unless there is a Best Western Bambi they must.
It's back on the bus to take us to the station – and then some relax time back at the hotel.  We have a big night tonight – the sounds and sights of Dotonbori and Shinsekai and lots of night photography!