DOTONBORI & SHINSEKAI – lights, cameras, action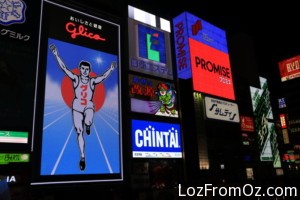 Relaxing for about 3 hours back at the hotel – I now prepare to hit the road again and travel to the lights and crowds of our first stop Dotonbori.
We use the ever popular train system and when we reach our final stop it is but a short and interesting walk through the arcades – crowds are gathering and they all seem to be heading in our direction so, I would presume it is going to be rather squeezy when we arrive..
Dotonbori is one of the most iconic areas in Osaka and it is often featured in guidebooks or on social media. Yes, it's where the running Glico Man sign (a symbol of the city) and all the flashy 3D signboards are. You knew that didn't you?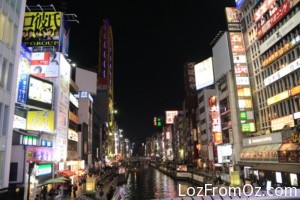 When we get out of the arcade an incredible sight greets us – the Ebusu-bashi bridge over the canal, where boats full of tourists enjoy a waterfront view, and the overall area is larger than what I imagined – so the crowds have spread out.
What a crazy area!  I am caught up in the amazing amount of lights advertising everything that you can imagine.  I am also astounded by the amount of people who head for the 'Glico Man' and then proceed to copy his position while their friends take the photos.
I hear some of you say 'what is the Glico Man?'  Well, here he is – along with a couple of other signs.
The technology in this place is incredible for sure. The 'Glico Man' is a movie – he starts and then runs down the track to finish with arms raised. There are signs for anything from selling vacuum cleaners to large animated crabs waving their legs all over the place –
Definitely rotating the head all the time so that I can get a look at everything! I would love to put all my photos on here but that just in not practical.  You will have to go and see for yourself.
RL asks everyone if we have enough photos – you can never have enough – but we agree it's time to move on to investigate Shinsekai.
The name Shinsekai literally means 'New World' and it was founded in 1912 as an ambitious, futuristic entertainment area for Osaka, modelled after New York and Paris.  Unfortunately the area fell into decline after the war and developed a nasty reputation.  It has been revitalised in recent years although it still feels very much like entering a time capsule.
Walking through some narrow streets, there is always lots to see and photograph – especially some interesting Billiken figures.
Now for a bit of surprising trivia – the Billiken is a charm doll created by an American art teacher and illustrator, Florence Pretz of Kansas City who is said to have seen the mysterious figure in a dream. The Billiken's arms are short and he is generally sitting with his legs stretched out in front of him. Billiken is known as "The God of Things As They Ought to Be." He also had a starring role  in the movie Waterloo Bridge with Robert Taylor and Vivien Leigh.  He was the good luck symbol that she gave to him.  Well, colour me so surprised.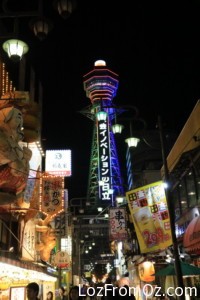 Shinsekai's biggest attraction has always been the Tsutenkaku Tower. The original tower built in 1912 was designed to resemble the Parisian Eiffel Tower on top and the Arc de Triomphe at its base.
It became a symbol of pride for Osaka and people flocked to see it. Visitors were also able to take cable-car rides on an aerial ropeway that linked the tower with the Luna Park fairground. This first tower was badly damaged by a fire in 1943, and disassembled shortly afterwards.
In the post-war years however, local people campaigned for a new tower to replace it and the current tower was built in 1956. Standing at 103 meters tall it was designed by the architect Tachu Naito, who also designed Tokyo Tower.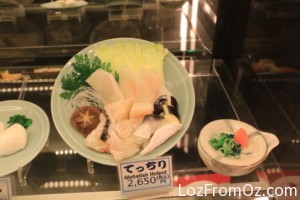 Tummies are starting to rumble so we are on the lookout for a reasonably priced good restaurant – does Globefish sound good? No thanks they are part of the Puffer Fish family and can be deadly if not prepared by the proper accredited chefs.
Moving on – one of Osaka's famous foods, Kushikatsu, is a speciality here and consists of various skewed foods that are battered and deep fried – so we enter a rather well famed establishment – and see this – – –
Your eyes are not playing tricks – it is a Kombi Van in the middle of the eating area.  You can choose to either eat in the van if there is room – or you can take a table in the main part – we opted for the table – thank you.  Time to order – everyone gets the complimentary cabbage.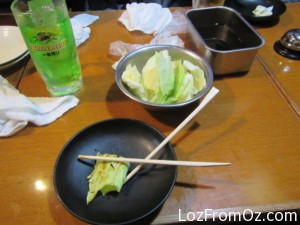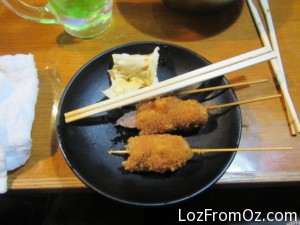 You may notice the container of what looks like sump oil on the table.  You dip everything in this – yep EVERYTHING.  I really didn't want to know what could be lurking on the bottom of the tray – it is not changed for new customers – but it sure tasted good whatever it was. I order the Pork Back Ribs, Scallops and Camembert – two pieces of each. I think all up with a drink it cost me around AUD12.00.  What a bargain – and what a great time was had by nearly everyone!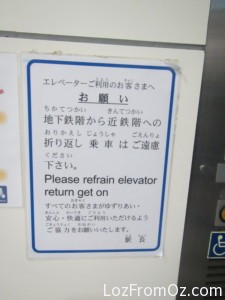 After we feel full to the brim – we now waddle back up to the station and head home.  We should get back about 10.30pm so it's been a long day even though we had a break before heading out tonight.  Here is another one of those fabulous signs I managed to click – can anyone tell me what it means?
For anyone that is interested – tomorrow is a 3.45am start to visit the Tuna Auction.  I will definitely NOT be going so you're on your own.