SYDNEY to DUBAI to ATHENS – leaving cattle class behind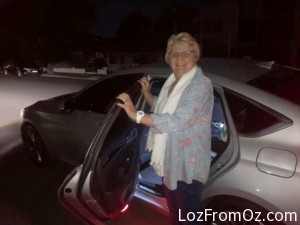 Saturday – part of my research on Greece was watching a wonderful DVD – This is Greece by Dr Michael Scott – a Professor of classics and ancient history at Warwick University in the UK.
He studs his adventures with gems written by esteemed poets and travellers such as this 'As you set out for Ithaka (island home of Homer's Odysseus) – pray that your journey may be long – full of adventures, full of knowledge'.  So my Odyssey begins – with words of wisdom written by C P Cavafy and shared by the Professor.
Saturday – the day has finally dawned – – the alarm wakes me and it is 2.15am – yoicks!  My Emirates Chauffeur is picking me up from home at 3am so I better get a move on.
It is still dark outside when my driver Bob and his immaculate Hyundai Genesis arrives and after Stuart wheels my bags out to the car; Bob gently puts them in the boot, walks around to the side of the car and opens the door for me.  Stuart manages a quick photo for posterity, hugs and kisses all around and I am on my way. There is hardly any traffic and I must admit to a certain amount of 'what the hell am I doing' fear is with me, but that disappears when I arrive at the airport.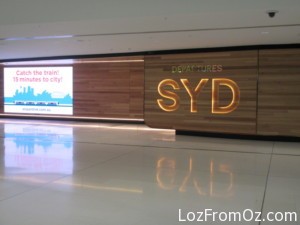 I have to warn you now that this first flying journey post is going to be long and full of sheer Business Class indulgence.  I may never get to fly like this again so I am going to be obnoxiously stuffy – – get yourself a glass of champers or anything you fancy and enjoy the journey with me.
Head to Check in Counter E – straight past the cattle – pardon me.  My bag is 18.2kg which is a bit more than what it usually is – but still well under the 45kg allowable limit. Hopefully I will meet it in Athens as I don't have to clear anything in Dubai – more time for the Business Lounge.
Customs control opens at 4am so I have 30 minutes before I can head off to the lounge.
I have been given an Emirates Express Card and flashy bag tags that helps clear through customs a lot quicker than everyone else.
Flight EK415 departing Sydney at 6.00am and arriving Dubai 2.10pm.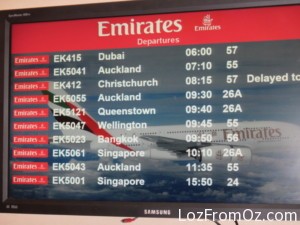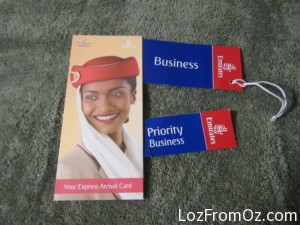 Passport scanner doesn't work so I have to get on the line, then body scanner and bag test – you will be pleased to know that everything is OK.
Finally the Lounge – coffee and pastry as I am sure they will feed me up as soon as I step on the plane. It is a bit smaller than the Qantas Lounge but, a lounge it is and soon it is time to head for Gate 57.
Do you like the sign?  I stand there unashamed with my nose in the air and pretend I travel like this all the time.  Welcomed onto the plane with smiles and I am directed to my seat 23K – down the back but in its own little enclosed space.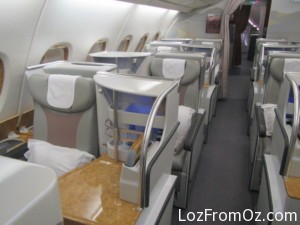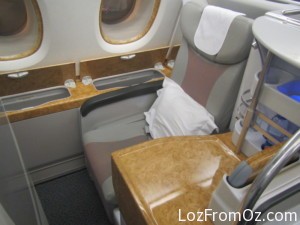 The Business Class cabin is divided and my seat is the first seat in the smaller section (see photo above left) – up near the Bar and the toilets – that's an omen for sure.  I sit and keep looking around, pressing the buttons – I am having a great time.   I have my own private refreshment bar – and as I am enjoying all these gadgets, a lady arrives with hubby and sits herself in the first row of the middle seats. Configuration is 1 – 2 – 1.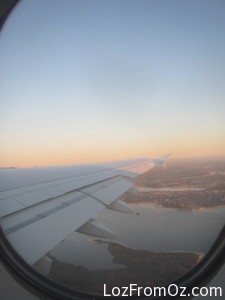 Then the complaining starts – there is not enough room and not what she expected and wants another seat but the plane is full and she is stuck – HA!
The doors close and here we go. Yep – wing photos – –
Let's get some details out of the way – it is an A380-800 with the ID A6_EDE.  As we have just taken off and travelled only 84 miles the speed is 421mph with an outside temp of -26 degrees celsius.  Time to Dubai – 13 hours 20 minutes.
Here come the hot lemon scented towels and while I am sitting there with the towel over my face in total relax – the crew come around with the Menus, Wine Lists and the Amenities Bags.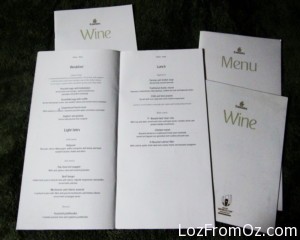 The menus are like small books – these are the menus and wine lists for both flights to Athens – I decide what I am going to have from the Sydney to Dubai Menu – OMG the food and drink is certainly overboard.
I am in shock. These menus will be securely stowed in my bag to take home – I am sure not going to leave them here.
After perusing the menus the Amenities Bags are handed out.  It is full of Bulgari goodies – better than the usual sox, toothbrush and eye shades of Cattle Class.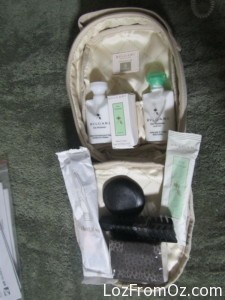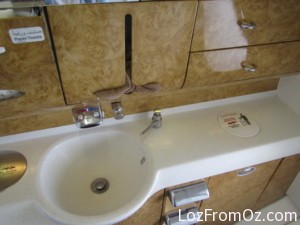 I might also say that the larger than life bathrooms are full of Bulgari items as well.  Usually airplane bathrooms are a no-go area but these are well worth the visit.  Lots of room – and spotlessly clean.
But I am getting ahead of myself.
Next the 'Would you like a drink Miss Clarke' Steward is beside me. Yes please, I will have the Champagne and Orange Juice – it is 6.45am.  Breakfast is ordered – Gingerbread French Toast with Raspberry Compote; Cinnamon Poached Apple and Lemon Curd Butter. Fresh Fruit Salad on the side.
How good does that look?  It tastes wonderful and is served on Royal Doulton China.
After breakfast is finished the Cabin Crew are around again with mattresses for our sleep time – they put them on the seats and then it is time for a nap.  Press the button – the seat slides down into a full length bed – a lovely full size pillow and soft doona and I am soon sleeping in the clouds.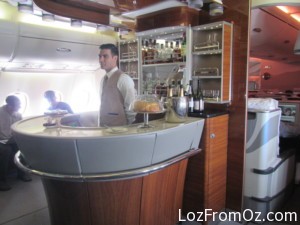 I wake up feeling hungry – so press the button and the seat returns to anywhere I want between half inclined to sitting upright – I am like a kid with a new toy.  We have 4 hours to go to Dubai so let's see what is on offer at the Bar.
I decide on Seared Scallop, Lobster and Prawn with Tomato Salsa.  It sounds good but was not that flash. I also grab a stash of Cheese Straws and Olives which are much better.
The journey has had a few rough patches while I have been awake and the seat belt sign has remained on.  Have another sleep and then decide to see what is on the screen.  These screens are so big and is much better for my eyes.  Have now been served some warm mixed nuts with a glass of mango juice.  Three and a half hours to Dubai. Outside temp is -55 degrees celsius. Time again to snuggle under the doona and just as I get comfortable it is time to order lunch.
I bypass the Appetiser and go straight for the Main Course – Braised Beef Short Ribs with Soy and Anise, served with Miso Aubergine Purée, Roasted Carrots and Pickled Shiitake Mushrooms.
Dessert is Chocolate Clairefontaine which is Layered Cake with Hazelnuts and Milk Chocolate Cream, served with Grapefruit Gel.  Of course I also get a small box of Luxury Chocolates.  That's it – I am done for food – – and soon it is time to land.  A bit bumpy with the brakes but we are safely on the ground.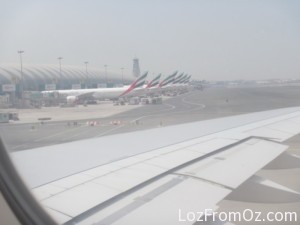 Dubai is very hazy and the vision out the window is not the best – but at least I am here ready to begin the second leg – Dubai to Athens.
Not having to clear customs and baggage claim I head straight for the Business Lounge. Following the signs until there are no more signs to follow, I have to ask directions.  The man gives me a strange look and points to the sign right behind me near the lifts. Goose!  This place is like a big city.  Up the lift and the whole floor is the Business Lounge.  There are about 4 or 5 different food sections with whatever you want – the Moet Bar with top notch drinks of every description – comfortable chairs – quiet areas – everything that makes you want to travel like this all the time.
I have a 3 hour layover – it's a long day. Must be getting a bit blase as I do not have any photos of the Lounge – – looks like I will have to fly like this again – what a lousy excuse but an excuse is an excuse is an excuse.
My flight is announced – EK 103 departing 5.20pm and arriving Athens 9.25pm and Business can board direct from the lounge. How posh! Here I go – smiling faces welcome me onboard and I am directed to my seat 9K.
Basically the same as the previous seat – but this A380 is a newer plane.  I start with orange juice and then the Menus and Wine Lists are handed out.  Frankly I have had enough food so decide to sleep for this journey.
Wake up 4 hours later – we will soon start our descent into Athens.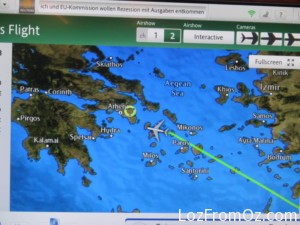 Smooth landing and then it's time to go through customs and retrieve my bag.  There it is coming around to greet me – head for the arrivals gate where my driver is there with my name on a sign.  We are soon off to The Amalia Hotel and I notice that it is extremely warm outside.
This will be the first but not last time I hear the phrase 'unseasonably warm for this time of year'.  Check in to the hotel – lovely staff and looks like the hotel is in a great central spot – I have a Classic Room with internal views (???)  – room 301.  The size is OK – bit small and the bathroom is tiny – but after all I am only there to shower and sleep.  Fall into bed – I have to hit the ground running tomorrow so need to be refreshed enough to get me through. This is going to be one amazing holiday for sure!