ATHENS – guards and history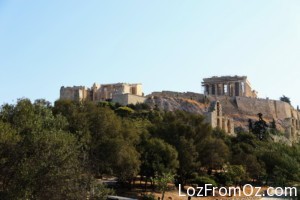 Sunday – after the monumental flying escapade yesterday I awake in Athens – ready to say hello again to this wonderful city.  It has been 21 years since I was here with my daughter Kylie and I am eager to see my old friends including Zeus, Apollo and Athena.
I take a look at the view out my window – the advertised 'internal views' which consists of looking down the fire escape into a well of walls. Hmmmmm!
Time for breakfast so it's down to the eating area on the first floor where I discover lots and lots of yummy food and more importantly – good strong coffee.
There are loads of tourist groups, must be a popular hotel,  but I find a table by myself and after putting my camera on the table to show someone is sitting there – it's off to the trough.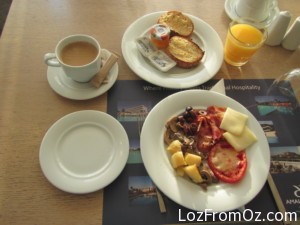 All types of food is on offer but I decide on a small portion – grilled tomatoes with cheese, bacon, mushrooms, potatoes, cheese, Olives (of course) toast, juice and coffee.  Tragedy – I have left my Vegemite upstairs (more organisation needed) so have marmalade.
It is a nice relaxed breakfast and I love to watch the Fakers pile their plates up because they think the food is going to run out – they are incredible.  After finishing my breakfast it is back upstairs to collect cameras and all the other stuff I need for the day.
This is the first day of 4 weeks of exploration so it is fitting that the Professor has words of wisdom to set me on the right path – 'To discover beautiful seas – fantastic beaches – amazing food – bucket loads of myth – breathtaking sights and endless amounts of history.  A place to talk – to think – to dance – to laugh – to cry and ultimately to understand what being alive is all about'.
Well, that certainly sounds very profound and whether I will do all of the above – you'll just have to wait and see,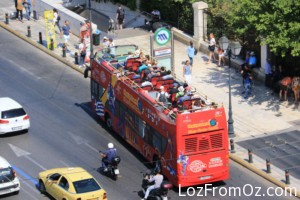 Today's plan is put into action – starting with the Hop on Hop Off Bus so first up – short walk to exchange my voucher for my ticket – and a nice surprise the lass tells me I have today plus an extra day tomorrow.  I tell her that I will not be able to use it tomorrow so she writes on the ticket 'open day'. How nice.  These buses are always an excellent idea when you land in a city.  They give you a chance to get your bearings and decide what you really want to see  if you have not done any research.  Me? I have everything planned.  I have everything planned down to the minute. How frightening is that says I – pretty frightening says you.
There are numerous stops near all the 'touristy' spots and you can avoid the crowds and sore feet.
I do a full loop just for the sake of it, take some photos and then it's time to Hop Off for the Changing of the Guard.  Every Sunday morning at 11 am is the official ceremony with all the official customs. Crowds gather in Syntagma Square to watch the Evzone whose members stand proudly in perfect stillness in front of the Tomb of the Unknown Soldier which is in front of the Hellenic Parliament.
There is of course Guard Changing every hour in every day, but on Sundays, it is a special Ceremonial Change. I can hear the music of the band so here we go.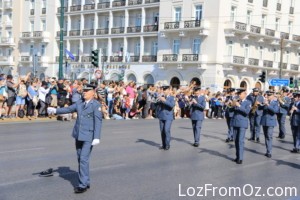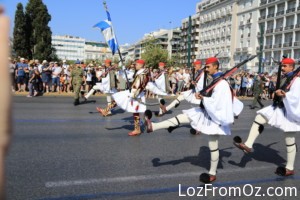 There are crowds galore on the footpath and the roads and it is hard to find a good spot, but I work my way through so that I can at least get some over the head photos. The police are keeping an eye on everyone and telling people to move back.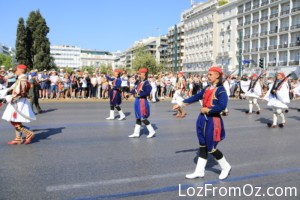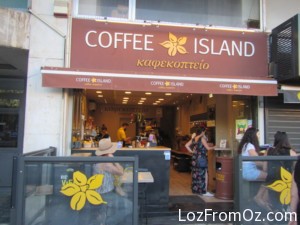 When the main part is finished and the crowds have surged forward to see more, I head back to the hotel but first, because of the unseasonable heat I get an Iced latte from the little Coffee Island shop a couple of doors down from the hotel.  It is delicious and icy cold.  Seeing that the HOHO bus stop is so close to my hotel, I have a bit of a rest to recover and then I am on my way to the National Archeological Museum – reputedly one of the best museums for Ancient Greek artefacts around.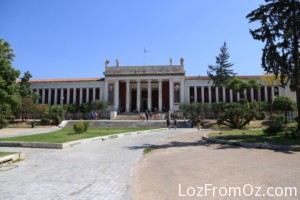 Another little journey on the bus and I arrive just after 1pm – the bus is definitely the way to get there – it's time to line up and pay the entrance fee – 10 Euro – stow my back pack – and be amazed at the treasures before me.
I have my trusty friend Rick Steves with me who will, by way of my ipod – guide me through the treasures and stories from long ago.
First up there are items from the Cycladic Period.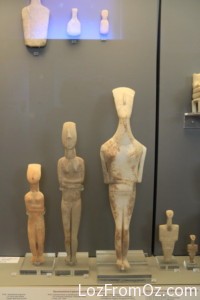 This was a Bronze Age culture ranging from 3300 – 1100 BC and many artefacts were found throughout the Cycladic Islands in the Aegean Sea.
The best known type of artwork that has survived is the marble figurine, most commonly a single full-length female figure with arms folded across the front – known to archaeologists as a "FAF" for "folded-arm figure".  Somehow standing here and looking at them and calling them FAF just seems to be irreverent. Apart from a sharply-defined nose, the faces are a smooth blank, although there is evidence on some that they were originally painted.
Rick tells me it is time to move on to the Gold of Mycenae.  Everyone who visits this Museum and also the local museum at Mycenae, makes a bee line to admire the immense wealth of the Mycenaean gold treasures, discovered by Heinrich Schliemann in 1876 and by Papadimitriou and Mylonas in 1952.
Walking into this particular area – the glint of gold is everywhere – but I must show some restraint and follow Steve on the journey instead of jumping all over the place.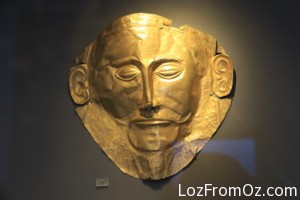 Taking pride of place is the renowned 'Mona Lisa of prehistory' – the beautiful Mask of Agamemnon.  
When Schliemann found this mask at Mycenae, he believed that he had found the body of the Mycenaean King Agamemnon, leader of the Achaeans in Homer's epic of the Trojan War, the Iliad, but modern archaeological research suggests that the mask dates to about 1600 BC, predating the period of the legendary Trojan War by about 300 years. Its authenticity has been questioned several times, given the fact that many suspect Schliemann was capable of planting elaborate forgeries to generate attention and money for his projects.
There are so many incredible items from this time, and it is hard to drag myself away from that beautiful mask – but I must move on –
There is incredible jewellery, more funeral items and a special Bull Rhyton.  A Rhyton is a conical container from which fluids were intended to be drunk or to be poured in some ceremony such as libation, or merely at the table. The fluid was poured into the neck and then out through the nostrils. Those Mycenaeans sure were an incredible bunch.
Moving on past knife sheaths, pottery and more gold Rick points out the Warrior Krater, made of clay and dating back to the 12th Century BCE.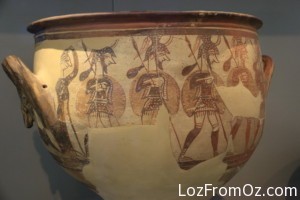 Kraters were large vessels that were used to mix and dilute wine with water! Sacrilege!!!  This krater is well known because of the figures depicted in full armour.
The men are wearing helmets, armour, shields and spears as they are departing for battle. The men also have a sack of supplies that are hanging from their spears; there is also a woman who is raising her hand as a gesture of farewell to the men.
In the next case are the Vapheio Cups – these are two masterpieces of Cretan Mycenaean metalwork, which were found along with other valuable objects in the vaulted tomb of Vafios Laconia.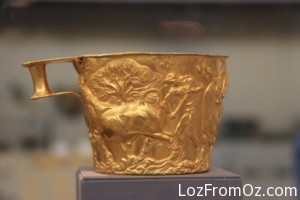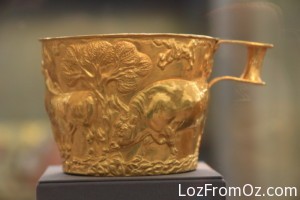 The two cups are considered to be the work of the same craftsman, though one seems to have been more carefully made.
After exploring this fabulous gold it is time to walk back down the room and start my clockwise journey through the other rooms – so much to see.  Poor old Rick is being paused all over the place so that I can spend more time admiring these items.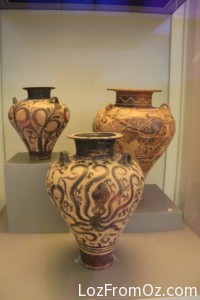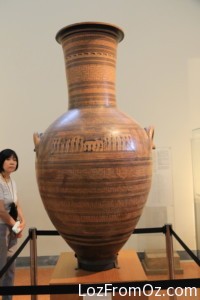 Passing huge urns – some wonderfully decorated with octopus – above left is a Mycenaean imitation of Minoan Marine ware, 15th century BCE.  Above centre is a Seated Goddess about 630 BCE and above left is the famous Dipylon Vase. A grave amphora with figures mourning for the dead.  760-750 BC.
Next room we see Kouri (female) and Kouros (male) statues,  These statues were used in Archaic Greece as both a dedication to the gods in sanctuaries and as a grave monument.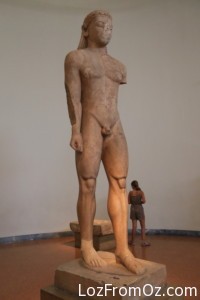 Left is the Sounion Kouros – a statue of a naked young man carved in marble taken from the island of Naxos around 600 BCE.
it is one of the earliest examples of Kouros, found near the Temple of Poseidon at Cape Sounion, he was found badly damaged and heavily weathered and was restored to his larger than life original height of 3.05 meters.
Ancient Greeks were influenced by their Egyptian neighbours when creating kouri. The Egyptian influence is especially evident in the pose of the figure. Archaic sculptors intended to idealize the human form which is made evident by the modelling of the Sounion Kouros. Sculptors of kouri attempted to convey slight movement and more naturalism over the course of the 6th century BCE.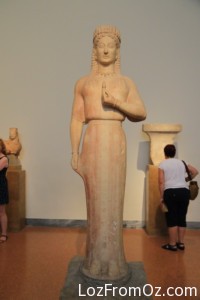 This is the beautiful Phrasikleia Kore – the name Phrasikleia is derived from the archaic Greek word kléos meaning 'fame' and it was a word which was important to archaic Greek culture.
The Phrasikleia Kore is a funerary statue created about 550 BC. The inscription suggests it depicts a young woman who died unmarried and therefore is forever a maiden.
She is fashioned from Parian marble and stood atop the grave of Phrasikleia as indicated on the pedestal,  The expression on the face and the fall of the garment that follows the body is incredible.  She stands erect and wears a long peplos, Originally painted – its decoration consisted of rosettes, stars and swastikas which meant in those times good fortune and well being.  I will not go into how we think of swastikas in these days.
Around her waist, she wears a girdle. The front of her feet and sandals are visible. Her right arm hangs down and firmly pulls on her peplos as if making an introduction. Her left arm is held in front of her chest and holds a still-unopened lotus flower. On her head, she wears a garland of flowers, around her neck a necklace, and on each arm a bracelet.
She is a beautiful maiden don't you think? So graceful and serene and to think she was sculpted around 550-540BC – she is remarkable for her age.
This post is starting to take on a history of its own – so I will break here so that you, me and Rick can recover – and I will pick it up again after suitable libation!