HERAKLION to SANTORINI – sunsets and stairs
Thursday – on the move again and I am looking forward to my ferry journey as my Odyssey starts to wind down, except for the early mornings.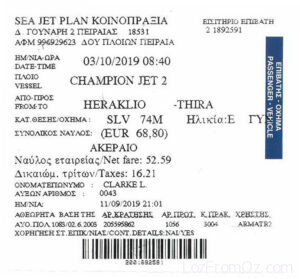 My hotel pick up for the ferry is at 7.30am so there is no time for brekky – maybe I will grab something on the boat. The morning is fresh and clear – a bit cool but I can handle that after the intense heat.  At the dock – this is a huge ferry.
People look as if they have been lined up for a while so I join the queue and wait.  Lots of activity with ferries coming and going but ours is all docked and waiting to begin its journey at 8.40am.  So, time to take some more photos.
This is our Champion Jet 2.  Don't be fooled – the sign says Thira – don't panic – that is the capital city of Santorini which is one of the Cyclades islands in the Aegean Sea. It was devastated by a volcanic eruption in the 16th century BC, forever shaping its rugged landscape. The whitewashed, cubiform houses of its 2 principal towns, Fira (where I am) and Oia, cling to cliffs above an underwater caldera (crater). They overlook the sea, small islands to the west and beaches made up of black, red and white lava pebbles. Doesn't that sound fabulous?
After dragging my luggage up the ramps and then climbing stairs to the seating area – I am in Seat 74M which is situated in the centre of the area.  There are a lot of people but it is not packed so I am soon on the lookout for a free window seat.  Found one B31 – nice and relaxing to look out the window at the blue sea.  Grab a coffee and a croissant and I am happy.  After about two hours we arrive at the port so it is a time to retrieve my bag and walk down the ramp.  The port is total chaos but I finally find my transfer – a nice lady who has all my ferry departures etc.  She guides a few of us to the bus and then it is up the mountain, a narrow road with lots of turns with a very vigorous driver.  Had to hold on a few times as we negotiated the hair pin bends.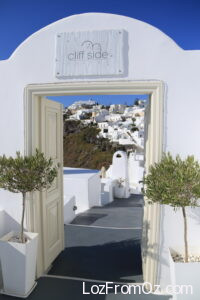 I have arrived at the top – the views are spectacular. There is a lad from my hotel – Cliff Side Suites – who is ready to help with my luggage which is a good thing because this place is built on the side of a cliff – hence the name.  Everything is wonderfully blue and white – just like the postcards and what you see on TV.
Walking down the stairs to reception – and because I am early the room is not ready but Sia (the manager) tells me it is the best room.  Says I 'are there lots of stairs?' – yes says she.  I then ask if she has anything with not so many stairs – the answer is yes.
I can wait in the Pool/Bar area – which is down many stairs – OK so far but then I realise I have to walk back up.  This is the pool area – small but looks very relaxing.  Maybe a swim later?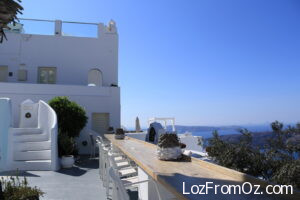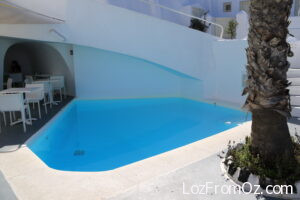 As I sit here looking out over the caldera I happen to turn around and look back up the hill – this is what I have to look forward to so that I can collapse in my room.  I will save the views of the caldera for when I get to my room.  It is such a glorious day.
Below – OK this is my room – or maybe I should say cave – and one of the many views I have.  Built into the side of the cliff it is wonderful. I can see me sitting out here on more than one occasion.
The outside is very deceiving because inside it is luxury. It is not overly decorated but it certainly is tasteful with every convenience, except for a dependable wi-fi – no matter.
Once I am in and organised – time to sit on the balcony and just look at what I see.  In the photo on the right is the view looking towards Oia – home of reputedly the best place to view the sunset if you can stand the tourists. I don't know about Oia – but this view and this place will suit me fine – no tourists – just me.

What a shame I don't have a nice cold bottle of wine – but maybe later.  It is hard to realise that this place is one dirty big volcano – with the huge eruption creating the caldera.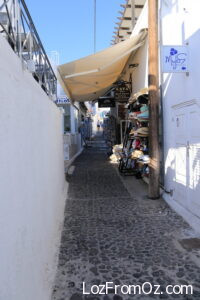 The blue of the sky and the blue of the caldera and the white houses – what more do you want? After an hour or two of doing nothing, it is hard to drag myself away from here but it is time for a little walk of exploration and some dinner.
Back up the stairs and hopefully I will remember which way to go as the many hotels on this cliff seem to all melt into one. What's a bet I get lost.
Instead of walking along the main street where I am likely to get run over, there is an alleyway type walkway behind all the hotels. This is much better.  As you can see there are shops and restaurants along here.
More investigation of these establishments will take place – I am here for two nights.  I have also asked Sia for the name of a good restaurant and she has suggested to briki which is on the left of the above photo and overlooks the caldera. So in I go – –
The concierge advises me that they are booked out for the sunset hours – about 90 minutes away and that there are no front row tables available  but that is no problem – I will be watching that on my balcony. Major gloat going on.
You can see from where I am sitting I still have a great view. Time to order –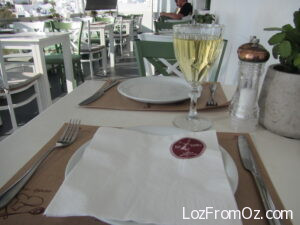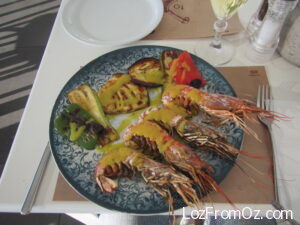 Glass of a nice dry white Gravalas Santorini accompanied by Grilled Shrimp with Grilled Vegetables and a Lemon Oil Dressing – delicious. At a total cost of EURO 25 I am happy to pay it.  Great food – great view and then after a relax, time to slow walk back to the room for sunset.
Just as well I am going down the stairs as there is no way I could walk up them.  Let's get settled for the world renown sunset.  Batteries charged – here I go – I will just put the photos here – you can make up your mind whether or not it is the best sunset in the world.
So, what do you think so far?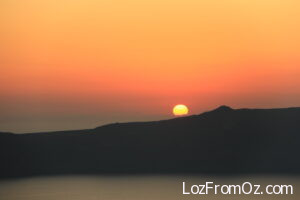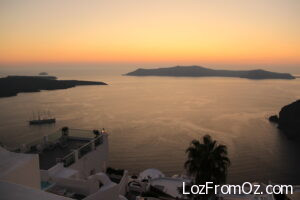 It is a still night – lovely to sit here and just watch. If you zoom right in you get the photos of the sun but you lose the perspective of the surroundings. There are a couple of boats giving their passengers some good views so I bet they are happy.
Time to lock myself away in the cave and look forward to tomorrow – hope the day is just as great weather wise – but maybe not so hot.