MYKONOS – swimming and doing a total relax
After a sound night's sleep – I awake to another wonderful day with clear blue skies and the promise of a lovely warm sun.
I know this is going to be hard to believe but not many photos were taken today – but enough – let's get on with it.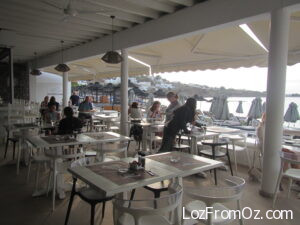 Breakfast consists of freshly squeezed orange juice – the usual suspects of fruit, bacon, tomatoes, olives, cheeses, crusty toast with Vegemite and of course some strong coffee
There are a few spare seats in the front row overlooking the Aegean so I grab one – thanks to the gods.
I was thinking of getting the bus into town and wandering around – but I am not a shopper and there are no archeological ruins or museums so that idea is quickly dismissed.  I prefer to stay here and swim – that idea is much better don't you think? Everyone in agreeance?  OK – majority rules – let's stay here.
It's great to people watch.  Even though it is early, people come out and put their towels and belongings on the seats – especially those closest to the water.  They then disappear for a while and return for breakfast with family in tow.  I don't care where I sit –
This is the beach area for my hotel – note the sign if you are not from this hotel. Glad I am staying here.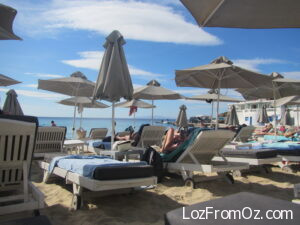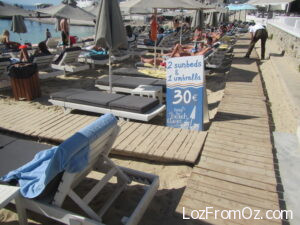 I grab two glasses of icy orange juice, find a chair and enjoy.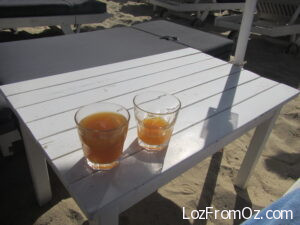 Getting a bit warm so time to head for the water. Applying a liberal amount of sunscreen – the water is a bit cool but that's OK.  I have to admit that this is not the type of beach where the sand gently disappears into the water.  There is what we call 'a gully' so you have to be careful with your balance.  I don't worry and just collapse right in.
I must say that it is not as easy to get out as you have to step up onto the sand.  A back flop was done on more than one occasion.
Here are my well travelled tootsies doing a relax. Covered in Mykonos Sand, I can tell that they are enjoying themselves.
Spoiler alert – they better make the most of it as tomorrow we are going to Delos – a very sacred island and birthplace of the twins Apollo and Artemis – and you know what that means – yep -lots of walking.
I know you are looking forward to the many, many photos of that little jaunt.