SLEEP IN – – but not for long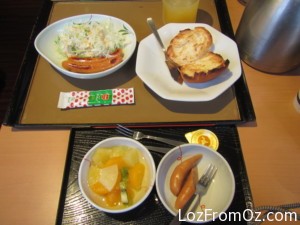 Monday – No-one has taken the option of the early morning Tuna Auction – we are awake up to these early morning jaunts – – so today is a day of travelling.  We will be checking out of our hotel in Osaka and moving onto Matsumoto Hotel Kagetsu.  I do manage to take a few photos and then there is always the notes in the itinerary so let's get going.
An early start – the easily forgettable breakfast is 7am and then it's time to check out at 9am.  We have some free time between 9am and 2.30pm so I will investigate the surrounds.
There are a few shops nearby so the investigation begins.  Walking into the Butcher shop I ask if I can take photos and they say yes it's OK.  So snapping away (how desperate must I be to take photos of meat?)  Pretty desperate but it is a nice memory.  They have everything from Wagyu Beef to all the other Butcher's wares.
Remembering the wonderful Wagyu Beef of earlier days, my mouth starts to water so I better move on.  There is a large shopping complex nearby so some more photo opportunities.  A wonderful florist with the aroma of fresh flowers and also decked out with Christmas sparkle entices me.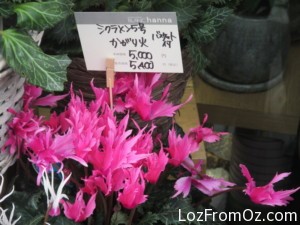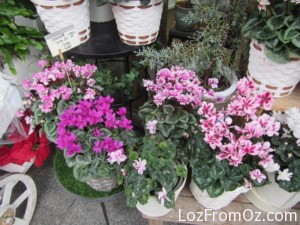 The colours are so pretty and so happy – –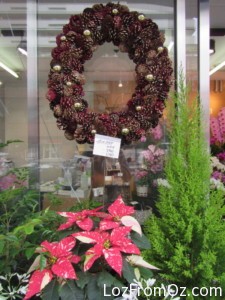 It is only a tiny place but it has a friendly feeling so after looking outside and inside quite a few times (I think they must have thought I was casing the joint) I decide to purchase some Chrissy decorations to hang on the tree back home.  There are lots of wonderful gifts but some are so fragile that I must give those a miss.
We have to find our own lunch and luckily there is a Subway in the complex.
Getting my usual Chicken Teriyaki with Sweet Onion Sauce it certainly is filling.  This has to hold me until Dinner tonight so after devouring that, more exploration takes place.
The Japanese certainly have a way to do things that bring a smile to your face.  Not only are the signs intriguing but their cakes and pastries are a hoot.  I am in such a good mood and it has been a great holiday I decide that I will be nice to my fellow travellers and shout them Chicken Cakes – –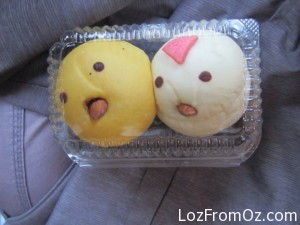 These are little cupcakes filled with either vanilla or chocolate cream.  Aren't they just the cutest things?  You should have seen the look on the ladies face when I asked for 5 yellow and 5 white.  She spoke goodly English so that was a plus.
I will tell everyone that they have to do the Chicken Dance while they are eating the cake – that will go over like a lead balloon with some of them. Some of them may not even know what the Chicken Dance is.  Oh well – time to return to the hotel and pick up our stuff.  It's hard to believe that I have been wandering around here for 5 hours.  Lots of things to look at on the many floors of this complex for sure.
Time for the train polka – here is what is taken from the itinerary –
15:18 – 15:22 Tanimachikyuchome-Tennoji (Metro)
15:35-15:50 Tennoji-Shin-Osaka (JR Haruka 34)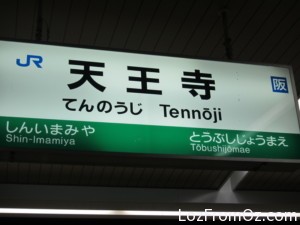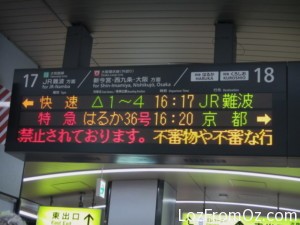 16:16-17:25 Shin-Osaka-Nagoya (JR Hikari 528)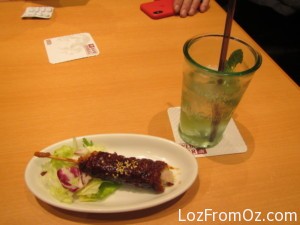 17:40-18:20 Dinner in Nagoya Station.
A lovely little place – Yebisu Bar – based on the squeezy, squeezy policy.  I choose the BBQ Pork Skewer and a Mojito.
When the meal arrives it is one Skewer only. Well, that's a bugger for sure – why on earth didn't they mention that you had to order more if you wanted more.
Just as well I had the Mojito to calm my poor nerves and just as well my lunch was filling.
18:40-20:45 Nagoya-Matsumoto (T10, Shinano 23)
22:35 Check-in to Hotel – Matsumoto Hotel Kagetsu.
And that ladies and gentlemen, boys and girls is why I did not venture by myself on the Japanese Rail System.  What an exciting day for all concerned – –
Tomorrow is sunrise on Matsumoto Castle at 6.25am – yoicks!