MATSUMOTO to YUDANAKA – sunrise on the castle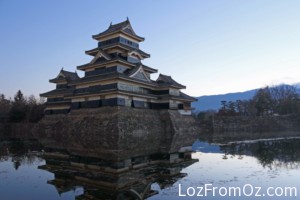 Tuesday – after a late check-in last night we are up and about at 6am so that we can take sunrise photos of Matsumoto Castle.  Seeing this is the last 'early photo shoot' of the tour I am looking forward to it but have second thoughts when we exit the hotel and discover the cold.
The morning is clear but the air is crisp and I am glad that I have my snow gear on – including my special snow gloves.  It is about a 20 minute walk to the castle so by the time I arrive I am nice and warm.  The sun has not started to appear yet but the sky does have the 'wait a minute I'll soon be there' glow.
Picking a good spot – there is plenty of room here so no need for anyone to get in anyone's way – I set up the tripod and the timer and put the mitten covers back on my gloves to keep my hands toasty.  The lake surrounding the castle is like glass. There is also a little red bridge leading to the castle entry.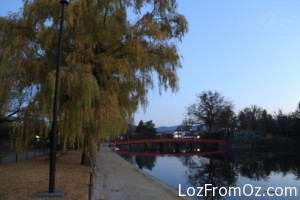 HISTORY LESSON : Matsumoto Castle is one of the most complete and beautiful among Japan's original castles. It is a "hirajiro" – a castle built on the plains rather than on a hill or mountain (and don't think that I am not grateful for that!). It is unique for having both a secondary donjon and a turret adjoined to its main keep. The castle structures, in combination with their characteristic black wainscoting, give off an air of grandeur and poise.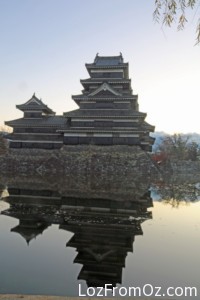 Matsumoto's main castle keep and its smaller, second donjon were built from 1592 to 1614.
Both these structures were well-fortified as peace was not yet fully achieved at the time. In 1635 when military threats had ceased, a third, barely defended turret and another for moon viewing were added to the castle.
It is a lovely castle and we can explore it further once it opens for the tourists – but the thought of climbing all those stairs leaves me unmoved.
While we wait for our friendly sun I walk up and down the little river and then the swans decide to make an appearance – how pretty they look just gliding around.  They look just like re-incarnations of Japanese Princesses – so graceful and dignified – and the imagination is off and running – –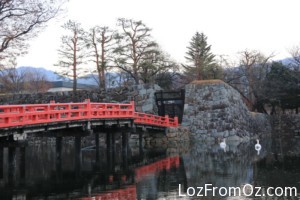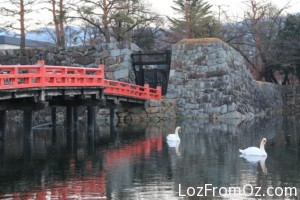 Once the sun starts to come up it gets colder – why is that?  You would think that the sun would add heat but no – it gets colder.  Time to move back around the river to get those 'sunrise' shots.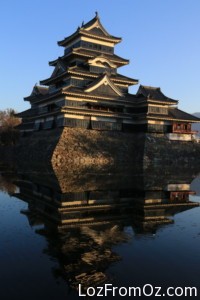 Of course once the sun appears so do the clouds – not many of them mind you but just enough to cover the sun in the east.
Waiting, waiting, waiting I take a few photos but they just don't have any zing so I have to wait until the sun is past its 'sunrise' colours and above the clouds – that's a bummer.
Nevermind – there are still some good photos to be had when the sun hits the castle and the water is still like glass.
There are only so many places to take photos and I am starting to get hungry – but still a couple more photos especially with the Autumn colour.  Let's go and find some trees that can add a bit of zing to the castle.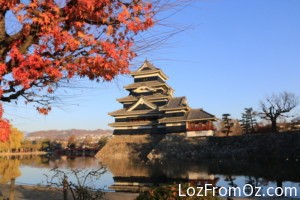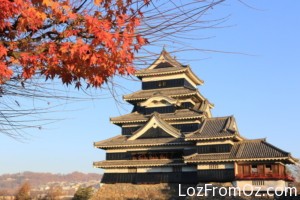 Waiting for everyone to get their final shots – the bridge really grabs my eye –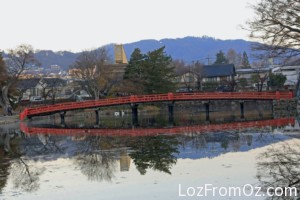 Even though it is still very early and misty – sort of – the red still stands out bright and cheery.
Time to head back to the hotel for breakfast and then check out.
This afternoon we head for Yudanaka to see the snow monkeys – it will be 2nd last day of the holiday – time sure has gone so fast.  I would like to do it all again because I did miss out on some things – NO – I don't mean the early morning Tuna Auctions – but I would have liked to explore more of the cities.
After more train trips we arrive at Yudanaka where we wait for our hotel shuttle service.  We have an early check-in at Shimaya Ryokan at Yudanaka – our hotel for the night. A lovely man collects us from the station to take us to the hotel, which because it is traditional, the shoes come off at the entrance.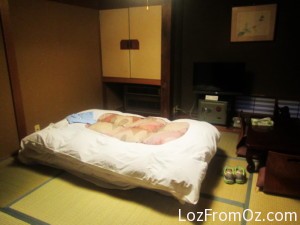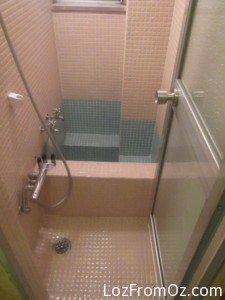 The rooms also have the usual  beds on the floor.  Nevermind a bit of re-arranging takes place and hey presto – a nice comfortable bed.  I also have my very own onsen – well sort of – doesn't it look interesting?  Not too sure how one gets in and out without too much fuss.  With my luck I would most probably get in and then not be able to get back out – I will just have a shower methinks.
After getting settled, it is time to head for dinner.  RL leads us to a lovely little place – Hakko.  Nice and comfy and welcoming.  We are all feeling a bit hungry so time to order – first up a Sour Cherry Cider to drink – followed by Grilled Shitake Mushrooms with Parma Ham (no photos of this – too hungry), Stir Fry Pork and to finish Black Sesame Ice Cream.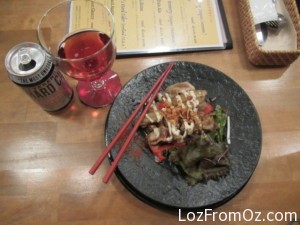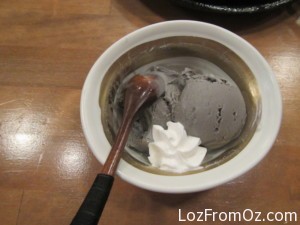 After enjoying our delicious meal, it is time to trek back to the hotel, where I will dream about meeting the Snow Monkeys tomorrow.