Athens to Cairo – the fish that didn't get away!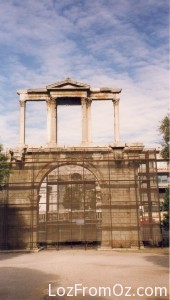 Saturday – we wake up to a sunny day and bright blue skies. Have I said that before?  Anyway, we partake of another healthy breakfast and then head off on a little walking tour by ourselves to see the Temple of Zeus.
First up we go past the Arch of Hadrian (photo on the left)  which is under restoration.  I think they must have the contract on the Albert Memorial in London as well.  Let's hope that there is not too much restoration work going on.
The arch was erected in honour of the Roman Emperor Hadrian in the 2nd century.  It was built over the line of an ancient road that led from the area of the Acropolis and the Athenian Agora.
Even though it is called a gate – it never was a gate in a wall.  An inscription on the western side of the arch facing the Acropolis states 'This is Athens, the ancient city Theseus'.  An inscription on the eastern side facing the Olympieion says 'This is the city of Hadrian and not of Theseus"
The Temple of Olympian Zeus is not far – and it's a nice day for a short walk. Fabulous place and no entry fee.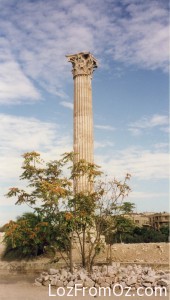 The Temple of Olympian Zeus, also known as the Olympieion, is an Greco-Roman temple in the centre of Athens southeast of the Acropolis.
Begun in the 6th century BC, it was not completed until the reign of the Emperor Hadrian in the 2nd century AD. It was at that time the largest temple in Greece.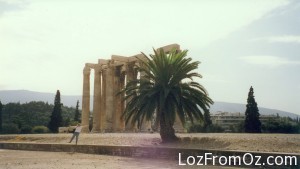 We can walk around the temple without any restrictions and there are great views of the Acropolis between the columns which in turn makes for some great photos. There are some columns that have fallen where we can get a good look at the beautifully carved tops.
Such intricate work – how on earth did they do it???? Beats me.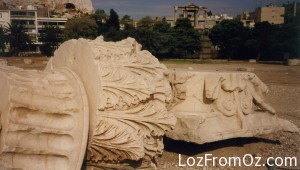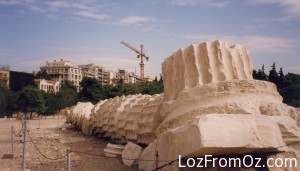 Around the corner and down a few streets, we see the old Roman Baths – meaning that the baths are old not the Romans – that are also a part of the complex.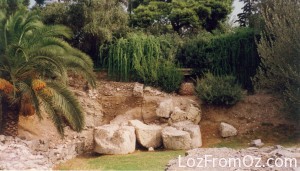 The gardens here must have been wonderful and we spend about an hour or two just wandering around and savouring all the history.  Surprisingly this temple is a very quiet place.
One would think that it would be over-run with tourists especially as there is no entrance fee, but there are only a few of us around.
We decide to go shopping (again) and I buy a leather bag, a fabulous white shirt (that disappears every now and again only to turn up on my daughter), a couple of bracelets and a genuine Greek sponge for the shower.
After our shopping spree we decide we better have some lunch so we head off to the Plaka to try and find some cheap seafood. Is there such a thing? We pass many restaurants until we come to one called 'Plaka'.
That's very original I must say. It is a traditional (?) Greek restaurant and the owner is out the front and practically herds us in saying that he has people in Melbourne and do we know them? Chuckle, chuckle. We are polite and say no. Anyway, we decide that this place can't be as expensive as Milton's so we take a deep breath and in we go.
We order red snapper and garden salad. The food is really delicious and the snapper is filleted and served at the table and it really wasn't expensive – about 50 OZ for the both of us.
After lunch the owner takes us to a gold shop called 'Dimos' (I think he must have some deal going) and I buy another bracelet. This one is really pretty with lapis lazuli and the Greek key design.  Now we know why the fish was so cheap – he gets a cut on the jewellery for sure. We leave there and go back to the hotel because we have to finish packing. We leave for Cairo this afternoon. Did not get a chance to go to the museum – bummer.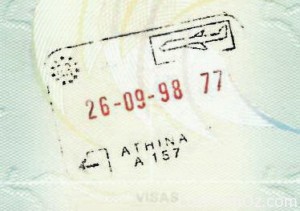 We are due to fly out at 7:30pm so we arrange for a taxi and off we go. Arrive at the airport, check in our luggage – they even stamp our passports on leaving and head for the duty free.
Buy some real Greek olives done in olive oil, some chocolate filled straw shaped biscuit things and some real Greek Olive Oil made in some monastery. Anyway – the bottle is nice.
We then go to our departure lounge and wait for boarding – –
▲▲▲ Finally board our flight to Cairo – Olympic Airways – flight OA 325. Airplane is OK but the stewards are as rude as all get out. I think to myself Kylie is going to get us thrown off the plane after one altercation concerning the toilet. This turns out to be a really forgettable flight – although the food and wine is not too bad.
The passengers are mainly Egyptians – and flying into Cairo we get a view of the Pyramids – WOW – so excited and soon we land.  It is about 10:30pm.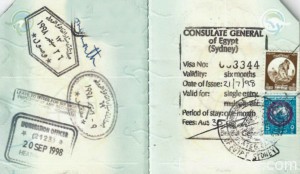 There are armed guards everywhere and our bags are searched. They open my toothpaste and want to know what it is!!! What do you mean what is it? Don't you use toothpaste here? I nearly die –thinking that my time in Egypt will be spent in a cell after being convicted of trafficking in toothpaste! In hindsight I bet they do it just to frighten the shit out of the tourists.  Well, it worked!
Our Insight Tour – Splendours of Egypt has started on a real heart start note!  The resident Insight Cairo Manager – Walid – meets us after we get through customs and leads us to the little shuttle bus. The traffic is unbelievable. It is a hot night and considering the lateness of the hour – it is still very busy. There are two traffic lanes marked on the road and there are five lanes of traffic!!! This is going to be interesting getting to the hotel. Walid says 'there are no traffic accidents in Cairo because everyone blows the horn every time they do anything so that everyone knows what everyone is doing' – – he's right about that – – the horns never stop – – and, another little gem of Egyptian traffic rules – – 'if you want to cross the road – don't wait for the green light – just close your eyes and run'.
Nobody ever pays attention to the lights – they are just suggestions!!!  Kylie and I look at each other and roll our eyes. He has a real misplaced sense of humour. HA! What we don't realise though – he is right!!!!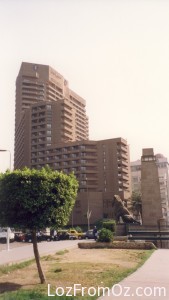 A very interesting half hour later we arrive at our hotel – The Semiramis – in one piece.  What a palace and it is right on the Nile. WOW !!!!!!!  After a bit of discussion between everyone – we are given a 'Junior Suite' on the 12thfloor. A really big room with two double beds and a lovely bathroom.
The porter brings up our suitcases and we don't know how much to tip him – seeing that Egyptian money is practically worthless – so we give him LE20 – which is about $5 OZ.  The guy is smiling from ear to ear and it is not until later the next day we discover we should have given him only LE2 – hardly worth the effort. Oh well, live and learn.
The traffic keeps up all night but I am so tired I don't mind – needless to say I sleep well.
Highlight of the Day : Coming into Cairo and flying over the pyramids by night.