YELLOWSTONE PARK – we have returned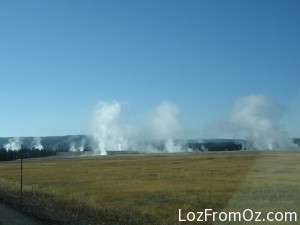 Friday – The alarm goes off – unfortunately we did not set it but that's OK.  It is 7.15am, another early morning and we are keen to get going back to one of our most favourite spots – Yellowstone National Park.
The day is fine with blue skies and the temperature a bit cool although we expect things to heat up during the morning.  We decide to multi-skill and grab brekkie at Maccas, that way we can eat and make our way to the park at the same time.  We go on over to the little coffee spot we discovered on our previous visit and it is not open.  AAAARRRRGH!  No decent morning coffee.  Kylie is having withdrawal symptoms as we speak.  Well, what do we do now?  We'll just carry on and hope for the best.
There is a queue at the entrance gate – which means there are more people here this time – which means more idiots.  This is going to be interesting.  We always get a charge watching idiots.  They disregard warning signs and ramble up to anything that moves and want to be their friend.  This could provide some interesting photos and videos.
Because the bridge between Madison and Norris is out we have had to change our plans.  We have decided to head to Mammoth and then back around spending  most time at places we only glimpsed or made short visits to last time.  This means we have to go south and then back up to Canyon Lake then across to Norris and up from there.  This will add about 2 hours each way as we have to return down through Canyon Lake and then back up to Madison.  Also, let's hope that the bushfires don't add any more disruptions.  Here we go – ready?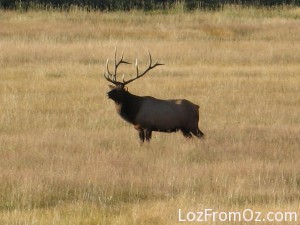 Remember what traffic stopped on the side of the road means?  Yep, wildlife about.  We pull over to see a rather large bull elk and his harem.  The photography group from the hotel is here – and we are pleased to see them behaving themselves so far.
The bull elk is magnificent.  He is out by himself but still keeping an eye on his ladies and the little ones.  He is also keeping an eye on everyone here.  Sometimes the wildlife paparazzi as we call them or WLP for short, get a bit too close, we thought it was too good to be true, and papa Elk calls out to them and the WLP take a few steps backwards.  Then they go a couple of steps forward and then back again.  They seem to attract more of our attention than the elk and it is hilarious to watch.  Also, why do some people have to yell their remarks to each other when it is clear that there are no traffic or other noises around?  The WLP are giving a running commentary to each other on just about everything.
We stay here for quite some time just watching Mr Elk and his family ambling about having their brekky.  Papa elk decides he has had enough of the WLP and moves the group further away.
More wildlife – minus WLP.  A lazy tatonka (bison) laying around enjoying the early morning sun. The good thing is there is no-one else around –  just us – and even though we remain far enough away as warned because we are sensible, we are able to watch in peace and quiet and he (or she) is not the least bit worried.
It's just like another world out here – especially when there are no noisy distractions.  Yellowstone is like that – sometimes there are just so many people bleating away it's overwhelming and you cannot really enjoy the place no matter how hard you try and other times you can find a gem like this and just be one with nature.
Heading to Norris Pass – yep cars on the side of the road – we encounter a rather large herd of bison.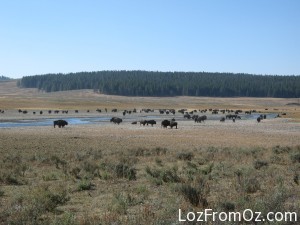 Of course with the large herd of bison there is a large herd of WLP together with a group of just plain old everyday idiots.  We grab cameras, tripods and anything else photographic we have and head down into the watching area.
We take up our spots the required distance from the herd and are soon overtaken by the WLP's and the Yellowstone Yobbos (YY's) – all wanting to get within touching distance and saying aren't they big – aren't the little ones cute – etc.  We have seen a bison up close on the last trip when he walked right past the side of our car and let me tell you, I for one do not want a personal encounter with any bison no matter how cute they look.
The herd is populated with males, females and little ones and all of them are just chomping along and rolling in the dust until two of the males decide to liven things up a bit.  The bison I mean – not the YY's.  They begin pushing and shoving each other and us three retreat a few steps even though we are about 300 metres away.  Not so the YY's – they want to get closer.  The bison continue to argue or whatever they do and Kylie and I just stand and watch – too enthralled to take any Kodak moments but Tyler has it on video so that's good.
Enter stage right – Mr Ranger.  He goes and talks to the YY's who are still moving closer (I don't believe it) and in language that they can understand tells them to MOVE BACK.  Well that's a bummer for sure.  Both Kylie and I wanted to get some action shots of YY's being up close and personal with a family of bison.  As Mr Ranger says these bison weigh anything up to 800kg or more and you certainly don't want that charging at you to say hello!
One good thing is that the bushfires at West Thumb don't seem to be a problem on our way south.  We see plenty of smoke but things seem to be under control.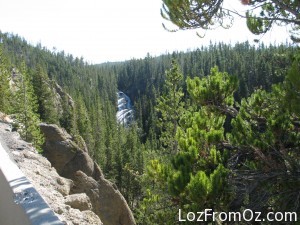 Continuing on our way we complete the bottom loop and turn left and head towards Norris Geyser Basin.  We see a sign saying Virginia Cascade Falls – one way road but we zip straight past it.  Kylie requests that Tyler turn around which he does, and we take a drive up this very narrow road, which we do but unfortunately we do not stop so we go around again.  The Marx Brothers have arrived. On the second time around we notice that it has several viewing spots with parking areas neatly tucked in against the side of the mountain.
This is a place that we did not see before.  It is lovely not only to watch the water but also to listen to it falling over the edge and to rocks below.  We continue along the little road and head towards Norris Geyser Basin.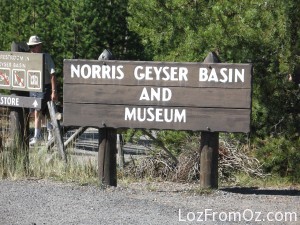 We are now virtually on the other side of the road where the bridge is closed.  We have bypassed all the usual geysers including Old Faithful because we will do those later.
Norris Geyser Basin.   This is another place we did not visit last time.  A point of interest here is the Norris Geyser Basin Museum.  This museum is not what I think of as a museum.  It is now a book store – interesting.  Walking along the pathways you can get really close to the springs and geysers.  Down side of this is the strong smell of sulphur but that is a constant aroma when travelling through the geyser basins of Yellowstone.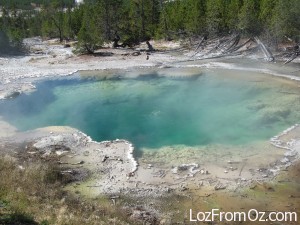 First stop – Emerald Spring.  The 8 metre deep pool is lined with yellow sulphur deposits.  The yellow colour from the sulphur combines with the reflected blue light making the hot spring appear a magnificent green.  Doesn't it make you just want to jump in and swim around?  No, oh well.  If you did jump in you would be broiled within a small time frame.
Just to stand and look into the depths of these features is incredible.  In the centre of the pool you can see the bubbles where the hot water is rising from under the earth's surface.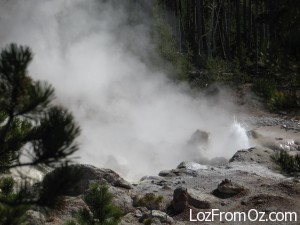 Steamboat Geyser.  When Steamboat Geyser erupts it can shoot a column of scalding water 90-120 metres into the air which is 2-3 times the average height of Old Faithful!  Steam roars out for up to 24 hours after the eruption.  This geyser can erupt anything from 4 days to 50 years apart so I'd hazard a guess and say with our luck we will not see old Steamboat erupt today.  Still the noise coming out is wonderful.
Next point of interest is Roaring Mountain.  Well there is nothing roaring about it today that's for sure.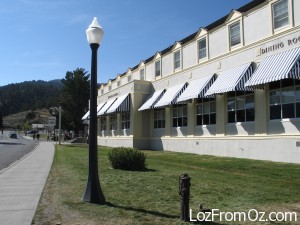 We finally arrive at Mammoth Springs – just in time for lunch. Of course we try and find some place to eat and decide on the only place we can find – the Mammoth Springs Hotel & Casino which lucky for us, has a sit down or if you like take-away type bistro.  Opening the doors we discover that it is full of tourists, but we find a table and get something to eat and drink and relax.
The food is average and overpriced to say the least so after eating we decide that we better head on home.  It has taken us over 4 hours to drive to Mammoth and as it is around 2pm we are looking at getting back about 7 or 8pm if we stop and have a look at a few places – and of course that is if the bushfires are behaving themselves.
Last time we were in Mammoth we drove to the top and walked down a little.  We have decided that we will not do that today – we will have a look around this little village for a while and then start the journey back.  It really is a pain having the bridge out.  After we gather ourselves we get ready to go back around the way we came.     So here's a few stops we made along the way back.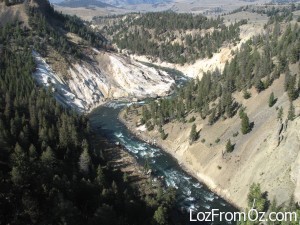 Bleached Cliffs – the sign says in cool weather wisps of steam rise from calcite springs which is the pale slope  near the river level. Today is definitely not cool.  There the Yellowstone River flows above a volcanic fracture zone that allows geothermal discharge to reach the surface.  Chemicals from the Calcite Springs hot water vents are slowly turning the cliff to a whiteish-yellowish pulp.
The colours on the sides of the ravine are incredible and that plus the blue and white river and green trees give this place a most dramatic look.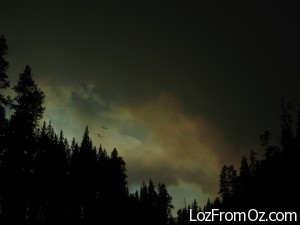 Back on the road and we come to a dead stop just this side of West Thumb.  Those naughty bushfires are now the source of significant delays.
The line of traffic will be escorted through the area by a Pilot Car which means added time to our already l-o-n-g drive and it is going to take about an hour for us to get to the head of the queue.  That's interesting information I must say.  There are helicopters overhead surveying the scene and because we have been told about the Pilot Car we think that the fires are close to the road.  So we wait and we wait and we wait.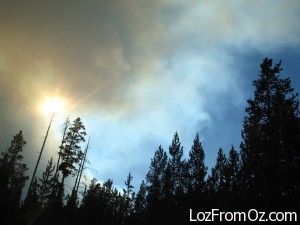 Just when we thought we would get out and stretch our legs the cars in front start to move and we are on our way.  We are waiting to get photos of the fire as we have been told it is really close but as we drive past Yellowstone Lake and through West Thumb there is not a spark to be seen.
Yes, it is better to be safe than sorry and remembering how quickly bushfire can move I am glad that everything is now OK and we do not have to find alternate accommodation for the night not to mention food!  For people who do not have the experience of bushfires every Summer it would be very foreign but Australia always has Summer fires – some times not too bad – sometimes deadly.  It is one of those times when Mother Natures shows no mercy for human or animal welfare.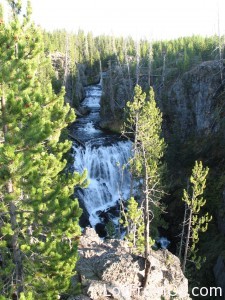 A stop to catch our breath – Kepler Cascades is a waterfall on the Firehole River.  The cascades are located approximately 2.5 miles south of Old Faithful very near to and visible from the Old Faithful to West Thumb road.  The  three-tiered cascade drops over 150 feet as the Firehole River flows North. The Kepler Cascades were actually named in 1881 for the 12 year old son of Wyoming's territorial governor, Kepler Hoyt, who toured the park with his father, Governor John Hoyt.
There is a small parking area alongside the road and you can get down to the base of the falls if you are willing to negotiate a steep "trail" into the gorge.  The way our day has been so far – no thank you.  We will stay at the top and admire from afar.
Seeing that this stop has given us back our sense of calm – we decide to also call in and say hello to our friend – Old Faithful.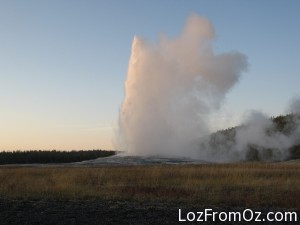 You all know about this wonderful geyser so there is no need for me to provide any information except to repeat that you can view this most famous of all the geysers live on the Yellowstone website.
There are not many people when we arrive and we think that maybe it is ages before she erupts but on checking the board it is only about 15 minutes so we go down to the viewing area and take up a good position.  No sooner are we there then the hoards arrive.   A few little spurts and stutters and then the main show begins.  It doesn't matter how many times you see this on the website – nothing beats seeing it in real life.
It is about 6.30pm and the light is fading so after making the necessary purchases at the Visitor Centre it's full steam ahead for the hotel.
Nearly back – we get sidetracked by some elk and buffalo in the areas beside the road.   So of course we stop to have a look – no photos it is too dark.  We still have some more time left over the next couple of days to explore the wildlife in Yellowstone so we head for our own dinner.
We will not be going back to the restaurant from last night that's for sure so we walk around a bit until we spy a sign 'Three Bear Lodge'.  This is a hotel that has a restaurant so we look at their menu and think this will be OK.   On walking through the doors we know that we have not made a mistake.  It is a really lovely place.  The minute we are directed to and seated at our table we have someone asking about drinks and then someone about our food. Great customer service – how pleasing.
Tyler has a Bison Burger (how could he in Yellowstone?) Kylie has Salmon  Fillet (gee that's a surprise) and I have a Grilled Chicken Breast with salad.  The food is delightful and so is the ambiance of the restaurant.  Considering everything I wish we had spied this place yesterday.
Totally stuffed we go back to our hotel, shower and crawl into bed.  It is late for us – around 10pm and we have more of Yellowstone to see tomorrow.  I am asleep before you can say Wildlife Paparazzi!
Highlight of the day : the Yellowstone Yobbos taking on the herd of bison