YELLOWSTONE to ONTARIO – from geysers to the moon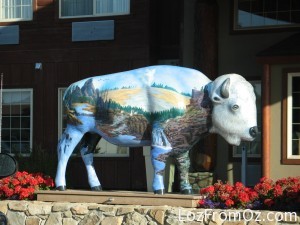 Monday – we wake up and that in itself is an ordeal after our travels not only around Yellowstone but over the past 3 weeks.  Our protesting bodies seem to sense it is nearly over and are starting to shut down just a tad too early. Today we head for Craters of the Moon.
This is one of the painted bison that we find loitering around West Yellowstone.  He is standing guard at the front of our hotel, there are many outside the stores and restaurants and I think they look cute.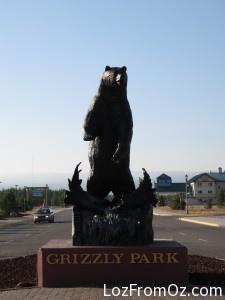 We pack the car, check out and go to trusty Maccas for breakfast.  We will not multi-skill today as we have to get accustomed to the knowledge this trek is nearly over. Of course a good shot of caffeine is always on the morning menu, unfortunately Maccas coffee always tastes like ash trays but you gotta take what you can get.
To say that we have not seen a grizzly in Yellowstone would be fibbing.  We did see one – this one.  Unfortunately he is carved out of wood and standing in the middle of the street – so let's hope that some cowboy who has had too many round-ups does not collect him on his way through.
As Kylie says, the minute we leave this place ALL the wildlife will come out.  We were lucky to see more wildlife on this trip than last so that's a good thing.  Maybe it's building up for the next trip when we will see nearly everything.
There is hardly any traffic because it is still early so after brekkie and a few Kodak snaps we are on our way.  It is a four hour drive to our only stop today – Craters of the Moon, but the front wheel is still feeling a bit wobbly due to an unplanned off road experience we had on Saturday – so on the way we will have to find a tyre place and have a wheel balance done.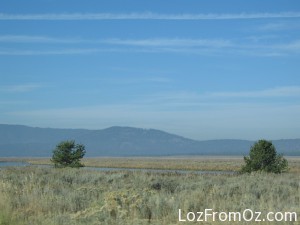 Maybe it is because it is early that we are all quiet – but it seems to match the bareness of the land, especially when we cross into Idaho – the potato capital of the world.  Even though we can see the mountains in the distance there is nothing and I mean nothing on the land except the occasional fence, bushes and lots of grasses.
It is certainly a stark contrast to the lush forests and waterways of Yellowstone that's for sure.
Further on when we see signs of life we are keeping an eye out for a tyre place and are lucky to spot one in a quaint little town called St. Anthony.
We drive in and yes, they are able to have a look at it, but it could take a couple of hours as they will have to fit us in.  Exactly what we do not want to hear.  We have no choice so we go for a walk around this picturesque little place.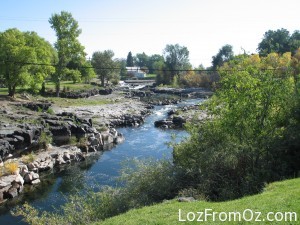 The river through the town is the Snake River.  Do you remember our cruise down this mighty waterway in 2007?  Well, this is part of that same river.  One would be lucky to get a canoe down here but I suppose all mighty rivers must start somewhere.  There are the usual small town shops and small town parks and after we see the town we mosey on back to the tyre place.  We are there for about two hours while they balance and re-weigh and we are glad when we are finally on our way.
Through the barren landscape of Idaho once more and then we start to see signs for Craters of the Moon National Monument.  It is now 2.30pm which is much later than what we though we would arrive.
We wanted to spend some quality time here but oh well. Finally arriving we are greeted, ladies and gentlemen by this –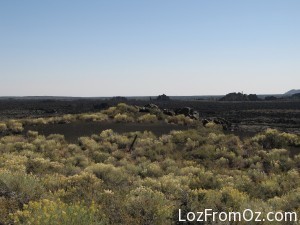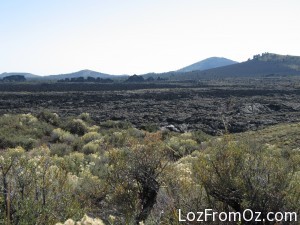 Never before have I seen anything like this!  If we thought that the landscape before we got here was bad then get a load of this.  Looks like a giant meteor explosion has occurred and wiped out everything in its path. And hot! How hot I hear you ask?  Well as hot as Hades on a Summer day.  Just a few quick photos before we race back to the car, turn up the air conditioning and try to cool down before heading to the – you guessed it – Visitor Centre.
Thankfully the Centre is air conditioned and has a few cold water coolers around.  We get the usual National Park maps and information and decide we will follow the Loop Road – first stop North Crater Flow.  We prepare ourselves for the outside world and we are away.
North Crater Flow is a short trail (oh really).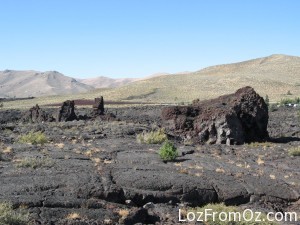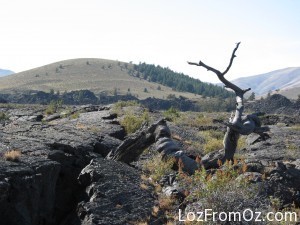 Here in the path of a lava flow you can view a variety of volcanic features now frozen in time.   The trail crosses over the most recent of several successive flows that originated from the North Crater area.  Imagine slow moving lava streaming around you as showers of cinders erupt high over the North Crater Cinder Cone.
It is rather a long walk around this flow but it has been recommended to us so we must see part of it.  It is incredible to understand how anything can grow in this environment.
And of course as soon as we get going along the pathway, the customary tourist bus arrives full of Fakers. The guide is a  nasally person and reminiscent of Ms Gomer back at the Grand Canyon but really who out of that crowd would know what she is saying, let alone know if she is telling the truth.  We are astounded at the way she races them through this place. We had a good head start on them and they have caught and passed us.  I would hope that she has a hotline to the nearest hospital or is at least carrying enough oxygen cylinders.
Devils Orchard Trail – two thousand years ago nearby volcanoes erupted so violently that they tore themselves apart. Rivers of lava floated huge chunks of lava to this spot.  Time passed and the rocks crumbled.  The seeds of Rabbitbrush and Limber Pine took root in the sparse soil.  About a hundred years ago a visiting minister said this area of jumbled rocks, shrubs and trees looked like a garden fit for the devil himself – hence the name.
Inferno Cone Overlook – I can feel my travelling buddies are starting to slow down.  I must admit the heat is really knocking us for six but I press on even though it may kill me.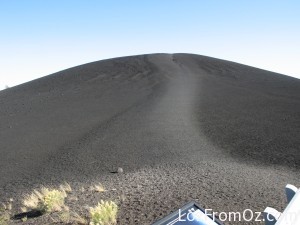 The pamphlet says ' from atop this cone, a short, steep half mile walk, you can see cinder cones lined up along the Great Rift.  Big Cinder Butte, towering above the lava plain to the south, is one of the world's largest basaltic cinder cones.  Cinder cones form when gas-rich volcanic froth erupts high into the air and then piles into a mound.
Thank you all the same but these tired little tootsies are not hiking to the top of that monster in this heat.
Already my companions are back in the car which is a good place to be.
Spatter Cones – these volcanos in miniature formed when blobs of molten lava were lobbed into the air during the last gasp of an eruption sequence that ended about 2,100 years ago.  There is a trail up to these cones so that you can look inside them, so while my buddies stay in the air conditioned comfort of the car – I walk up the trail.
Between the tiredness of my legs and the heat that surrounds me it is pretty hard going but I will not give up and finally reach my destination.
It is incredible to stand and look into a volcano – even though it is baby size it is still a volcano.  It is hard to imagine the countryside when these things were being born.
Back in the car and I realise that all my get up and go has got up and gone!  We drive the remainder of the loop just admiring from the comfort of our car and I am sorry that we did not have the time to do this place properly – it is very interesting to catch a glimpse into another time.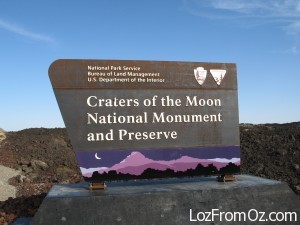 We still have a way to go to our accommodation for the night so we hit the road and hope that we will have an uneventful trip.  But first we have to get a photo of the sign.  We didn't get one on the way in so we pull up now.  My energy levels are at zero but I still have enough left to get out of the car to get this photo.  When I get back in the car I know that from now on all we want to do is get to Ontario. have something to eat, have a shower and get into bed.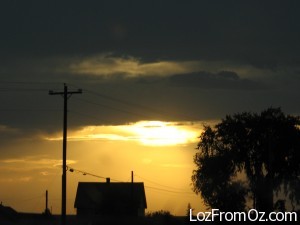 The sun is setting fast and it is dark when we arrive in Ontario.  We check in and while I have a shower, K&T decide to find the local Maccas and scurry up some food.  They return with bags in hand – so the food is devoured and we finally put an end to today.
Tomorrow we head for home – it has been a long, long, long trip but I wouldn't have missed it for quids.
Heads on the pillows – zzzzzzzzzzzzzzzzzzzzzz
Highlight of the day : walking around Craters of the Moon