HOTELS, HARRODS and FAREWELLS – long lasting memories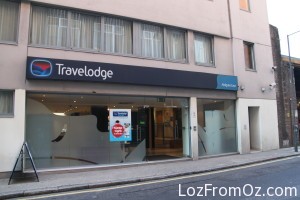 Saturday – today is the last day of the 2011 saga.  After two years of planning – this month has gone fast and it seems no time since we arrived and were all wide eyed and excited about the places we would see and all the things to come.
This has been our hotel since returning to London – doesn't look much but it was comfortable.  Only downside was that it is in an alleyway which we found to be safe but a bit daunting.  Quiet and out of the way, it served the purpose.
Back to today – we are heading into the city for a bit of late shopping which will culminate in a visit to Harrods.  Kylie has been distraught with being unable to purchase her LV bag in Paris so Harrods is the next best thing I suppose.  Let's just hope that the queue is not a 40 minute wait!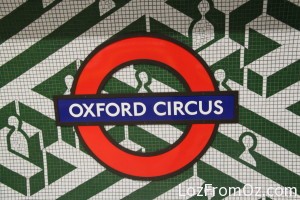 Returning to the Underground we get the tube to Oxford Circus – more photos – and then into the open air.  Our first port of call will be Carnaby Street.  Heaven for baby boomers of the 60's this will be my second visit and I am just as excited as the first time I was here.
Unfortunately for us – the street is covered in scaffolding and building materials.  Looks like there is a lot of renovation work being done.  I do hope it is renovation for good and not by some developer that wants to make a quick buck.  Looks like I will have to come back and check it out.
Moving on toward Oxford Street there are some really interesting buildings along the way.  One hotel even has old Bill Shakespeare sticking his head out of the window!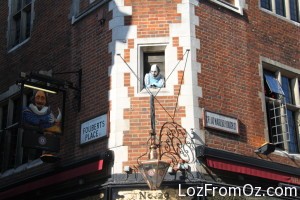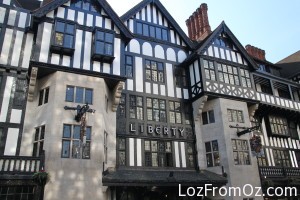 Hmmm, walking down Oxford Street what could be more Londonish than the double deckers.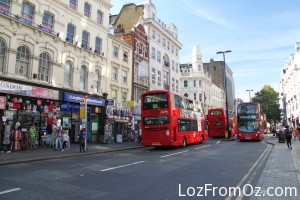 If you try not to notice all the tourist rubbish on the footpaths, everything is fine.  Of course we stop into the more upmarket shops who are glad to lighten our load of what's left of our travelling funds.
Speaking of shopping, our next little jaunt is off to Harrods at Knightsbridge.  I love Harrods.  I love their Food Hall that practically drips with the exotic aromas.
I love their chocolates and I love their Christmas Tea – all cinnamon and spices. Ho, ho, ho. Needless to say we buy some of both plus a couple of extra teas just for the fun of it.
I already have purchased along the way some Elderberry Tea for drinking iced on hot Summer days, Amaretto (almond) Tea and Morning Refresher (full of citrus) Tea.  Looks like many cups of tea coming up when I get back home.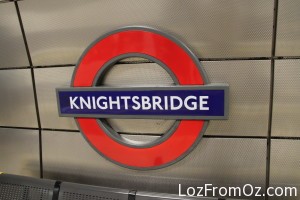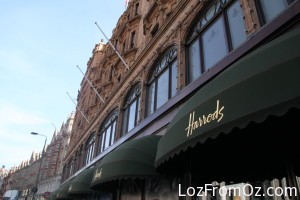 Harrods is also the place for Kylie to get her much wanted Louis Vuitton bag.  After the debacle in Paris she will not be side tracked and we find ourselves in the LV department that sells in addition to bags, scarves that sell for  £1000.  IMHO they are nothing special except they have a LV tag.  What is more unbelievable is that there are people who are willing to pay this price and pay cash for the privilege!
The sales assistant is very obliging and after looking at a few bags one is chosen and then the payment is completed.  Kylie is like a kid at Christmas closely hugging her new found toy and we continue on our way.
Harrods is not owned by Mohamed Al-Fayed any more and because of this people are now allowed to take photos inside the store – all over the store not just the Diana and Dodi Memorial.  This is indeed good news – as Mohamed installed statues of himself done in an Egyptian theme with him being depicted as a Pharaoh – OMG – and now I'll be able to take photos.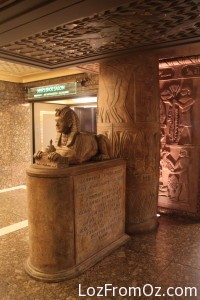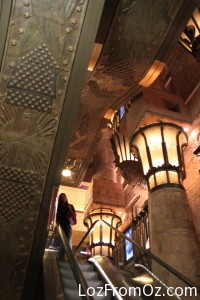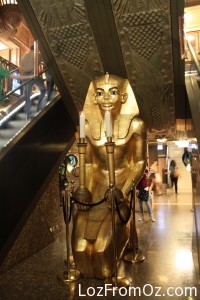 Ramses the Great is definitely spinning within his glass case at the Egyptian Museum with this sacrilege! For Al-Fayed to compare himself or make himself equal to the Pharaohs is certainly just a tad over the top.
This is also the time that in one section of the store the Christmas decorations are all out on display. It is done out like a icelandic fairy cave and is magical.  I wish I could be here when the whole store is bedecked with Christmas cheer.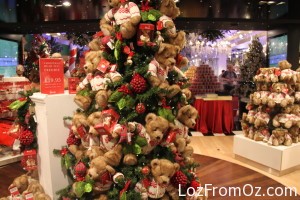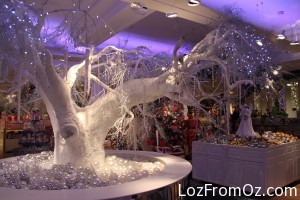 Time to leave Harrods and make our way back to the hotel as I have to get ready for my flight out later this evening.
Kylie & Tyler are leaving tomorrow and are staying in Amsterdam overnight before flying back to the US.
We get the train out to Heathrow – big mistake – takes what seems forever to arrive and then I say goodbye and make my way to the terminal.  The flight does not depart until 10.00pm and this time my flight home is on British Airways, unfortunately this is all that was available with my Qantas Frequent Flyers.  Spoiler alert – BA would have to be one of the worst airlines. Lousy food, lousy service – give me Qantas anytime.
Flying out of Heathrow at 10pm on BA9 stopping in Bangkok then into Sydney on Monday at 7.05am.  Sure is a long haul.  The departure terminal at Heathrow is packed.  So many travellers – so many shops – so many kids.  Finally it is time to head to the departure lounge and the air conditioning is not working.  We are then moved to another gate and the air conditioning is not working there either.  I will be glad to get home.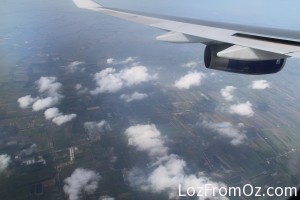 On the plane – certainly isn't as nice as Qantas – get settled, then take off time and in about 23 hours I will be landing in Sydney.  The customary 'wing out the window' photo is taken – but that is about all that is interesting. The food certainly is not worthy of a Kodak moment, it's hardly worth eating but what else is there to do?
Arrive in Bangkok and after a quick look around the terminal I have to head to another section to re-board.  Why is it that terminal seats seems to be made out of rock-hard materials?  There is never anything comfortable about them.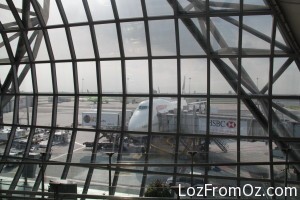 The last photo of the trip is of my plane at Bangkok. Feel like I am in a Bangkok prison with all those bars.  After a month railing it around Europe and filling my head with history it is now time to plan the next trip.  But first let's get home and sleep!!!
Highlight of the day into night into day – arriving in Sydney and getting off British Airways.