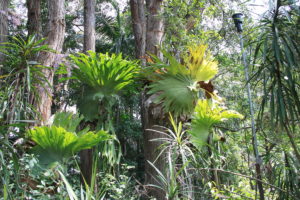 Sunday – I have decided that I will start bush walking.  There are already some walks planned that maybe aren't true bush walks but should be labelled as 'Sydney's Best Harbour & Coastal Walks'.  This is also the title of an excellent book published by the Sydney Morning Herald of which I have a treasured copy.
But I am getting ahead of myself as usual.
Yesterday I planned to wake up early this morning and go to the local Bankstown Native Garden – Sylvan Grove – admission free!  Well, waking up early was OK and then after breakfast I have second thoughts – bad decision.  Early afternoon I think oh blast just go so with my trusty camera in hand I set off for the 10 minute drive to Sylvan Grove.  Yes I could have walked – but by now the temperature had risen considerably and it would be about a 45 minute walk.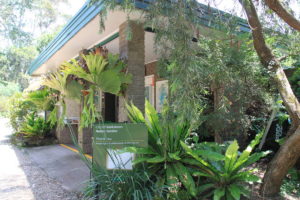 Bankstown Council does not really publicize this place well.  From what I had read I thought it would be a small allotment of earth with a few native trees and shrubs that are tendered by a group of ever loving horticulture enthusiasts.  How wrong was I?  Read on.
The entrance is just a normal driveway – blink and you will miss it which is what I did.  Turning around and entering the pebbled driveway there are spaces for about 4 cars which was OK for me as I was the only one here!
Leaving the car and walking down the path there is an amenities building on the left with toilets and a water bubbler.  This bubbler was useless – hardly a trickle so bring your own water with you.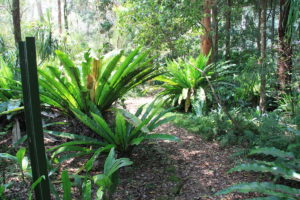 The path is marked with red arrows and signs so there is no chance of getting lost – unless you are the bewildered type and then you shouldn't venture from the front door.  The day is fine, the sun is shining and off we go.  I notice a lot of numbers along the trail – I really should have paid more attention to the brochures on offer but in my eagerness to get moving I completely overlooked them.
This place is a treasure – if you don't mind the occasional spider web whacking you in the face.  There is also a sign advising that snakes are found in this area.  Great!  My two biggest fears – but undaunted I press on after finding a dirty big stick that I wave around in front of me like the Great White Hunter. Works a treat – no more spider webs.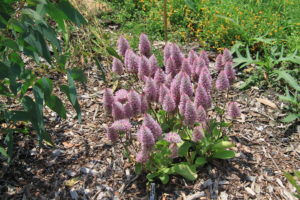 There are lots of little native flowers in bloom but for the orchids I should have been here in September.  A mental note is made to return next year. These flowers are so cute and I am now passing through the Acacia area heading downhill at an ever so slight decline.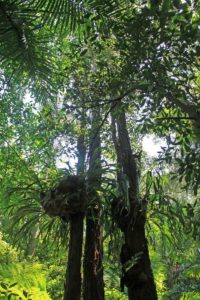 There are houses that border the gardens and also a Caretaker that lives on site so that should deter any no good-doers from ruining such an oasis and anyway who on earth would want to do that? Never mind.  As you walk along you cannot help but tread on some of the plants (especially when you are keeping an eye out for out leggy or slythery friends) and the different smells of the native mint etc is great.
The shade from the tall trees is refreshing and the place is so quiet except for a bird chirping every now and again or a rustle of a piece of bark being blown off a tree and landing in the bush and making you jump a bit.  All your senses are in overdrive!
Continuing along I now pass through the Rainforest where most of the tall ferns and orchids call home.  There are lots of Elk ferns growing on the trees just like they do in the untendered bush I have seen up North.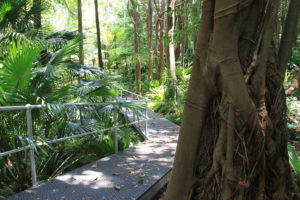 But ever onwards along the track and I come to a little walkway that says 'short walk' and an arrow left or 'long walk 600 metres' and an arrow right.  I am feeling adventurous so take the long walk over a little gully full of more plants and this leads me down into the 'moist gully'  It is so cool and refreshing and with no-one to push me along I can take my time and take as many photos as I want without feeling harassed.
This place is so close to human habitation that it borders the main road through this area – Henry Lawson Drive.  Every now and again you catch a glimpse of a car or hear the rumble of a truck that breaks the silence but overall it is not that bad. This section of the grove is well enough away so that it is not a large disturbance just a small nuisance!  The lookout is about half way along the track and there are plenty of rest areas where you can sit and get your breath back before tackling the uphill homeward part of the track.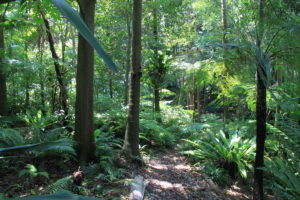 Don't be put off – it is a gradual climb and really not that tiring.  If it gets too much for you after you leave the Lookout then there are more benches where you can sit and reflect on the sunlight dappled on the greenery or just close your eyes and listen to – nothing except an occasional chirp – how wonderful!  Time to move on.  There is a wonderful pond with a trickling of water over mosses – and don't forget to keep an eye out for bearded dragons or echidnas – but I am not lucky today.
A bit further on I hear footsteps coming toward me – well I hope they are human footsteps – so I stop and wait and am met on the path by the local Park Ranger.  He is on one of his many tour of duties and we have a good old chat for about half an hour.  He has lots of interesting details about the different plants and when it is the best time to see this or that.  I tell him that I am so surprised that this has existed here as I live only five minutes away and have done so for the past 30 years.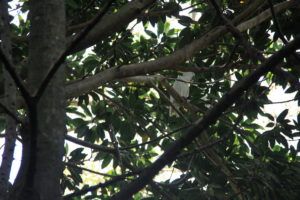 He tells me about a family of owls that come back to breed every year but we look and look and the only thing we spy is a sulphur crested cockatoo.  Mr Ranger also tells me to watch out for the cockies as they love to drop their bodily refuse on you when you sit on a certain seat.  Great – just keep an eye out for the white spotted seat on the way back.  Seems all my wildlife spotting adventures seem to be lacking wildlife but not a sense of humour. The best time of day to experience all the different types of birds from lorikeets to rosellas is first thing in the morning – the gardens open at 9am so something to keep for future reference.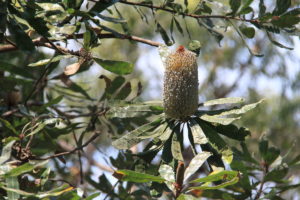 The weather has started to come up windy so I decide I'd better head on back to the car – still all uphill from now on but I still make time to stop and look at some of the pretty wildflowers that dance in the sun and what story would be complete without some banksias. Memories of childhood come flooding back with the many tales of Snugglepot, Cuddlepie and the Banksia Men.
I will certainly have to find my copy and read it over again!
Arriving back at the car – the wind has certainly increased although it is still as hot as Hades and I can hardly wait to get home and have a cold drink.  Another visit to this magic place is definitely planned when all the native orchids etc in flower that's for sure.
To Mr Ranger and everyone who tends and nurtures this wonderful area – thank you. I am glad that Bankstown Council has finally done something positive with my rates instead of building another bloody fountain or park which in their wisdom they name after their political cronies.  Another positive note is that this place is fair dinkum true blue!
Highlight of the day:  talks with the Ranger and learning more about the Aussie Bush.