NIAGARA FALLS to COOPERSTOWN
Sunday – Today we start our trek East.  The weather has quietened down (yes of course now it's time to leave Niagara) and we head to Cooperstown.  Where? I hear you ask.  Cooperstown – home of the Baseball Hall of Fame, but more about that later.
We check out of our hotel and start upon our journey down the Interstate 290.  We have about a four and a half hour trip ahead and even though it is not stormy it is still dark overhead.  I am not too sure if there is going to be any points of interest but there will always be something to photograph even if it is a highway sign so stay tuned.
We are now on the Interstate 90 and the weather does not seem to improve much as we head East – but as least it is not storming.  We have been on the road for about 2 hours and we still have a distance to go.  A lot of the trees have lost their leaves already and are grey and uninteresting but every now and again we get a flash of colour.  Here is a sign of the Erie Canalway.  I don't know what significance this has, but I know of the Erie Canal and that is a good reason to take a photo.  As you can see I don't need much of an excuse to snap away.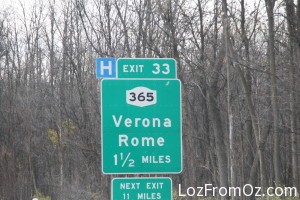 Hang on – I think we may have taken a wrong turn.  Didn't we do this tour 2 years ago?  This should prove interesting and will provide some more photos to the ever increasing collection.
My mind is racing.  Do they have a Colosseum? A Forum?  Amaretto, pizza and gelato?  Unfortunately we do not take the turn off so I will never know.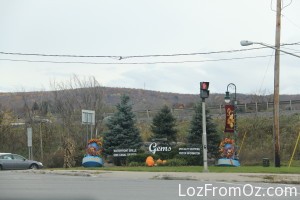 Next up is a place called Gems – well, at least I think it is the name of the town.  A quick google search leads me to Gems Along the Mohawk so who knows.  The sign is all bedecked out in Halloween / Thanksgiving garb.  If that was in Sydney someone would steal the lot I am sure.  Next up is the village of Mohawk which is about 30 seconds from Gems – just another bit of useless information for you to file away.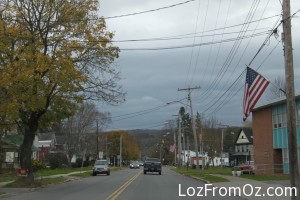 Doesn't this look like a patriotic place?  Citizens of the US are very proud of their heritage and display flags and other paraphernalia all over the place.  In parts of Australia if you did this they would call you a racist and I will say no more on that topic.
As you can see it is still overcast – and it doesn't seem to be getting any better – we drive on.  Not much further – are we there yet – no but with the camera ever at the ready there is a really nice fixer-upper and I can sell it to you if you are interested.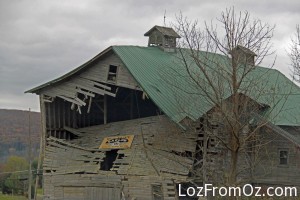 Reminds me of Walt Disney's The Old Mill.  Isn't it a sad looking sight?  I bet it was once a lovely looking place but now it is all sad and forlorn.  I bet it is advertised as 'pre-loved'.  Seems to be the going phrase for Real Estate agents these days.  One good snowstorm and I image the whole thing will collapse.  How tragic.
We arrive at Cooperstown.  Now we have to find our hotel – Country Inn & Suites.  It does look very impressive but upon arrival we are told our room is not ready.
How can it not be ready?  We are the only car in the car park and it is off season.  Is there a group of thousands driving the streets of Cooperstown?  Are they all staying here?  How can our room not be ready?
The concierge seems to be the only person here and he is very nice so we cut him some slack and after a while he finds us a room – 320, so bags in hand we proceed.  It is a nice room with a view of the car park – but we do get to see the mountains.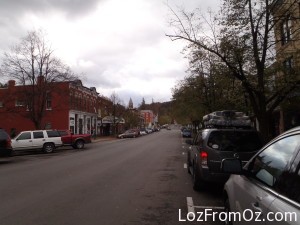 We decide to explore and find some food so off we go.  This is the main street.  Now before you say where is everyone, it is Sunday, it is off season, it is deserted, but apparently at the right time of year this street is packed and you cannot park anywhere.  OK – you will have to take my word for it.
Nothing much in the restaurant lines so we head out to the local shopping mall that has a Pizza Hut.
A very quaint little place – from memory the pizza was good and as usual we stuffed ourselves like there was no tomorrow.  Back to the hotel – tomorrow Tyler is going to the Baseball Hall of Fame and Kylie and I are heading off to the Fly Creek Cider Mill.  I think we got the better of the deal.
Highlight of the day : the pre-loved house.  I do hope it survived the night.