COOPERSTOWN – I don't know?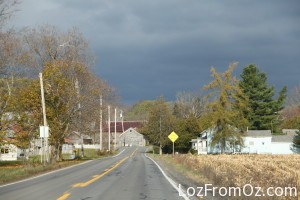 Monday – A very quiet night and we arise looking forward to brekky.  The hotel has a nice breakfast area with the usual fare – English muffins and vegemite, juice and coffee and I am ready to hit the frog and toad.  (That is Aussie slang for road).
The skies overhead do not look inviting for a day's trek – we better make sure we have some shelter somewhere along the way.  Maybe a coffee shop?
Today Tyler heads to Baseball Heaven while Kylie and I explore Cooperstown in depth (should take 10 minutes).  Kylie and I are also going to the Fly Creek Cider Mill and Orchard – now that does sound exciting.  Cider tastings maybe?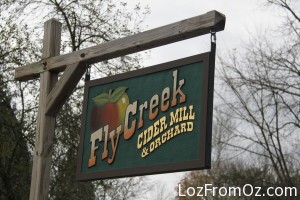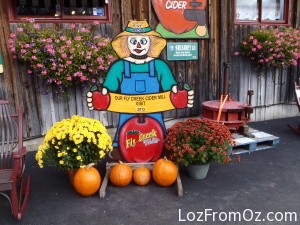 After a few words with our more than helpful concierge we are on our way.  We drop Tyler and then we head out to Fly Creek to discover whatever joys it has in store for us. Pulling in to the car park area we are pleasantly surprised with the welcoming outlay of the place.
Remembering it is the Autumn season and it is coming up to Halloween and Thanksgiving, there are pumpkins everywhere.  There is even a place to have your photo taken if the mood takes you but I just take a photo sans tourists.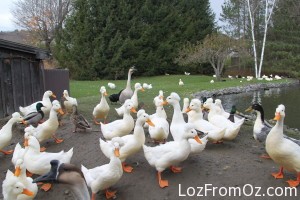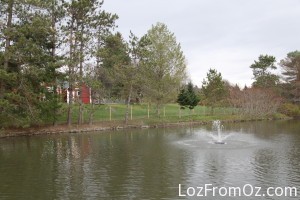 Around the back of the main building there is a large park area with a pond.  There is also lots and lots of ducks, geese and assorted feathered wildlife.  For a small fee deposited in something that looks like a bubble gum machine – you can get a handful of grain and feed them.  Kylie is a bit apprehensive and throws her food over the fence – such a coward, I on the other hand am very brave and hand feed them.  They are so cute and nibble away at the food in my hand.  I am pleased to report that I still have all my fingers and thumbs!
Time to investigate inside – – what a treasure trove of goodies.  All sorts of food and there are loads of samplers so that you can taste as you walk around.  Bit like Costco on a more intimate scale.  We go around twice so we don't miss anything and then we venture upstairs to see all the craft – loads of specials for Halloween and Thanksgiving so money is spent on a lovely ceramic scarecrow and a very cute turkey.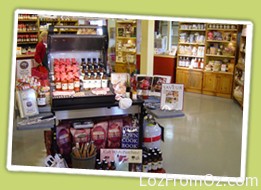 Back downstairs (this is not my photo) and we grab a basket for our goodies that we have decided to purchase the first two times around.  Of course we still taste everything again on our third time around – we buy some apples – an apple tart – dips, cheese, cider, salsa the list is endless.  I also get some Italian Wedding Soup Mix – all dry ingredients consisting of pasta, herbs, veggies and spices – all you have to do is add the meat and liquid, and of course they have a taster vat of the soup made with chicken – scrumptious.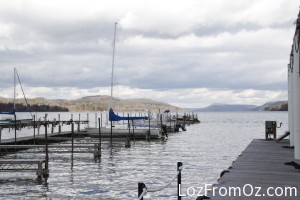 After about two and a half hours it is time to bid farewell and head for another point of interest – Cooperstown Marina.
What a lovely quiet harbour.  Obviously there are not a lot of boats – maybe they are having their bottoms scraped in readiness for the next Summer season.
The water lapping the shore is very relaxing and surprisingly it is not really cold as we walk around although the water does look freezing – which I am sure it is.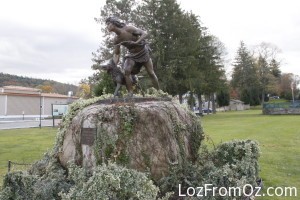 There is a statue of a Native American Indian Hunter.  Not too sure of the significance of this but it is a nice statue of him overlooking the harbour and well worthy of a Kodak moment.
I would imagine that this place would be packed with families when the weather is warmer.  We stay here for a while and then head off to collect Tyler.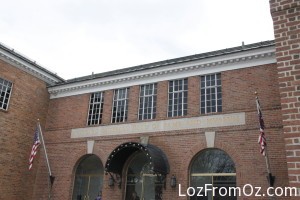 The Baseball Hall of Fame is a rather nondescript looking building – but looking for Tyler, we enter and the only place we can go is the tourist shop – unless we want to pay an entry fee.  We do not so of course we go into the shop.  They have every item of baseball that is imaginable.  You name it – they've got it.  Speaking of which – they have the Abbott & Costello baseball jerseys – appropriately printed.
Before I go any further maybe you don't know about this famous A&C sketch? For shame!!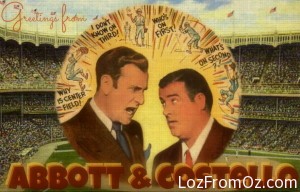 It all started in 1938 and has to be one of the funniest going around.  Click here to enjoy the comedy.  Unfortunately the pricing on the jersey is a bit too expensive (around $50) so I give it a miss thinking I will be able to pick one up from a souvenir shop along the street.  Yeah right – not one to be found anywhere except for the very last place – having a sale – selected sizes – and to my dismay they have only one left – Number 3 (for I don't know – third base) and my size – I'll take it!  I also get a baseball card of Babe Ruth.
Tyler has enjoyed himself at the Museum – Kylie and I have enjoyed our day with the ducks and dips – I love my jersey – God is in his Heaven and all is right with the world.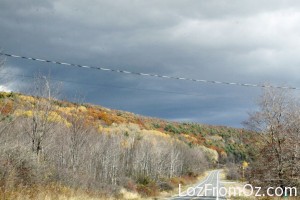 We are now on our five and a half hour drive East to Portsmouth driving the East Interstate 88. There are loads of trees that have already lost their beautiful colours and I am hoping that this is not going to be the case from now on.  The skies are very heavy – looks like snow clouds to me but the sun shines through every now and again.
We are very comfortable in our big car – lots of room to stretch out and relax but unfortunately Kylie has to do all the driving and that does not please her as she feels as if she is driving a tank.  I did not ask how she would know what driving a tank is like – but it is comforting to know that she is a good driver and more than capable to get us from A to B in one piece.  We make several stops so that she (and us) can take a break and one of our more unpleasant pit stops is when we have to stop to get petrol.  The service station is being renovated and the loos are a porta-loo type of affair – and in a disgraceful, unclean mess.  Together with being freezing cold – it is not a good stop and I will say no more.
Back on the road, we enter Massachusetts and are now on the East Interstate 90 with a sign that has a Pilgrim hat – how cute.  Further down the road we also discover some wonderful Autumn colour – nearly at our destination and my spirits have risen.
We arrive at about 7.30pm at our accommodation for the next two nights – The Port Inn.  Checking-in is painless, very nice people and we are lucky enough to be able to park outside our rooms – we have separate rooms for our stay here.
Our tank is the big 4 wheel drive on the right – my room is right in the corner facing the car and K&T's room is down the little passageway beside my room.  Suits me to a T.
Time to shower, try some of the apple pie and cider I bought at Fly Creek,  relax and hit the hay – tomorrow we explore the lighthouses on the coast!
Highlight of the day – taste testing at Fly Creek!