YUDANAKA – snow monkeys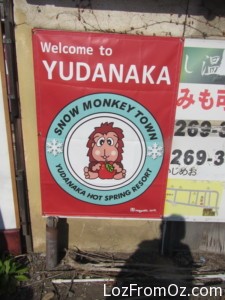 Wednesday – we had an early check-in yesterday so we are all nice and relaxed for breakfast this morning.
Breakfast is served by a wonderfully polite lady and when it arrives it is very nice and filling and then we are off the see the Snow Monkeys.
It is a lovely day – bit cold but I am sure there will be walking involved somewhere along the line and I will be nice and warm.
We are shuttled from the hotel to the park (which is not far) and when we have gone through the entrance formalities we are excitedly on our way – until we spy this sign telling us we have a 1.6km walk before we get to the monkeys.  See I told you there would be walking!
In the Jigokudani (Hell Valley) region of Nagano it is possible to see Japanese macaques up close and bathing in their own private onsen!  These monkeys get their name because they can live in cold climates in areas covered in snow for many months of the year.
These signs are spaced all the way along the trail –
Japanese signs are just the best – I think they must love their signs and want to share their joy.  This park is open even when the Winter snows are at their best (or worst) and I can say that I would not like to be trekking along this path – sometimes very steep so it would be icy. Then RL tells me that they do not use this path – they use those stairs – that turn out to be steep and never-ending.  Just looking at them makes me feel ill.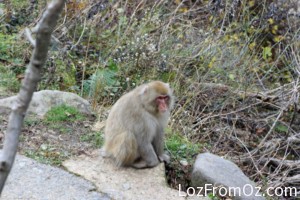 We are finally there – through another little hut and then down to the stream where our friends are hanging out.  This is my first Snow Monkey – how cute are they?  Couldn't you just give them a cuddle – until they rip your face off.
When we reach the bottom of the track, the area is not really picturesque.  It looks like a construction zone.  The side of the hill is re-enforced by wire to stop the rocks falling, there are cables all over the place and it is only a small space, which, for us it is OK but as time goes on the crowds grow and it becomes a bit messy.  I will just put some photos here – when our friends are near the water –
There are lots of young ones  –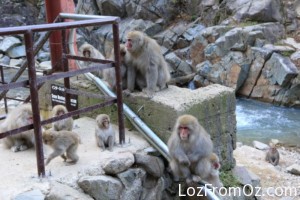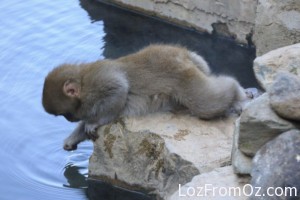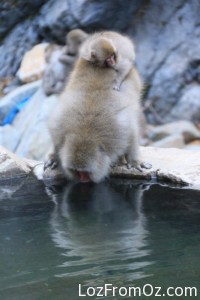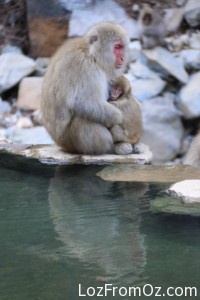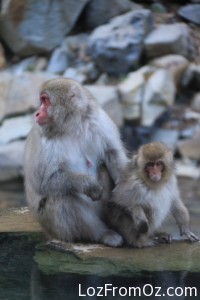 Out of all my Snow Monkeys photos – and there were quite a few – the photo above centre is my favourite.  Everyone always needs a cuddle and this is just too cute.  I'll put a few more photos – no need for me to say anything – –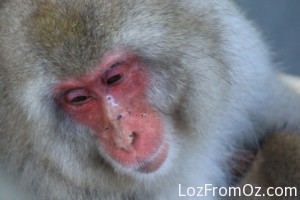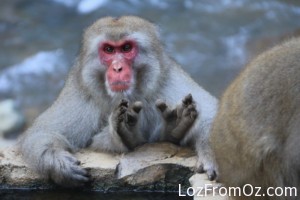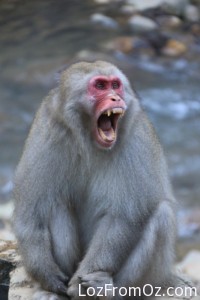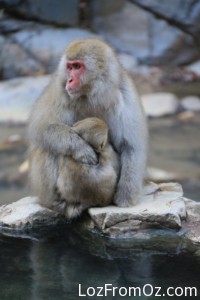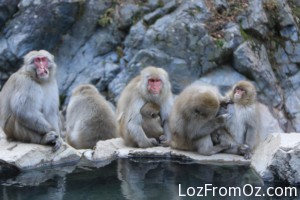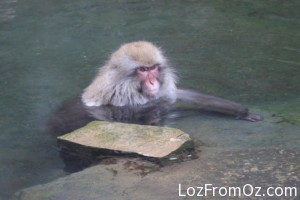 Fighting is part of living in this group.  Look at the poor monkey above on the far left – there certainly was a fight somewhere along the line.  The photo on the far right was the only co-operative monkey in the group who decided to get in the water for us.  People were nearly trampled to get a photo as the horde surged forward.  Speaking of which there was one turkey who kept taking photos with flash. Really – no brains for sure.  He had a state of the art camera and didn't know how to use it.  Another one who should not be allowed past their front gate!
When our time is through we walk back up the path and at the entrance our trusty driver is waiting.  We get back to the hotel, check out and then he takes us to the station where we get some food for the train journey back to Tokyo.  It is about a 4 hour journey so we can relax and recover from the cold and the long walk.
To finish – another wonderful sign – also the aircon.  Just think, you can practice your gymnastics and keep cool at the same time – 🙂