TOKYO to SYDNEY – time to click those ruby slippers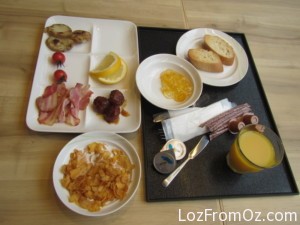 Thursday – I feel excited and glad to be going home today but also a bit sad to be leaving this wonderful land of the Rising Sun.  Nearly finished packing and then I head for what was promised by the pictures in the lifts – a lovely, delicious breakfast.
What a disappointing event that turns out to be – definitely no platters of fruit or the other goodies that were promised.
My brekkie looks sad to say the least but I am sure that Qantas will fill me up on the way home.
RL has organised shuttle services to Haneda Airport – so that is good. Those of us that are using the shuttle now have to gather our bags and head up the street to another hotel where we organise payment etc. I have about 4 hours before my shuttle so it is time to explore the supermarket that is close by – and what an interesting place.
There are different floors for different goods – must be about 3 floors.  They have everything from cold seafood to sushi to clothing and homewares –
Octopus and prawns anyone? You could have this for the entree and then follow it up with pre-packaged sushi.  Maybe then you will need to drown your sorrows in some good Aussie wine and some Christmas stockings filled with sweets –
It is time to head back to the hotel – and wait for the shuttle.
Finally it arrives and I make sure the luggage is on – and I am lucky enough to get a front row seat.
An exciting adventure to say the least.  We call in at several hotels to either pick up or drop off.  Unfortunately some people on the coach do not know whether they are coming or going and there is one lady who, when we stop, heads for the ladies public toilet.  The driver is looking for her so we can get going and gives her a snarl when she returns!  What a hoot!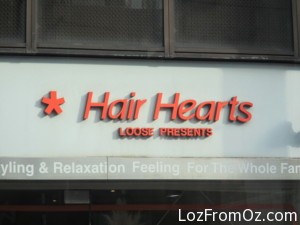 Lots of traffic and interesting signs – I will miss them – – always brings a smile to my face.  I am at a loss to work out the Hair Hearts one.  As we continue on our way I remember I have a bottle of Peach flavoured water in my bag.  I am very discreet to have a sip every now and again – – it is delicious – I will have to keep an eye out when I get back home.
Does anyone have any idea what's with the skeleton?  And have a look at the electrical working being done on the power poles.  Holy sushi – what is going on here?
We arrive at Haneda and I have a l-o-n-g wait – I will have to put my bags in storage for a few hours so that I can have a look around and maybe do a bit of shopping.  The airport is sparkling in fairy lights so time to have a wander.
There are loads of restaurants – but I think I will not venture in because I am sure that Qantas will feed me to the gills.  I buy a few souvenirs to take back but just a tip – when you go through customs etc there are plenty of shops on the other side.  I should have waited until then but hey, what's a girl to do? I did manage to get some wonderful smelling soap – about 4 cakes of different aromas – and after walking, sitting, walking, exploring it is time or me to reclaim my luggage and head to check-in.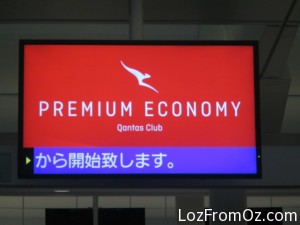 Whilst this may not be exciting to some, I just love having that little bit more service.
Don't get me wrong I have done my years in cramped Economy with multi hour journeys to London and the US and of course there are people who cannot afford to pay the extra but when I can, I just love swanning past cattle class –  just like people used to do to me.
Bags are checked in, time to clear customs and quarantine and then I am on my way to the gate.  Past all the shops and restaurants I mentioned earlier – would have been easier to shop here because now I have all the bags of things I bought earlier and it is going to be impossible just to talk around and look – so I grab a tea and wait.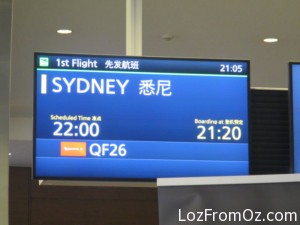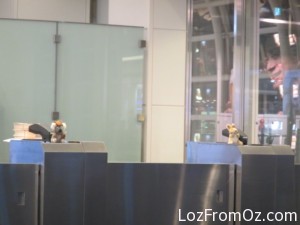 This is our gate – 114 and when they are getting everything ready the attendants put some little furry friends to welcome us to the flight home!  There also looks to be some genii peeking in from the windows outside – –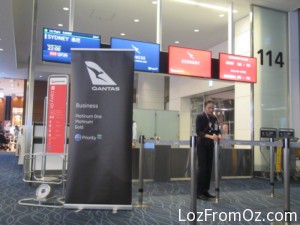 I get to board with Business, so here I go – honestly even Business Class run you over so they can be first.  I take my time, move along slowly and wonder of wonders – when I get to the plane, it is still there and my seat as well.
Just goes to show that those BC passengers did a good job of stopping anyone taking the plane.
Yep, and of course, now all the BC passengers are hogging the aisle so you can't move anywhere and they are loading all their junk into the overhead spaces – things never change.
I will finish everything with the next post – –