HANEDA to SYDNEY – take me home friendly skies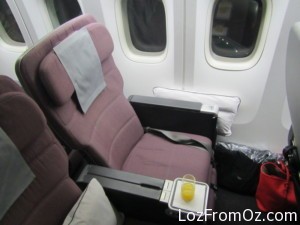 Thursday / Friday – even though part of this should be the 29th and some should be 30th, it is difficult to say exactly when is when so that's why everything is under 30th.
Having gone through check-in etc, I have arrived at my Premium Economy seat 36A.  It looks very welcoming and I am looking forward to grabbing some sleep before arriving in Sydney at 9.35am on the 30th.  Once seated and settled the attendant asks me if I would like something to drink madam – so madam says yes please, orange juice.  Not very adventurous but it will do for the moment.
Waiting for clearance and push back it is impossible to get any photos because of the glare on the windows.  so I just look at what scenery there is and once we are up in the sky I can pull out the screen – this is about the only thing in PE that I do not like – –
Instead of writing details – I decide to take photos – a lot easier –
Time to Sydney – 8.33 hours / Local Sydney time 12.26am / Estimated Arrival 8.59am / Distance Travelled 148km.  I do this until supper arrives –
Teriyaki Chicken with Steamed Rice; Salad of Garden Leaves with Neil's vinaigrette; Cheese and Biscuits and to finish Blackcurrant Mousse with Vanilla Custard.
What is it with my meal photos?  I can never manage to get a good one – maybe I should use the flash but that will most probably set the cabin crew off looking for someone suspicious.
Once dinner is finished and everything is cleared away it is time to settle and maybe get a bit of sleep.  I must admit flying PE is not as comfortable as I thought.  Yes, the space and leg room is more but the seats are not very comfortable for sleeping.  Still it is better than cattle class so I shouldn't complain.
Breakfast is Brookfarm Macadamia Toasted Muesli with Cranberries; Orange Juice; Blueberry Danish; Fruit Salad and Yoghurt; Coffee. That is the end of the food extravaganza.
Flights home after a wonderful holiday are always a chore.  At the beginning of the trip it is all excitement about new and wonderful places, people and things that I will discover.  Coming home it's back to work and all the usual domestic chores.  But, watching the little plane on the screen, it is good to think I will soon be home.
Once we break through the cloud cover I can see over the inland waterways and the coast.
Going through the clouds and then all of a sudden there is land below – love it.  I crane my neck to see if I can recognise anything and then my beautiful Harbour comes into view.  Now that is something to lift the senses.  What a great harbour it is – –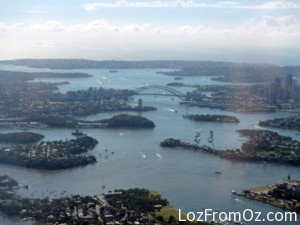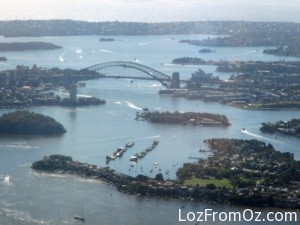 Flying over the harbour is wonderful but I do wish the airlines would do something about the misty windows.  It is hard to get a nice clear photo of The Bridge and Opera House.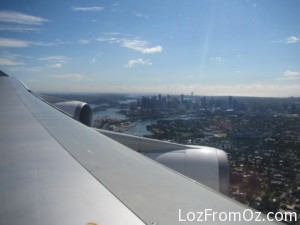 Finally, touchdown, a nice smooth landing and now the long ride back to the terminal –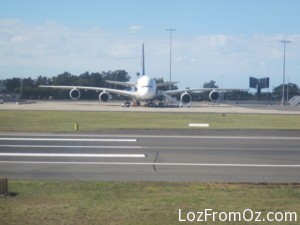 My last photo – don't know whether this one is coming or going – but I am sure that it will be off on a new adventure in the not too distant future.
Off the plane and through customs etc and then to gather my luggage and clear quarantine.  Quite an easy process and now for the part I hate.  Back down the escalators to the station is always a bummer of a trip.  This time it seems worse as Japanese trains are so nice and bright and clean.  Sydney trains leave a lot to be desired and then when I get off at Revesby the place is like a dump.  Rubbish and shopping trolleys – oh how I want to go back to Japan with their cleanliness and smiling faces, but alas, I won't be going anywhere for about another 12 months.
Once I get home and relax to a certain degree, it is time to think about my 3 weeks just gone and to thank everyone who made this holiday so wonderful.
Thank you to Julius Pang (Red Leader) of Incredible Tours.  Your patience with us and love of Japan is a treasure I will always keep close.  Thank you to my travelling companions – you made me laugh and you even made me wonder why???? Thank you to Japan itself for being so welcoming, polite and helpful – I can thoroughly recommend visiting this Land of the Rising Sun.  It's one of those 'if I ever win lotto I will return' places.
Once things settle down it will be time to think about where the next holiday will be. I feel the excitement building again!  I have a few ideas so you will have to keep reading my blog to discover my next adventure.
ARIGATOU & SAYONARA