MAINE and NEW HAMPSHIRE – lobster by light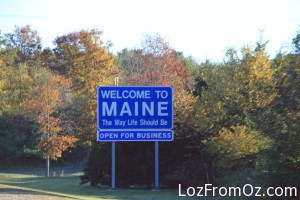 Tuesday– Even though our hotel is close to the main highway there is no noise and I sleep like a log!  Waking up with a sense of tranquility I remember that today we are heading for Maine and those wonderful lighthouses – not to mention a feed of fresh lobster!
We have breakfast at the hotel – coffee, tea, juice, yoghurt, cereals, muffins, breads etc are all offered – but I stick with my trusty vegemite muffins.  The actual eating area is the reception room which has about 3 chairs and a lounge.  Not an ideal situation but as we are the only ones here, then that is where we eat.
Back to our rooms to grab jackets, cameras and anything else we may need and we start our journey.  The sky is a bit on the misty side but as we progress down the highway the mist disappears leaving a wonderfully clear blue sky.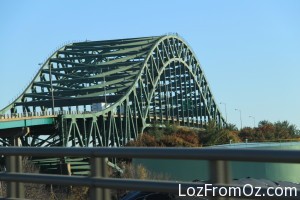 We cross the Piscataqua River and the state line and we are in Maine.  My mouth is watering with the thought of those world famous Maine crustaceans! But I digress.
Our first stop is about an hour and a half away – Fort Williams Park and the Portland Head Lighthouse.  Along the way the Autumn colours are magnificent and the small towns look so cosy and it is not long before we arrive at Stop #1.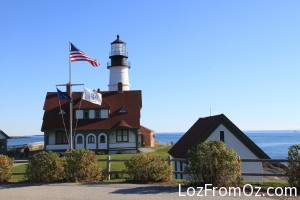 Portland Head Light certainly does not disappoint with a first sighting. After we enter the park and drive through the leafy surrounds the lighthouse appears out of the trees.  Loads of parking here so there is no problem.  The day is cold but it is not windy which is surprising as we are right on the coast.
HISTORY LESSON : Completed in 1791, it is the oldest lighthouse in the state of Maine. The light station is automated, and the tower, beacon, and foghorn are maintained by the US Coast Guard while the former keeper's house is a maritime museum.  The station has changed little except for the rebuilding of the whistle house in 1975 due to it being badly damaged in a storm.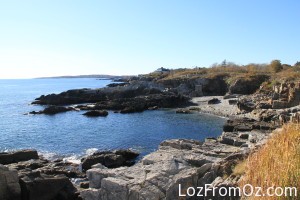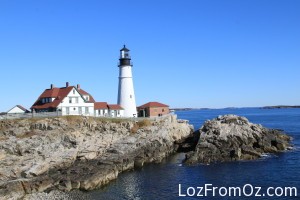 We walk around and around taking loads of photos – I always get a second wind when I am near the ocean plus my imagination has taken off thinking about the Winter storms that would lash this place and the photos I could take – oh well, maybe another time.  There is a path that leads us to a viewing area a distance from the Light so that we can get some really great Kodak moments.
There are also houses right on the point – wouldn't it be great to live there?  After sitting and relaxing we return to the Light to explore the Maritime Museum.  What a treasure this place is!  There is a fellow who answers all our questions and tells us stories about the items that are on display.  You can tell he loves his job as he is very enthusiastic about everything – he certainly can be counted as one of the lighthouse's treasures.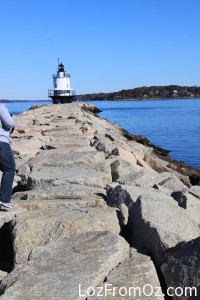 Back on the road – next stop Spring Point Ledge Light.  What a cutie – this has to be one of the prettiest little lighthouses around. It is what is called a spark plug lighthouse and it marks a dangerous obstruction on the west side of the main shipping channel into Portland Harbour and is adjacent to the campus of the Southern Maine Community College.
The lighthouse was constructed in 1897 by the government after seven steamship companies stated that many of their vessels ran aground on Spring Point Ledge. Congress initially allocated $20,000 to its construction, although the total cost of the tower ended up being $45,000 due to problems with storms and poor quality cement.
Unfortunately there is hardly any parking within comfortable walking distance – everything seems to be taken up by college students and staff who have the appropriate parking permits.  We manage to find one spot and decide to try our luck.  We have started to walk to the end of the breakwater and while we are enjoying this lovely little light we see a ranger ambling towards our parking area.  Not wanting to incur the wrath of the parking constabulary we hot foot it back to the car and move.
Just a hint – if you want people to come to your wonderful area then provide adequate parking.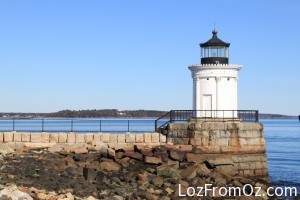 Our second lighthouse in this area is Portland Breakwater Lighthouse – otherwise known as 'Bug Light' – another little cutie almost matching the one we have just seen.
Situated just across the water from downtown Portland and overlooking Casco Bay where there is plenty of parking, Bug Light is situated in a lovely walking area that has lots of seats so you can sit and enjoy the views and there are many memorial plaques which are very interesting to read.
The lighthouse is well decorated, modelled on monuments of 'Ancient Greece' and is a delightful place to sit and watch the world pass by, especially if the weather is wonderful – and it is today.
OK – time to get serious – it is time to eat so we cross the bridge and head towards DiMillos.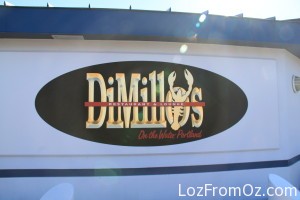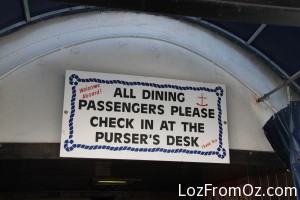 A bit of web surfing to suss out this place before the start of the holiday and it certainly looked like the place to be for fresh Maine seafood especially lobster, my mouth is watering all over the keyboard just thinking and remembering about it as I write.
The place is decked out with a very nautical theme – from the moment you walk through the front door, checking in at the Purser's Desk to being seated.  We ask for a water view and are given a table that does have a water view but unfortunately there is a dirty big pole in front of us – oh well we are not here to admire the view – we are here to eat!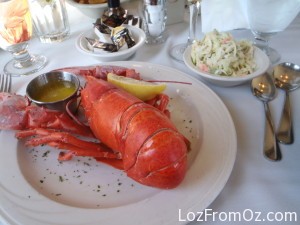 Being such a seafood glutton – I have a one and a half pound steamed lobster served with a side dish of coleslaw and a container of melted lemon butter.  I am also supplied an assortment of lobster cracking tools and one large plastic bib just in case I get any juices on myself as I crack the shells!
Kylie has a stuffed baked lobster and Tyler has steak, but the highlight for me is my new found friend – Larry the Lobster – who is soon devoured.  A nice glass of Sav Blanc certainly tops everything off – I am in a state of euphoria and needless to say – I give dessert a miss!  Johnny Di Millo definitely lives up to his words – 'We don't cook complicated masterpieces – just good food from fresh ingredients'.
After our relaxing meal we have a few more places to see and head off to Crescent Beach State Park.  The park is named for the mile-long, crescent-shaped beach ideal for strolling and where moderately warm waters make swimming and boating a pleasure – or so I am told.  There are many trails for enjoying nature but unfortunately we do not have time to stroll so we do not spend much time here.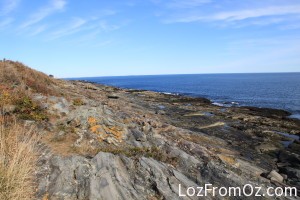 Next stop Two Lights State Park.
A popular destination for Maine residents and visitors who love the legendary rocky Coast, Two Lights opened in 1961.  The park covers 41-acres of rocky headlands and standing high above the rocky coast and rolling surf, visitors have sweeping views of Casco Bay and the open Atlantic.
We walk along the fabulous multi coloured and textured rocks for a while just enjoying the ocean and the sunshine but then it is time for our last stop – Nubble Light.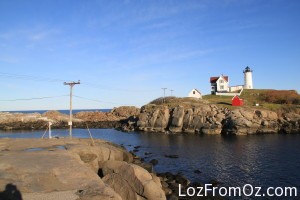 The Cape Neddick Lighthouse, commonly known as Nubble Light, stands on Nubble Island about 90 metres off the point.  The public are are kept at bay by a waterway between the little island and the point – I think I would do extremely well here.
The Nubble began operating in 1879 after a five-year construction effort. It was painted white in 1902 and its red beacon flashes at six-second intervals and can be seen from 13 nautical miles away.  Like all lighthouses in the Seacoast, The Nubble is automated. The last lighthouse keeper moved out in July 1989, and the house is no longer occupied.  Surely they need a tenant to keep an eye on things.  I will have to write to them.
There is lots of free parking at Sohier Park, at the end of Nubble Road in York Beach, with an excellent view of the lighthouse. The lighthouse and grounds, however, are not open to the public, although I am sure that there have been a few fools who have decided to swim 'the channel'.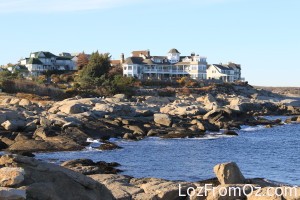 Across the way from the lighthouse are a few little shacks – nothing to write home about.  Can you imagine living here in one of these mansions and sitting in front of those windows during the Winter storms?  Fires blazing inside, rain and wind lashing everything outside watching the ocean crash and bash onto the rocky coastline – yes my imagination is off and running again – speaking of which it is time to leave.
We take a drive through some of the streets and note that there are a few houses up for sale.  Would be good but even my Visa doesn't have that much on it!
Back at the hotel we decide to visit one of the discount shopping malls not far away. I need a new pair of joggers (my ones are falling apart) so maybe I will be able to pick some up.  These malls go on for blocks – you have to drive from one end to the other so we start at the furthest part and the Nike store.  I am not a great fan of Nike but in we go and I try on some shoes.  They seem comfortable so $60 later I have some new joggers.
Kylie and Tyler are interested in some jackets – Kylie is always interested in bags and shoes (she has enough to open her own shop) but I am the only one that comes away with a parcel.
Into bed – tomorrow we head to Witch Headquarters – Salem!
Highlight of the day – Larry the lobster of course.