SALEM to BOSTON – Halloween looms closer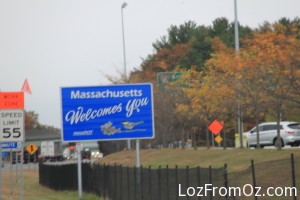 Wednesday – It is the day before All Hallows Eve otherwise known as Halloween and today we head for the haunts of witches and warlocks – Salem.
The morning is overcast so time to head for brekky but the small area is crowded so we grab our food and juice and take it back to our rooms.  We will stop for some proper coffee somewhere along the road but for now it is then time to load the car and head South.   I am wearing my new Nike shoes and already they are hurting – but I persevere thinking they are only new and they will be OK, ha!
Our first stop today is the small town of Beverly.  Where? I hear you ask. Tyler has ties to Beverly with his past relations – the Conants, but more about them later.  The weather is not improving and every now and again the windscreen is hit with a few sprinkles.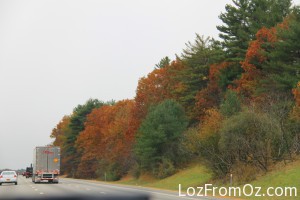 The trees are magnificent in their colours so of course the camera is snapping away as we travel – some good photos, some blurry photos but that's OK.  It is about a forty five minute drive to our first stop and as soon as we get near the place it starts with the light rain.  This is a bummer for sure as in between keeping my camera dry and snapping photos,  I collect leaves to put in my scrap book.  Of course now the leaves will be wet so I have to carefully place them between tissues – what a bother.  Just gotta remember to dry them out when we get to the hotel tonight.
We have several Conant houses on our itinerary but this is the best of the lot – surrounded by wonderful trees – it is Conant House.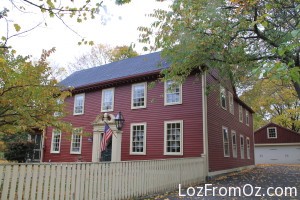 There is a sign on the pavement so in case you did not click on the link above it is time for a small HISTORY LESSON:  'Roger Conant was a prudent and religious man who led the old planters from Gloucester to Salem in 1626, and held them together until the bay colony was founded.  This house was built on land given by him to his son Exercise Conant in 1666'.  More about Roger later.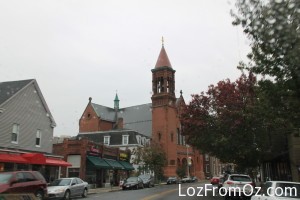 Tyler has found all his houses and taken loads of photos so now it's time to head through Beverly, the rain looks as if it has set in for the rest of the day – no matter – we will still have a good time exploring.  This is a snapshot of Beverly.  What a quaint little town.  It would have been better if the weather was kinder but no matter.
We have about a 25 minute drive to Salem and we are anticipating to be greeted by witches, warlocks and anything else spooky as seen in the many, many episodes of that most enjoyable TV show of the 60's and 70's – Bewitched.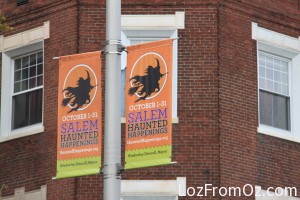 Alas all that welcomes us are banners on poles.  Maybe they hold everything back for Halloween night!  Anyway, we endeavour to find parking – mission impossible – but eventually after going around and around we spy a parking area – it's only about 4 storeys high, I do not know how we missed that – and it is practically right next door to the Visitor's Centre.  Time to explore!
Unfortunately the place is just about full and we have to park on the top floor.  It is a long walk from the car to the street and my feet are killing me. These new Nike are the worst shoes I have ever bought.  I usually get New Balance and I can walk in those immediately but these – bugger.  Time to limp back to the car and put on the old tried and trusty falling apart NB.  Tyler also decides a change of shoes is in order as his are drenched from walking around in the rain – OK let's start again shall we.
The Visitor's Centre is your typical Visitor's Centre.  Lots of information on what to see and do – souvenir items – free brochures, maps and more importantly clean rest rooms.  We take advantage of those, grab some brochures and maps and away we go.  Weather report – it has stopped raining – now only a raindrop every now and again.  First stop – Howard Street Cemetery.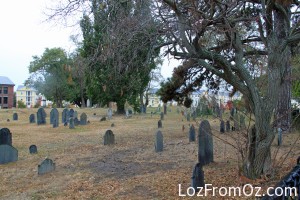 HISTORY LESSON :  A historic cemetery with more than 300 gravestones, make sure you visit during the day because Massachusetts law prohibits visits after dark.  oooooOOOOOOO!
The land on which the cemetery is located has direct ties to the Salem Witch Trials.  A farmer by the name of Giles Corey was 80 years old when he was accused of witchcraft. He  refused to stand trial in order to protect his land from becoming the property of the state and on 19th September 1692, at the back part of the cemetery he was punished for his refusal.  Heavy stones and rocks were piled on top of a board which was put across the chest of Corey's naked body, eventually killing him.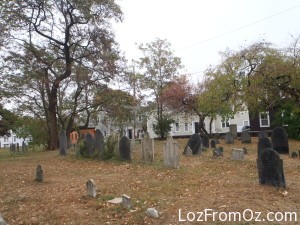 Many a seafaring man is buried here along with soldiers from the Revolutionary War, including Colonel Samuel Carlton, who with a Company he raised himself, marched to Ticonderoga, New York. Colonel Carlton was also at Valley Forge with George Washington.
Although most of the tombstones are still in pretty good condition, some are missing and others have become unreadable with age.
Walking back up the little street we hit the main drag – and come across a statue of Roger Conant – remember him?  Tyler's long passed forebear?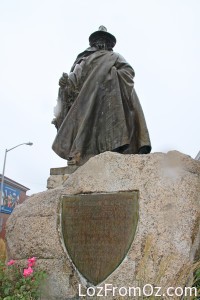 You can click on the link above to learn more about Roger or here is a short insight to the man.  Because of Salem's reputation as the "Witch City", and because Henry Kitson's bronze statue of the city's founding father stands in front of the Salem Witch Museum, many visitors assume that the likeness of Conant is that of a "determined sorceress" so it says in the brochure.
Poor old Roger – it was his vision and faith that sowed the seeds of the new plantation at "this place called Naumkeake" in 1626, shortly after the demise of the English fishing settlement at Cape Ann. It was his commitment with probable encouragement from his wife, Sarah, who had just moved for the fourth time since leaving the comforts of London in 1623 – that made the colony a success despite disease, depression and the powerful lure of the warmer Virginia climate.  It was also Roger that gave the settlement it's new name: Salem, 'City of Peace".  He died in Beverly and was buried at the Burying Point Cemetery but unfortunately there are no records or headstone to mark his grave.
Hang on a minute – there are loads of tourists around.  Where did they all come from?  Ah-ha! We are out the front of the Salem Witch Museum – that explains it.  We decide not to go inside, I think maybe it is a bit on the cheesy, tacky tourist side – and while we are tourists we are definitely not cheesy or tacky.  I think it all depends on what you want to see and whether or not you want to pay for it.  In Salem I would rather visit the places where history happened – stand on the same ground – view headstones of the famous and infamous – all for free – you get the drift.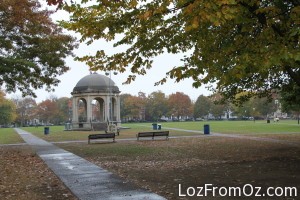 We walk through Salem Common on our way to the House of the Seven Gables and yep it has started to rain – lightly but oh so annoying.  What a lovely park – there are lots of paths and the large elm trees are magnificent and there is a very cute gazebo.  Even in the rain there are people out mowing and clipping all over the place and even standing under the trees to try and protect my camera I am getting dripped upon.
There is a Halloween Festival of sorts with food stalls etc all set up – they seem to be doing an alright trade despite the weather and the food smells good but we will wait a bit longer and then find some nice place out of the rain to enjoy a late lunch.
The House of the Seven Gables – now there's a name that conjures up a lot in the imagination and yes, it doesn't take much to get my imagination up and running.  Another place on our itinerary that we want to see and not go inside.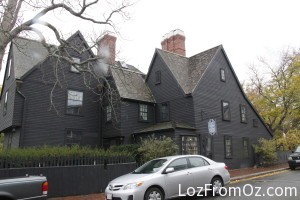 Isn't this a wonderful looking house?  Shame about the car in the foreground but you cannot get a perfect photo every time.  Built in 1668 by the Turner family it is the oldest surviving 17th century wooden mansion in all of New England.  One of the Turner sons lost the family fortune and had to sell the house to the Ingersoll's.  Susan Ingersoll lived here until she was 72 and was a cousin of Nathaniel Hawthorne.  Nathaniel visited her often and his experiences inspired him to write the book The House of the Seven Gables – I must admit I have never read it – maybe on my return home?
It has a reputation of being haunted by the ghost of Susan, peering out the windows and wandering the hallways.   There have also been reports of a boy who can be heard running around the attic and playing with his toys.  Toilets flush on their own and the taps turn on and off by themselves. Spooooooooky!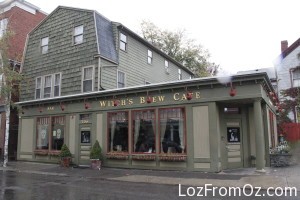 OK – time to move on to find a place for lunch.  We see a few eaterys but nothing takes our fancy until we spy the Witchs Brew Cafe.  How appropriate and how cute.  What a comfy little nook.  It has a bar – that is always a good thing – and a very comfortable dining area.  We are escorted to our table and then what to eat?
We order Baked Crispy Potato Skins with bacon bits; bread with cheesy topping and for a main I have a Witchs Brew BBQ Burger with sauteed onions, peppers (we call them capsicums) and cheese.  I do not order wine, but coffee because it is cold and wet outside and I need something warming.
We stay here for around an hour, just relaxing and looking at our map to see where next is on the trail.
The Salem Maritime National Historic Site down on the waterfront calls us so time to pack up our gear and continue our journey.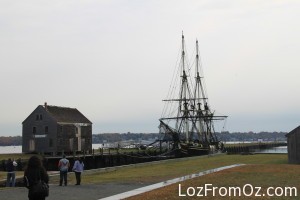 It has stopped raining and there are a few patches of blue sky overhead – things are looking up!  We walk past the West India Goods Store and Custom House.  They are both across the road from the waterfront and the Friendship of Salem – a replica of an East Indiaman.
There are lots of links for you – so instead of waffling on – I encourage you to do a bit of discovery for yourself as we move along.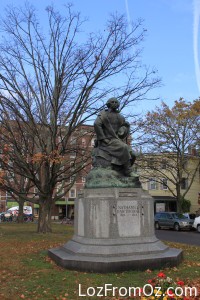 Now for a bit of literary education – remember Nathanial Hawthorne? Well here he is – it's an omen for sure.
He is telling me not to forget to read his book when I get back home – OK I will make a mental note of it – on second thoughts my mental notes don't bode so well lately – I will write it in my diary.
Holy Hogwarts – what do we see next?  It is Wynotts – Makers of Fine Wands since 1692.  This little shop is full to overflowing with Harry Potter stuff.  It is also overflowing with hundreds of tourists (crap) – well, maybe not hundreds but quite a few – so we decide to move on and not join the pushing throng.
As we walk towards our next stop – Old Burying Point Cemetery – there are now loads of people in Halloween garb.  A lot seem to be travelling in groups – maybe they are on guided tours?  We decide we should find a shop (who am I kidding?  there are miles of them around) where we can purchase some smaller size witches hats so that we will blend in.  The smaller versions will be easier to pack when it is time to go home and I can imagine the looks I would get if there was a life size hat in my luggage.
With hats on heads and smiles on our faces we continue our journey.  Old Burying Point Cemetery is the oldest burying ground in the City of Salem, the second oldest known in the country (started in 1637) and is located on Charter Street next to the Witch Trials Memorial .  There are many notable internees here – Justice John Hawthorne, one of the justices in the Witchcraft Court and an ancestor of old Nathaniel;  Jonathan Corwin – another justice in the Court; Samuel Bradstreet who was Governor of Massachusetts.  There are also graves of those who were Pilgrims on the Mayflower – but more about that when we visit Plymouth.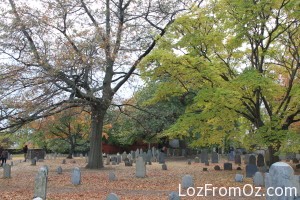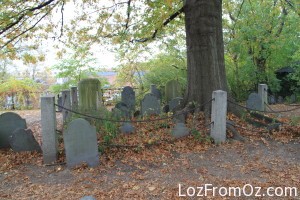 For those of you looking for the graves of the Witch Trial Victims, you can view the Salem Witch Trials Memorial.  Many of the victims were not given gravestones and were buried in unmarked graves near the site of their hanging. Two of the victims, Rebecca Nurse and George Jacobs are buried on the Rebecca Nurse Homestead.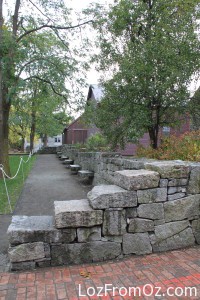 Located just to the rear of Peabody Essex Museum and adjacent to the old burial ground, there is no admission fee to the Memorial.
Each of this park's twenty stone benches (you can see them in the photo)  represents a person executed in the infamous 1692 Witch Trials.  They are inscribed with the name, method of death and year.
Compared to the over the top cheesy tourist traps – this place is the real reason for coming to Salem.  To stand on the same places and remember what went on here – to look at the names and how they died; to try and imagine the horrific acts that their fellow citizens inflicted upon them.
It is a sombre place for sure – and even more character is added by the occasional raindrop – it is definitely not a place for blue sky, sunshine and smiley faces.
This is our last point of interest in Salem so it's back to the car and onward to Boston.
The colours on the trees give our spirits a lift and the light rain seems to be easing.  We drive past wonderful houses and brilliant scenery – and 30 minutes later we head into Boston.  We pass over Boston Harbour and see the Leonard P. Zakim Bunker Hill Bridge (which is nearly as long as its name!)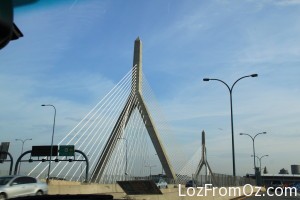 In addition to the Battle of Bunker Hill, the bridge is also dedicated to the life of civil rights activist Lenny Zakim. It serves as a permanent memorial to a man who bridged many gaps. The bridges cables — which suggest a ship in full sail — also evoke the history of East Boston as a center of shipbuilding.  If you want to learn more about Leonard P. Zakim and the Battle of Bunker Hill click here.
After going on a short field trip through Boston to Back Bay to find our hotel – it does not have a spot to stop to unload our bags –  nor does it have its own parking area – that is just up the street – we decide to park the car and haul our bags back to the hotel.  Our accommodation for the next 5 nights is Hotel 140 – a rather snazzy boutique place – right next door to the YWCA.
We have booked a standard full double that sounds as if it has plenty of room. WRONG – we must have been given the smallest of the full double rooms – it is as small as a cardboard box.  One of us cannot move unless another one of us gives way and there is no room for our luggage.  Not to mention the bathroom – just as tiny with one wall being the glass side of the building – that will sure get the juices flowing – with three of us in here for 4 nights – it is not going to be one of our better experiences.  But wait – Kylie is already on her way to the main desk to explain the situation.  Finally it is decided that we will be moved to a bigger room tomorrow.  So for tonight we have to grin and bear it.
Apart from this drama – the hotel seems nice and comfortable and more importantly clean and the staff are very polite and obliging.  I am exhausted – I suppose Kylie and Tyler are as well so once we get organised (HA) we head out for something to eat – only light – and then it's back to the hotel, shower and bed.  Tomorrow we have our trip to Cape Cod and yes, it is Halloween!
Highlight of the day – Old Burying Point at Salem.