BOSTON – pilgrims and things that go bump in the night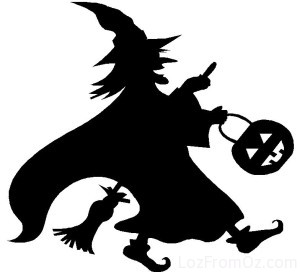 Thursday – Today is Halloween!  Tonight there will be witches, ghosts and goblins haunting the streets – I can hardly wait!  We do not do Halloween in a big way in Oz.  It is starting to take off but not to the extent that it is done in the good ole USA, nevertheless I am still excited to think that I will be right amongst it.
But back to this morning and today we will be moved to a bigger room, so we pack up and take our many, many bags to reception where they will be stored until we return later this afternoon.  What a bother!  The staff at reception are most obliging – our bags are placed in a locked room and soon we are heading to the carpark up the hill as we are off to Cape Cod for the day.
Cape Cod – yep the imagination is off already.  With the magnificent Patti Page song  Old Cape Cod reverberating around in my head – we head off for Hyannis Port and the home of the Kennedys.  Yes!  Those Kennedys!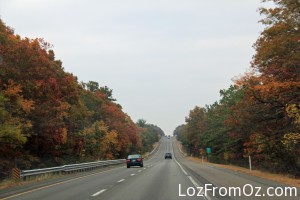 The weather is good as we head out – there is a slight mist over the hills but it looks as if the sun will be shining on our trip and we are looking forward to yet another wonderful day on the coast.
The trees are still brilliantly dressed in their autumn clothes and the roads are not very busy which means there are loads of Kodak moments as we travel along although it is hard to fathom out just where is the best place to aim the camera.  Nevermind, I will just point and shoot as we go.  Every minute – click click – the rolling of the eyes and tut-tutting from the other two in the car do nothing to phase me – I do love digital cameras!
Over the Sagamore Bridge and soon we arrive in Hyannis.  We head on down to the water immediately as we are planning on taking a cruise around the Harbour.  Before our holiday we sussed out Bay Spirit Tours and they seemed to have just the one we want.  We even get to see the Kennedy Compound – which in travel terms means we get to go past and have a look – no stopping – we stay on the boat.
So looking forward to it – but when we find the place there is a sign – Closed for the Season.  WHAT!!!!! Apparently they close for the late Autumn/Winter.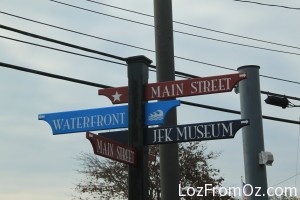 Winter I can understand with snow and gales but today is a fine day – what a bummer.  There are no other cruises except for the local ferry.  Spying a man and his dog on the deck I ask him about the closure and he said they closed last week.  I point out to him that there was no mention of this on their website – – – – he said many places close for 'The Season'.
Great this is going to be a good day.  We decide to drive back up to the town and have a wander. All the shops are having 'End of Season Sales'.  Maybe we will strike it lucky with a bargain or two.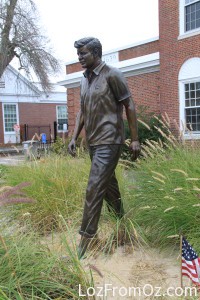 Spying the JFK Museum we enter and the lovely man behind the counter tells us about everything closing for the season as in Winter they do not get many visitors.  I can understand this – but surely something should be open until it starts to snow!  We have a lovely chat and you can tell that he loves his job.
Out the front of the Museum is this statue of JFK strolling through the sand dunes of the Cape.  It is to me, like a dream, what happened all those years ago.  Here was a vibrant young man with a beautiful wife and family and now there is only the daughter left. Such tragedy in one family – but I digress.
After gaining some bargains at the sales – hoodies; t-shirts; cards and the customary fridge magnets it is time to return to the car and do some more exploring.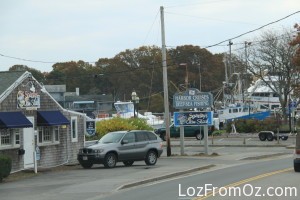 We pass the cafe where we decided to have lunch – Spanky's Clam Shack and Seaside Saloon – and yep it is closed for the season. Holy Clams – looks like we will have to organise a return to The Cape in the middle of Summer.
Today is not turning out well to say the least.  I would have loved to dine at Spanky's – don't you just love the name? But alas it was not meant to be – we journey on.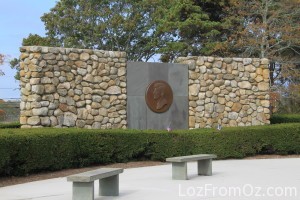 We head towards the JFK Memorial situated at Veterans Park on Lewis Bay.  Plenty of parking – maybe because it is out of season – but still a wonderful area.  The memorial is not a grandiose memorial as memorials go – it is a simple place that honours a great man.
Remembering the nation's 34th President and a former Hyannis Port local, this contemplative site pays tribute to the man who created "Camelot".  Many people come to this park to remember John F. Kennedy and to reflect on the loss of his transforming character. The Memorial features a stone wall set with a medallion of his likeness and a pool with a fountain. The Memorial park also looks out on Lewis Bay and the ocean where John F. Kennedy spent so many happy moments with family and friends.  I pay my respects and then head down to the bay.
All those documentaries on TV on where the Kennedy's lived and played come alive as I imagine the boats gliding across this wonderful stretch of water. Open the photo in a new page – it is much better than what is allowed here.
Children playing and laughing in the water and adults sitting on the grassy areas enjoying the Summer.  But back to reality.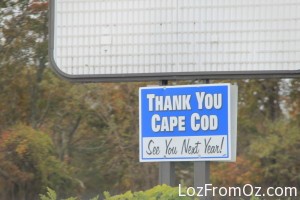 Feeling a bit dejected because of the 'Closed for the Season' carry on we decide to head for home but will take the advice given by the nice man at the JFK Museum – we will take the scenic route through Plymouth and see Plymouth Rock.  We had planned to visit the rock but this drive will present a nice diversion for us and we can enjoy the countryside as we travel along.
This way to Plymouth is longer than the main drag but this journey promises to lead us along some wonderful country roads – not experienced by many tourists.
Are these not lovely little country roads?  We even spy lots of craft shops which we drive by – but there is one that really calls out to us to stop and have a look.  It is full of everything Christmas – you name it – it is here.
Back in the car and we pass through the towns of Sandwich and Bourne and arrive in Plymouth.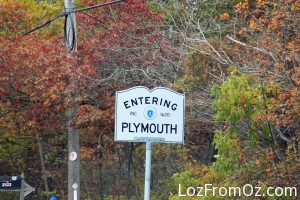 OK – time for some serious American history.  Plymouth holds a place of great prominence in American history, folklore and culture, and is known as "America's Hometown."
It was the site of the colony founded in 1620 by the Pilgrim passengers of the famous ship – the Mayflower and it is where New England was first established. It is the oldest municipality in New England and one of the oldest in the US.  The town has served as the location of several prominent events, the most notable being the the first Thanksgiving Feast.
Let's just cut to the chase and seek out Plymouth Rock.  Situated on the shores of Cape Cod Bay there is a large ancient Greek style building that seems to hold place of pride so that is where the rock must be.
You can look down onto the ground and behind the grate at the front of the building lies the great rock itself.  To say I am disappointed is a great understatement.  Look at the picture.  How on earth can anyone take this seriously?
I would imagine that when the Pilgrims stepped ashore there would be more than this. Read about it here and you will see what I mean.
I can understand that the actual place of the landing would be very important and I would think it would be something like the little beach in front of the building – but oh well.  Reading what Wikipedia has to say clears everything up.

This is Plymouth harbour taken from just to the left of the rock.  A very quiet little harbour full of happy little boats anchored and waiting for more pleasurable times.
All of this area is Cape Cod Bay – reprise on the Patti Page song please.   Taking into account that when the Mayflower arrived there was no breakwater – you can understand them taking refuge in this place.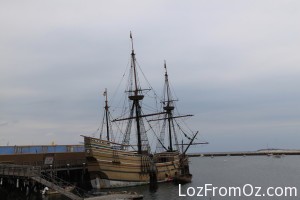 Time to move on around the corner and view The Mayflower II – a replica of the original ship. For a small fee and when the ship is available you can go on board for The Mayflower Experience.  Unfortunately today is not one of the open days – so just a photo opportunity.
If you wish to read more about the original Mayflower then please click on the link.  I think after seeing 'the rock' I have lost my enthusiasm.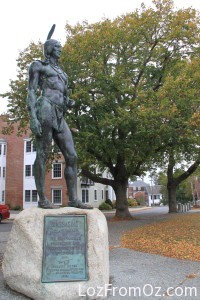 We take a short climb to the top of the hill behind the Grecian Temple.  At the top stands a magnificent statue of Massasoit.  He is known as the protector and preserver of the Pilgrims.  Massasoit was the leader of the Wampanoag when the Pilgrims arrived at Plymouth in 1620. Although he is not mentioned by name in any English accounts prior to 1621, he and his brother Quadequina are undoubtedly the "two Kings, attended with a guard of fifty armed men" that met Captain Thomas Dermer at Pokanoket in May 1619, when he was returning Tisquantum ("Squanto") to his homeland.  You can also read more about him here.
Time for a walk around and pick up the usual souvenirs, so back down the hill and along the foreshores.  Nothing much going on – no jackets worthy of taking home – just the fridge magnet so it is back to the car and tool on back to Boston.
Tonight we have booked to do the 'Ghosts and Gravestones Tour' – our little bit of Halloween participation.  We will wear our hats that we bought in Salem so we will blend right in with the locals.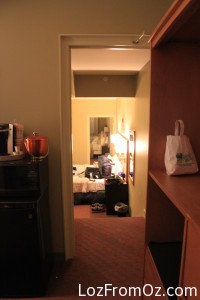 When we get back to the hotel our new room is ready for us so grabbing all our bags again we head up.  Talk about spacious – on entering there is a large bathroom on the right – and a reception/wardrobe room in front of us. Turn right and down the stairs is a bedroom with a king bed, TV etc and through a door on the other side of this room there is another room that has 3 large double beds with TV and assorted cupboards.  The only complaint is that the power points are not well placed.
Once we unload and get a bit of organisation we have to get ready for our Ghosts and Graveyards Tour.  We just had to do something on All Hallows Eve – and after searching the web we came up with this one.  Personally they all sounded a bit cheesy – but we are hoping this will be good – nevertheless we will have fun.
After getting a taxi to the other end of town – and that trip was frightening enough – we are well in the mood for a bit of ghostly shenanigans.  Once our tickets have been verified we hop on board and soon are introduced to our guide – Miss Agatha who introduces us to our driver, Ranger.  We are soon on our way (minus our hats because we left them in our car back at the hotel) to visit assorted cemeteries by night. Oooooooooo!  First up is Cops Hill Cemetery where we wander by lamplight through tombstones listening to Miss Agatha relay tales of tragedy and death.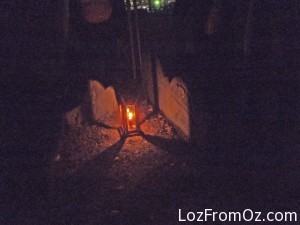 It is not a night to be taking photos as I did not bring my tripod and these are the only photos I snapped so you will just have to use your imagination.
As we listen to Miss Agatha we discover we have one of THOSE in the group. This time it is one rather loud obnoxious male child about 10 years old.  So intent is he on being the centre of attention, climbing and cavorting through the headstones he half knocks one over. We just roll our eyes as if to say yep, there is always one and of course the parents do nothing.  Some people just need a good slap!
Next stop – Boston Common.  A large expanse of land right smack dab in the middle of Boston.  We park our trolley and then it's on to discover more tales of terror.  The Common was used for public hangings up until 1817, most of which were from a large oak tree (a gallows was erected in 1769).  The execution of Ann Hibbins on charges of witchcraft was carried out on 19th June 1656 and in 1660 Mary Dyer was hanged here by the Puritans for preaching Quakerism.
Spoiler alert – all these places we visit tonight we will cover during the daytime as we roam around so you will get to see photos and enjoy more educational thrills.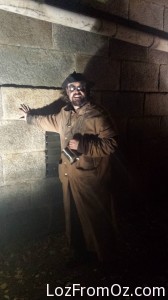 But back to the Common.  Tyler has volunteered to be one of Miss Agatha's subjects as she makes our spines tingle with tales of hangings.  He does a splendid job of being hanged and is given a worthy round of applause.
Next stop – the Old Burying Ground and Kings Church.  These are two more places for daytime visits – but in Kings Church we are welcomed by Jack.  Poor Jack – he was not a nice person and had a dreadful drinking problem (don't we all!) and we are advised not to take any drink offered by him or we shall remain here forever.  He keeps on offering and we keep on refusing – yes hard to believe I know but true.
He tells us tales of the area and shows us where the trains run below the graveyard.  We can feel the breeze come up and through the grates as the trains rumble past.  As fast as he appeared Miss Agatha disappeared into the blackness and as soon as Jack has finished he is gone to wherever Jack goes and Miss Agatha is back.
Journeying back to the trolley it is time to head for home – there were many people out dressed for the occasion but unfortunately, as you know,  Kylie and I forgot our hats.
Back at the hotel in our relaxing big room we jump into nice hot showers – spread out – relax and are soon asleep.
Highlight of the day – seeing everything was closed in Hyannis – it has to be the Halloween night tour.